Visuals / Interview
Melissa Grisancich, Spring-Time 2.0

Melissa Grisancich is a multi-faceted Melbourne based artist. Her work employs bold iconography and symbolism, paying homage to street art and collected vintage ephemera. Her breadth of work reflects a strong ethos of 'making by hand' and an interest in found and recycled objects. While she's exhibited works across Australia since the age of 18, she's also established herself on an international scale. Melissa is a part of the RVCA ANP (Artist Network Program) alongside artists such as Barry McGee and Ed Templeton. As manager of the RVCA corner gallery in Collingwood, Melissa is curating the show Spring-Time 2.0 (yes the second year around) which opens this Friday. Spring-Time 2.0 is a female group show, showcasing the best of both established and upcoming artists. We had a chat with Melissa about all of the above.
Tell us a bit about being involved with the ANP and the path that you led to it.

When I finished uni I was kind of overwhelmed and not sure what I wanted to do, so I ended up going into retail. I worked in a denim store on Chapel Street, which was good because I could use my holiday pay to take time off and make work for shows. I would paint the shop windows, and every week I did a mural inside. One day, a representative for RVCA came in and saw my work, asking if I'd heard of ANP to which I was like "uh kind of...". I'd seen the film Beautiful Losers (which is the best film) and it includes Barry McGee, Ed Templeton and Stephen Powers - they're also the main artists who I knew were a part of ANP. I did know about ANP but not so much about them being clothing related. And so the rep dobbed me in (I say dobbing me in but I mean referring me) and I ended up getting a phone call from Steve Fontez, who manages the men's clothing section of RVCA, asking me to do a few shirts for them. At the time I didn't realise it would be an ongoing thing but they soon added me to their special edition artists. That was 6 years ago now.


And how did you end up managing the gallery here?

Well the guy I met who dobbed me in actually works next door in the RVCA showroom, but RVCA had this space here, which they wanted to open as a gallery so they asked me to manage it. I've been here for 4 years now, it's been just me. They flew me over to San Francisco this year where I had a show. They officially put me on their Artist Network Program this year too, so I'm now one of their main artists alongside their long term artists Barry and Ed.


Wowsers. Have you met them?

I've met Barry McGee. He did a talk here and I met the actual owner of RVCA too so that was great. I went to Stephen Powers studio in New York but I was terrified to meet him because I just love his work so much and I'd probably get really nervous, so I was like "nah" hahah. Sometimes when you admire people like that you'd rather just see them from afar. Bert Krak is a tattooist and he's part of ANP so I visited him as well and I got a tattoo from him! He does very cool stuff, it was cool to talk about RVCA with those artists. And I spent a lot of time with the art director Casey, who's the main guy choosing the artists. I got looked after though, that's for sure.


How did the show go?

It was in San Francisco on the corner of Haight and Ashbury which is a very famous corner for like the 60s and 70s psychedelic rock movement. I called the show Moon Flower - I'm into that music as well so it all fit perfectly within the area.



| | |
| --- | --- |
You work in a number of various mediums. I really like the resin hands you've been doing lately - was this for that show?

Oh thank you! I love experimenting with different mediums - I've been doing it since I was a kid. I'll be doing one resin piece for the upcoming Spring-Time 2.0 show. The resin pieces were a full on fluke. It started with a salt and pepper shaker that I found in Rome. I cast it in latex and I'd learned how to use resin from university so I just went from there. The resin hands were a part of my solo show Moon Flower which was about how night time can be romantic and how things look at night. I added flowers that I'd stolen at night time (because that's the time you pick flowers). When my mum and I used to go walking to the beach and back, she'd always pick frangipanis from this one garden but she'd wait till it got dark and so yeah, a really bad influence. I'll often finish work late and walk around my neighbourhood in Brunswick doing the same thing. But now I'm making more with resin which is great. I don't want to make them for a long time though, I want to make them for a limited time and then I'll move onto the next thing.


So do you find moving into different mediums a lot of the time is a fluke or through experimentation or do you kind of set out to teach yourself new stuff?

I like teaching myself how to do new things but I've always got a skill somewhere that I can add into it or you know improvise. I do embroidery, I make my own clothes as well which is fun just cause I've grown up doing that. I'm always using my hands and building things.


And do you find you have an inclination towards a specific medium?

Painting! That's my favourite thing in the whole world basically. I picked up painting when I went to TAFE. I was actually majoring in sculpture and painting and then I just got better and better at it. I think I had the best teachers. I was actually an oil painter and moved onto acrylic paint when I went to university. They took my oil paint away from me…


Have you ever gone back?

No, I've never gone back. I am strictly acrylic but if I smell oil paint I'm just like "aah take me back".


Could you talk us through the actual process of some of your artwork?

Well the way I approach my work...I don't keep a sketchbook. I keep lots of flyers and pictures and cut outs but I've never had the patience to sit and draw something before painting it – it's just in my head. So that got me in a lot of trouble at uni because you need to show evidence and I just couldn't. I mean, I tried but it was very vague. I did it just because I had to. I always had an idea in my head, but I paint straight onto the canvas and I sketch it with thinned out paint. I do collages as well to generate ideas, especially if I want to create something quite surreal. I collect a lot of old books, I love record art from the 60s and 70s, I love that music too. Listening to that music gives you ideas. People are often like "you must take a lot of drugs to paint stuff like that" and it's funny because I've never touched drugs in my life. Yeah so I paint really fast, I sort of have this mentality where if I start a piece I finish it that day.


Are you exhibiting painted works for Spring-Time?

Ah one painting...actually two! Another thing I do is collect sculptures from antique shops and paint them and make them my own kind of thing. So there's a crazy sculpture that I'm bringing into the show.


You must have a lot of cool stuff.

I do, I really do. I'm moving house in November and I'm looking forward to putting it out on shelves because it's all hidden.



| | |
| --- | --- |
So a bit more onto Spring-Time now. Where did the initial idea come from?

Well I've been managing this gallery for 4 to 5 years now and RVCA is a skate/surf brand which does revolve around a lot of guys. There is a women's team – women surfers, skaters and everything, but when it comes to the gallery space, there's not many female shows. I mean I had shows, a couple of other females had shows, but I just wanted to give us more wall space to do our thing. So last year I picked 19 girls but I didn't want the theme to be about feminism. Of course it's an important subject but I just wanted it to be about the artwork, their hard work and giving them somewhere to put it. So that's how Spring-Time came about. I wanted to give the exhibition a name that's really simple. Spring-Time is really easy to remember, easy to say and also it's that time of year. The artists can still work in their own style and adapt into Spring however they want. There are girls who've never been in a show before, girls who are just starting out and some who are really established – I wanted to put them all in the same room so when people come in they feel welcomed in that art world too. I haven't felt welcomed I guess in some aspects of the female art world which is very strange to say but it's true. I haven't been invited to an all female show before. There's been lots but that's maybe because I'm not putting myself out there enough, it's always the same people kind-of-thing so I just wanted to make it a really welcoming show. More accessible too and it's for guys as well.


You answered one of the questions I was going to ask – there's a lot of emphasis placed on female artists whereas, you want to position this show around the artists themselves, not necessarily with a huge focus on it being feminine.

Well I mean, if the artist wants to do that they're more than welcome to because that's their thing and that's what they do. And you know I paint a lot of girls as well and I paint things that are really feminine. It comes out anyway but I don't want it to be a certain theme about females or the body or something like that, this is a bit different to that I think.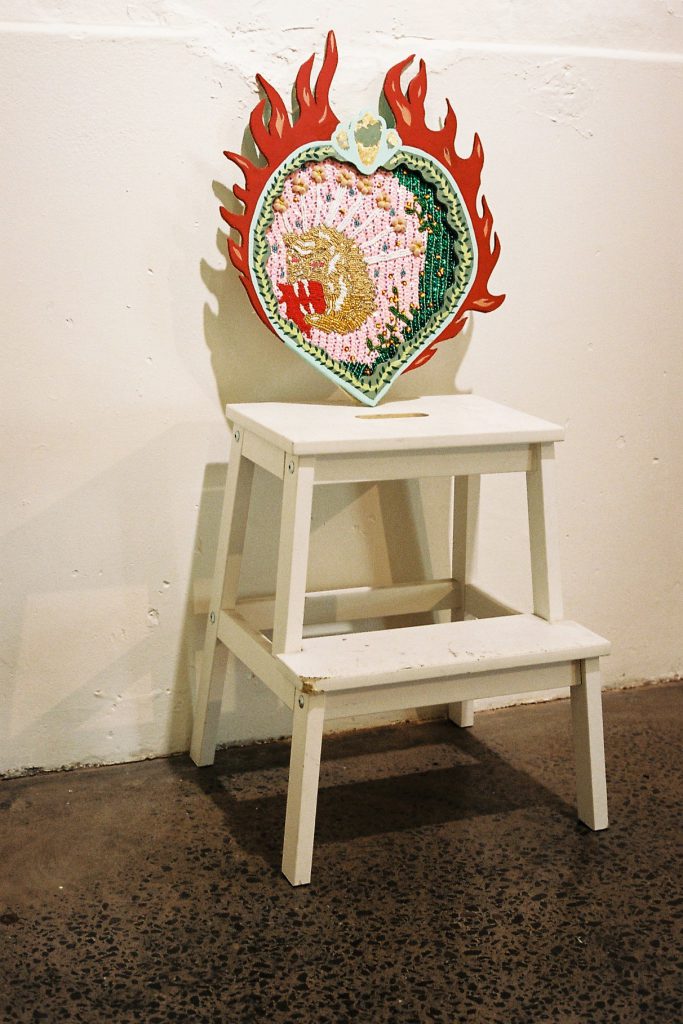 So Spring-Time 2.0. We're very excited for it the second time around. How did you find the impact/reaction for both artists and viewers last year?

Last year I didn't expect this. I was really, really happy with the reaction to it all and I had so many people come up and thank me for having something like this – that was all I wanted from it. We had a line out the door all night, I couldn't move. We got a lot of press which was great. There were as many guys as there were girls which is fantastic and it was just packed, you could barely see the artwork, but in the weeks after people came back to see the work properly. This year I'm hoping for it to be even bigger.



| Ellie King | Katie Eraser |
| --- | --- |
You've got a mix of artists in 2.0 - some are new and some are exhibiting for the second time around. How have you wanted to extend the show this year?

The people that I've kept from last year are Beci Orpin, Madeleine Simm, Ellie King and Elise Grace… I think that's it? Oh and I've kept myself too, so that's good. The people I kept from last year were key artists of the Spring-Time show. They're a mixture of established to young artists and while I wanted to keep some on from last year I also wanted to add a whole new fresh line up. Also, we did a short documentary last year but didn't release it until last week. We went to these artists' studios and interviewed them and I really wanted to release the video this year, so that's another reason why I wanted to keep them on. No reason why I didn't keep others on, other than just wanting to mix it up. That video makes me so emotional though, because we worked so hard on it and waited so long to finish it. Some of the things the girls say is really lovely, and Madeleine Simms' little section in it is like… ugh she can say anything and it just makes sense. I can't.


The show runs over three weeks, in the promo you mention a series of workshops as well as an artist market. The idea behind the exhibition seems very inclusive and warm - are you aiming to reach out to artists beyond those contributing? Do you see Spring-Time as a longer term project?

We're having a section in the gallery for zines as well. Some of the zines are from artists outside of the line up. A few artists will also be running workshops and inviting the public. The workshops are all about giving these artists a platform to do their thing. Myself, Alice Oehr and Edward Hubber will run workshops over the weekends that the show runs. On the last day I hope to run an artist market. I love markets, I always grew up with markets. I've been doing them for a long time but not so much anymore because I don't have the time for it. So that'll be something new from last year's show. This is Spring-Time 2.0 so if this goes well we'll do Spring-Time 3.0!



| Min Pin | Fiona Simmons |
| --- | --- |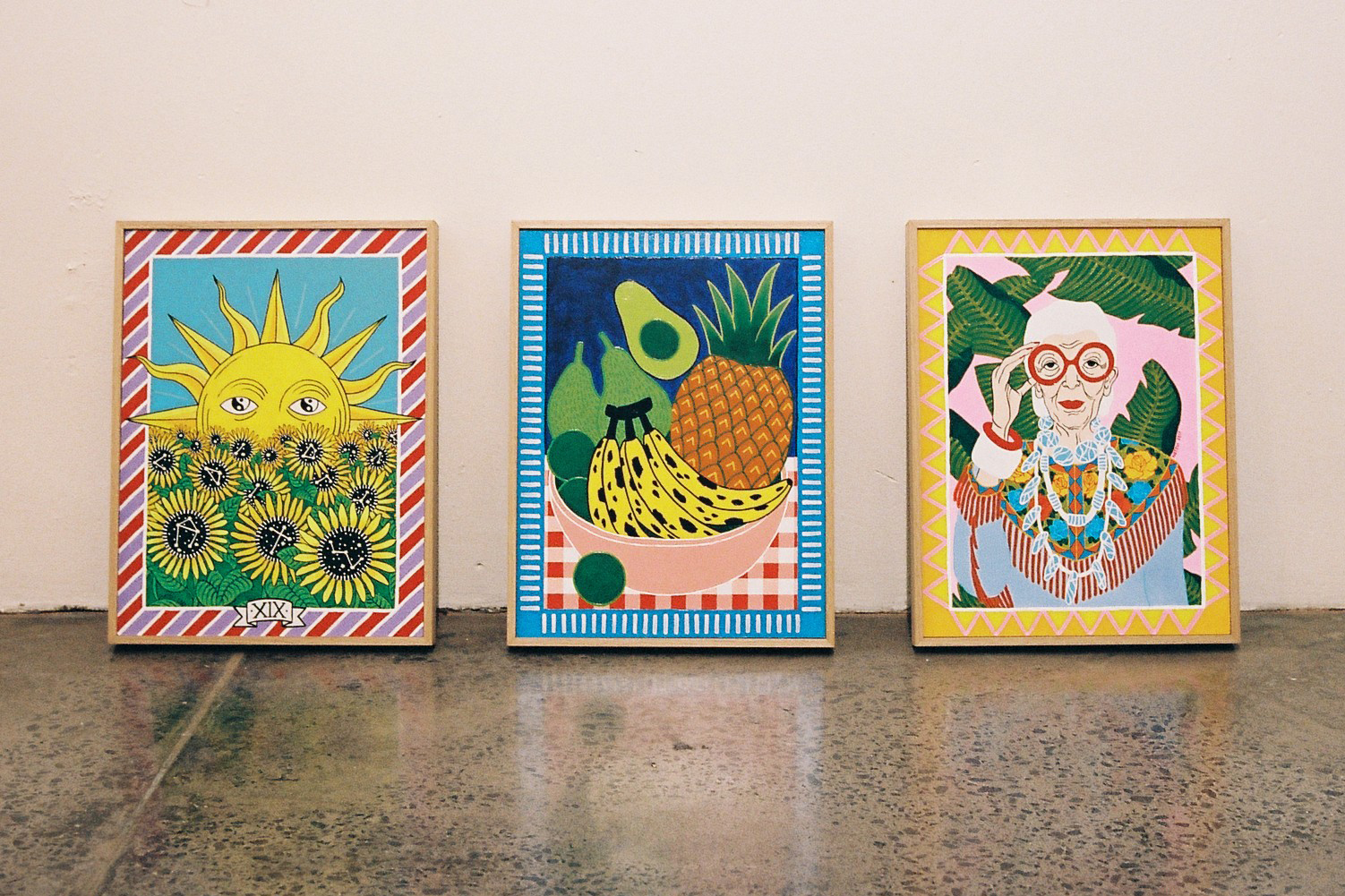 Spring-Time 2.0 opens Friday 22nd of September
at RVCA Corner Gallery 82 Stanley Collingwood
Open Fri-Sun 11-4

Spring-Time closes on the 15th of October