Music / Premieres
Premiere:
Going Swimming -
Sultans of Swim
We're super stoked to premiere the new album from Melbourne surf-punks Going Swimming. Sultans of Swim is a raucous collection of unbridled garage rock and a whole lotta fun, full with drenched surf-rock riffs, a pounding rhythm section and heaps of energy.
I've got some strange memories of pumping Going Swimming's debut album Deadtime Stories late one night as a group of friends got into a round of bareback wrestling on someone's front lawn. I'm not sure what actually inspired the situation, but the album definitely felt like a pretty suitable soundtrack. Anyway, two years have passed and since then Going Swimming have been uncharacteristically quiet. With only two singles dropped in the meantime, the thirst for some more wild surf punk is getting stronger and stronger.

With that in mind, it's no surprise that the new album Sultans of Swim storms out of the gates from the very start, back with a vengeance. Picking up where the last album left, 'Type Two Darly Beatties' burns hard, packed with sporadic guitar lines, Nick Legatt's chaotic yelp and whole heap of energy. Next up are the two singles from the album back to back, and proves Going Swimming are back in fine form. 'Debt Collector' is a hook heavy slice of classic Going Swimming, and 'Sunny Trude' mixes things up with some tempo changes and some darker guitar riffs.

It's clear that Going Swimming aren't simply here to rehash their last release and halfway through things start to get weirder. At track five we're hit with 'Where Do You Get Your Ridiculous Vocabulary From, Do You Watch a Lot of Sale of the Century or Something?' (perhaps the best track title of the year so far), and the music takes a backseat, making space for the band's hilarious tongue-in-cheek lyrics. 'Serpent' sees Going Swimming take on a surf rock voyage, paying respects to classic surf rock from behind their fuzz pedals. Between the two tracks is 'Tequila', a song that needs to explanation and certainly doesn't try to give one. And as 'Sticky Carpet' rolls around, we're hit with a track of sleazy rock n' roll combined with the 'monster punk' that Going Swimming perfected on the first album.

Before you know it, the ride's over and Sultans of Swim comes to an end. To be fair, it barely clocks past 30 mins, but with so much energy coming out of each track it feels like it flies by. It's definitely the kind of album you need to catch live, so ahead of Going Swimming's album launch this Saturday, we chatted with drummer Ben Barclay to chat all things Sultans of Swim.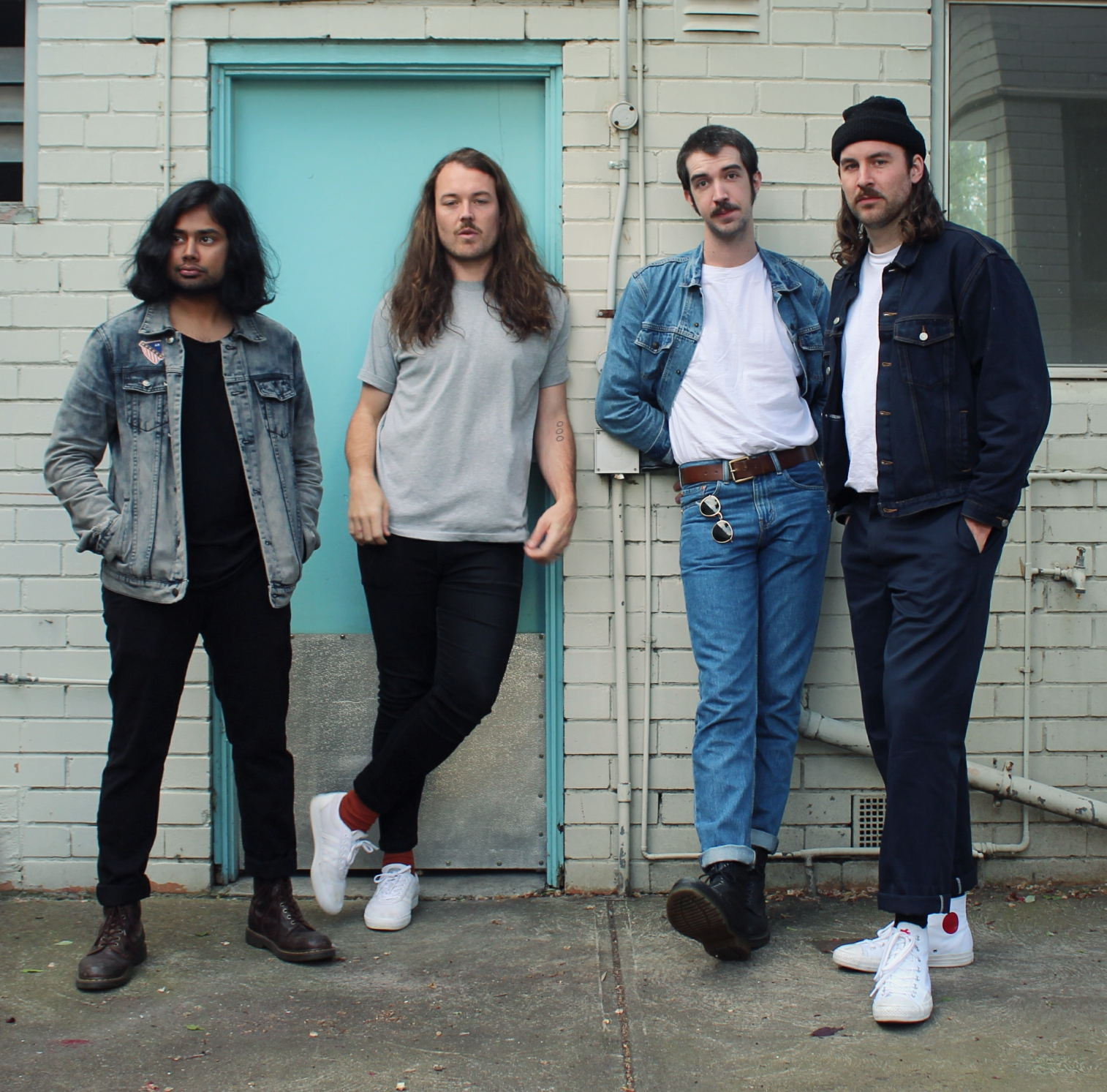 TJ: It almost feels dumb asking this since Going Swimming is a name that's been popping up on gig guides for something like six years, but for the unacquainted, want to tell us a bit about you guys?

GS: When we started this band we were just four guys who wanted to play music together in a live format in front of people (hopefully). We wanted to play punk, we wanted to play surf and we wanted to play St Anger and I guess over the years nothing has really changed in that sense.

The new album Sultans of Swim is a wild ride - packed with hooky surf-rock guitars, chaotic vocals and a whole heap of energy. How are you feeling to finally release it?

We're feeling great! We've been holding back on playing a lot of the new songs live so we can't wait to let them loose. It will be available to purchase on white vinyl which we're pretty psyched about.

Your debut album Deadtime Stories was completely recorded, produced and released by the band, but this time around you recorded at Headgap Studios with a real engineer and producer. How did this album come around and what was the process like?

It was certainly a lot different to anything we've done before. Rohan and Ash really pushed us to make sure we were getting the best out of ourselves which certainly improved our sound. When you're paying for studio time you tend not to take long breaks to play cricket in the driveway so your focus stays with the music.

Also, Jesus Christ, what's up with 'Tequila'?

Tequila is good if you want to have a great night but remember none of it.

It's clear from the start that Sultans of Swim is classic Going Swimming, although the album never feels like you're repeating yourself or half-arseing it. How'd you manage about keep things fresh without losing the classic Going Swimming sound?

Our choice of musical direction usually depends on what Broadway show is popular at the time. After years of playing together we know what makes the Going Swimming sound so as long as we have those elements locked down we are free to experiment with whatever we want

You've got your album launch show this Saturday at Yah Yah's - any idea what we can expect?  

It's a bit of a surf spectacular. Young grommets Le Pine are kicking things off, followed by good mates and fellow wave crushers who go by the name of Democratic People's Republic Of Surf, followed by a lot of hair (us). As per usual, we will try and cram in as many songs as possible with little-to-no breaks and few surprises in there for the punters. Come down and see how long Nick can stay on his feet for.

What's next for Going Swimming?

Big Day Out, MTV, Tequila


Have a listen to Sultans of Swim above, and be sure to get to Yah Yah's this Saturday to catch Going Swimming launching the album.