Music / Premieres
Premiere:
Swamp - Spotto
After a steady two years of playing around town, Melbourne surf-rockers Swamp have finally dropped their debut EP Spotto. Full to the brim with twangy guitars and sunny melodies, Spotto comes just in time to keep the warm vibes going as the Australian summer comes to an end.
It's been a few big years for Swamp. Bursting onto the scene in late 2016 with their first single 'Don't Need It', they quickly became a band that was hard to miss - for a little while there, it was almost impossible to go a week without seeing their name on a lineup somewhere. And now with the release of their debut EP Spotto, it's safe to say things won't be going anywhere but up for Swamp.

Spotto kicks off with 'Amnesia', a cut of breezy garage pop that's packed with good vibes. From the very beginning, Swamp are showing off their best moves - their masterful guitar work, frontman Justin Kelly's colourful vocals and their lackadaisical charm. Winding down with a psych-pop outro that MGMT would be proud of, 'Amnesia' sets the tone for the EP perfectly. Next up comes aforementioned first single 'Don't Need It' and it's clear why people fell in love with Swamp from the start. It bursts out of the gate with a pounding rhythm section, some sparkling guitar leads and a killer chorus.

Tucked in the middle is 'Hazel', an EP highlight that finds Swamp at their most laid-back. With a gloriously carefree melody leading the way, backed by some apathetic guitar chords, a noodling bassline and some added bongos for good measure, 'Hazel' is a surf-pop anthem for everyone too lazy to get out of bed. Swamp don't let us get too comfortable though, because second single 'I Wanna Be You' picks things back up hard and fast. This track might be an explanation as to why the debut EP took so long to finally arrive, because their attention to detail is second to none. The three guitar assault here builds a swirling wall of sound - some times crunchy and driving and others high and shimmering - but nothing ever feels out of place or overdone. Combined with the perfect layers of harmony vocals that shine through during the chorus, it's surf rock at it's finest.

Spotto wraps up with 'Summer', a slice of woozy garage rock that's full with sunny guitars and nostalgia. There's a hypnotising effect as the song spirals along, and by the time Swamp finish their final chorus, there's a jarring realisation that you're not actually relaxing on a beach somewhere. Spotto is a really impressive debut from the young band, and now that summer is over, there's no better reason to chuck it on your headphones and take a 20 minute vacation. We chatted with singer/guitarist Justin to find out about the new EP and all things Swamp.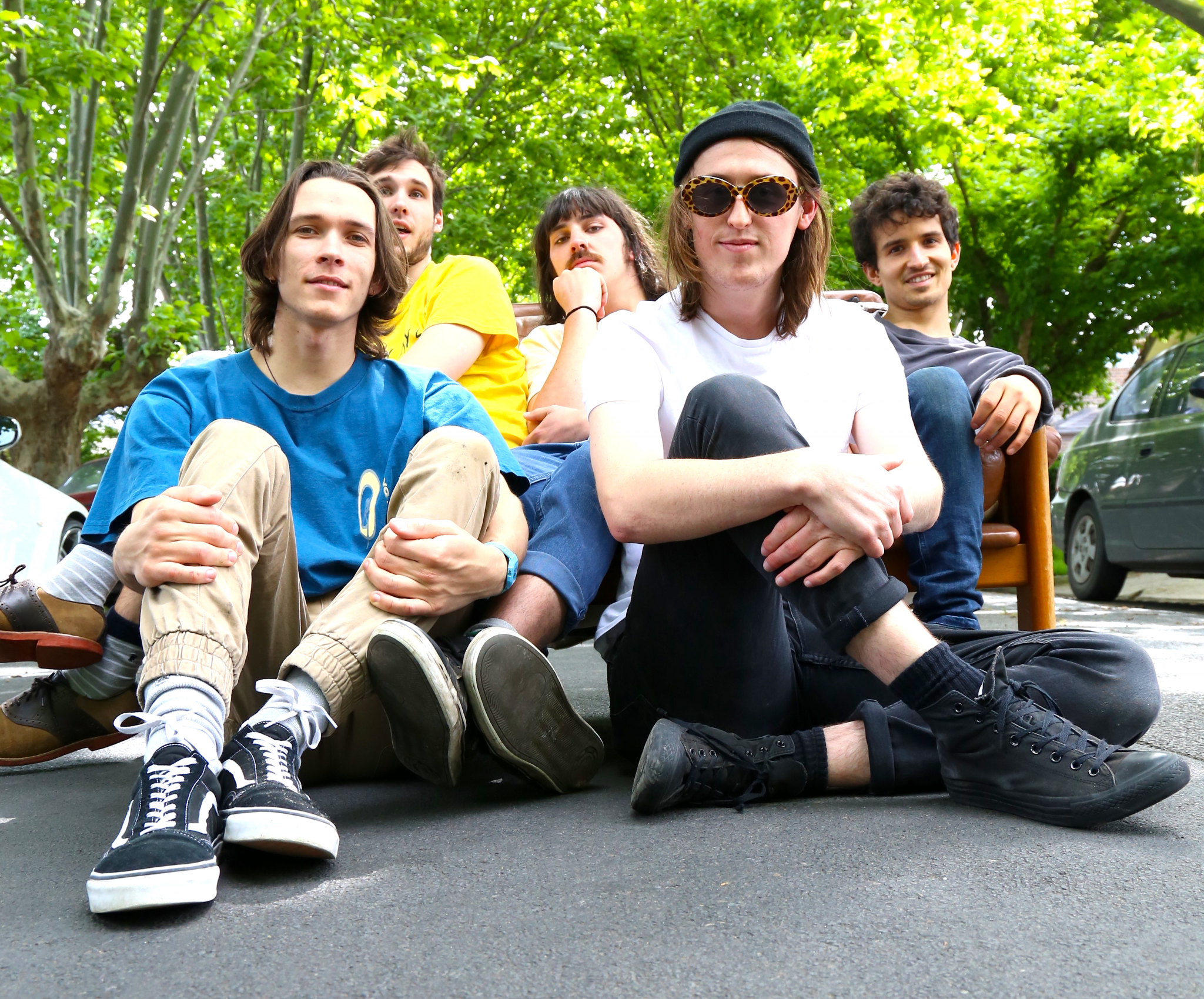 TJ: Last time we spoke you'd just released your latest single 'I Wanna Be You' and now you're back with your debut EP Spotto. How's life, Swamp?

S: Good! It's been a fun summer, we road tripped to Adelaide on our first tour, we've met some amazing musos, and we finally put the finishing touches on the EP. Keen for everyone to hear it.

This EP has been a long time coming, with 'Don't Need It' dropping back in 2016. How's it feel to finally have it out in the world?

It's a big relief! It's crazy how much time and energy can go into 18 minutes of music. Four of the five tracks were recorded around August last year, but 'Don't Need It' was just a perfect fit amongst the rest – it had to be on there with its brothers and sisters.

The EP is incredibly well crafted, and you can really feel how much hard work and love has gone into Spotto - from the intricate layers of guitars through to the super tight performances and spot-on harmonies. How did these songs come about?

They mainly came out of my bedroom. I'll usually experiment with lead guitar hooks over looped rhythm guitar looking for little moments of magic. It doesn't happen all the time but when it does I make a run for the voice recorder on my phone. After a while I'll have lots of bits and I sort of arrange them together like a jigsaw. Then I'd take the song to the rest of the band to refine more. The tracks definitely wouldn't be the same without Hugh's harmonies (of Hugh Fuchsen fame), I love how his vocals add that bit of sparkle to the choruses on each track. You can also feel the personalities of each band member coming through on each instrument; Kaelan's driving bass playing, Lukey's slinky rhythm guitar, and Davey P the drum machine all bring something really special to each song. In hindsight, I think another big influence on the production of it all was the sneaking suspicion that I couldn't or wasn't going to finish it. I think everyone has that insecure voice in their head no matter what form of art you're pursuing. Half the time you don't know what your doing and you go in with a preconceived plan but that's not always what comes out in the end. You just have to jump in and see where it takes you.

You recorded Spotto at the iconic Sing Sing Studios with Matthew Neighbour taking care of production. What was the process like and how was working with Matthew?

Yeah, we recorded the tracks live as a band to inject a bit more energy into the songs, especially the upbeat ones. We'd spend the first two hours of the day just nailing the tone of the drums before we smashed out a 12 hour session of recording. In the following weeks, Matt and I tracked guitars and vocals at his studio in Yarravile. That allowed us to experiment with guitar tones, vocals, and other instrumentation. Working with Matt was awesome, he's a great friend and it's always inspiring to watch him in action because he really is a master of his craft. He brought heaps of great ideas to the table, and it was just a pleasure to work with him day to day. I actually tracked the last song 'Summer' in Dave's Bungalow so I'm really proud of the fact it sits up well with the other professional studio tracks.

Spotto is so packed with good vibes, one could easily be lead to believe the only influence on it was nice weather and fun times with your buds. But surely this isn't the case - what influenced you when making Spotto?

On one level I think the idea behind it is a very simple one. To me, the EP captures that experience of stepping outside and feeling the sun on your skin. I'm driven by melodies first and letting that vibe inspire the lyrics. I was often scrambling last minute to write a verse when tracking vocals with Matt (sorry Matt). But really the biggest inspiration for the EP is the memory of my Dad. We had an amazing shared love of music so this was a way for me to continue all the wonderful conversations and moments I had with him. It's the reason I started Swamp in the first place.

You've just announced your EP launch and it looks like it's going to be huge - what can we expect? What's the rest of the year looking like for Swamp?

Yes! We're really excited to be launching Spotto at The Curtin on Thursday the 15th of March. We've got Tram Cops and Hobsons Bay Coast Guard supporting, so its gonna be a hoot. We're also gonna screenprint some Swamp teatowels if we have time, get excited! As for the rest of the year, I'm really looking forward to writing and recording some new material. Other than that who knows, we'll see.
Chuck your sunnies on and have a listen to Spotto above, and make sure to get down to the launch show on Thursday March 15th at the John Curtin Hotel.