Music / Features
A Long Elevator Ride with
The Stranger Suite
The Stranger Suite deliver a distinctive blend of tastily voiced harmony, a horn section ablaze with zesty three part fire and an effortlessly charismatic lyrical flow, that weaves in and out of a rhythm section so tight that your feet are moving before you even realise that you are dancing.
This 9 piece has been dishing up their jazz influenced hip hop grooves to Melbourne's ears and bodies for 3 years now; playing numerous shows to hypnotised crowds and releasing their self-titled debut EP last year. Their sound is infectiously groovy, impressively collaborative, nuanced with varying moods and colours and causally linked to having a huge time. It flirts with the gap between performer and audience until each The Stranger Suite show is just one big tangible meeting of music that feels real, real good. Ahead of their single launch at the Evelyn on May 4, Trouble Juice caught up with a few of boys to chew the fat off their musical cutlets.


Hey fellas, how you going? Could you tell us a bit about the The Stranger Suite experience for those not yet blessed hearing your aural prowess?


Noah: The Stranger Suite experience is like a long elevator ride with George Clooney; exhilarating, perhaps sweaty and definitely something that you'll tell your mum about later in hushed tones over the phone.

Your sound is described as a sort of 'melting pot' of genre and style. What artists would you say have shaped this eclectic blend of nuanced jazz harmony and crisp hip hop grooves that is still indisputably your own sound?


Noah: We're obviously into seminal artists like The Roots, J Dilla and D'Angelo as well as the amazing improvisers of the jazz world. Particularly at the moment we're enjoying all the ridiculously good acts that are on the Melbourne scene. We all love a broad range of music and try to amalgamate our favourite sounds into the music we make.

We've been lucky enough to catch you live a couple of times, and there is such tangible interactive energy about you that emerges in your music and is subsequently gifted to the audience. How important is this collaborative vibe to you as a band?


Christian: Collaboration and collective energy are deeply entrenched in every facet of the group. We write all of our music and make all of our decisions together. So really, the band's whole vibe is about collaboration and feeding off of each other's unique musical influences and interests. Working in this way keeps things fresh for us and means that we can create music that reflects certain aspects of each member's own creative vision. We always hope that the energy of our live shows echoes the creative vibe and energy that we generate in the rehearsal studio.

Lyrically, your EP is laced with local references, like the landmark the Queen Vic Market. Is this grounding in the Melbourne scene something you guys consciously like to connect to?

Saul: For us, locality is key in our lyrics, and that goes for the places we talk about but also the experiences. That song you're talking about, 'What's Left Over', sheds light on the Melbourne experience, where you can live a really comfortable lifestyle and kick back with your friends in the city, only to have it jarred by seeing people sleeping rough and the inevitable guilt that comes with that. Grounding ourselves in the Melbourne scene means taking ownership of both the good and the bad and we don't want to shy away from either in our music.

You have a rep for putting on pretty great live shows, where everyone gets real down way down. How do you go about establishing such an alluring and infectious atmosphere?

Francesco: Being a 9 piece band, the energy can be there naturally. Whenever we get on stage we like to enjoy ourselves and have a good time which our crowds respond to and in turn they give that energy back to us, so it's like a musical symbiosis.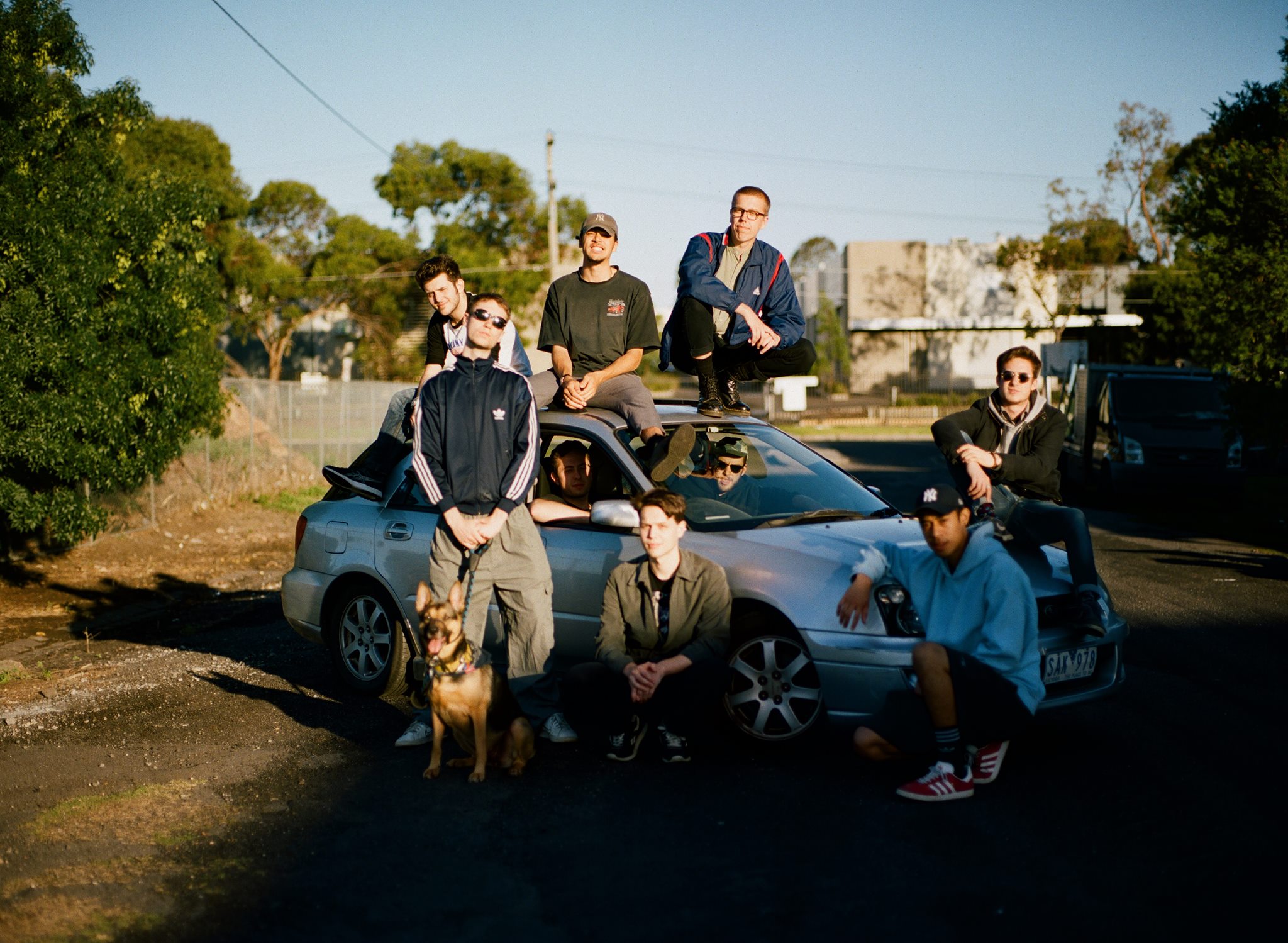 After hosting numerous shows in Melbourne the last few years, last November you trekked to Strawberry Fields Festival. How did you find the festival experience different from your home turf and are you keen to play more?


Kalu: The festival experience at Strawberry Fields was a whole different dynamic. It was amazing. Individual shows have a really nice intimacy, but I found at SF people came to the set very ready to love whatever they heard and so the energy was there from the get go. There was no warming up, which made it very easy to reciprocate that love.

You're launching ~not one but two~ singles on May 4th at the Evelyn. What can your listeners expect from this newly released music?


Patrick: Compared to our EP released last year, these singles lend themselves to a greater sense of compositional shape and consideration. While this new music is still heavily rooted in our signature sound the two singles embody a rise in freedom for the instrumentalists to branch out which formidably betters the ensembles feeling of life and cohesiveness with our talented MCs. A really exciting development to us is how magnificently the mixing differs this time round. Our man and local legend Moses Carr has really put his own great flavour into the tunes and we adore that.

What's next on the cards for The Stranger Suite?

Patrick: The next goals on our horizon will be releasing a full-length album of our tunes we've been gigging with but also new compositions we've been working on which are a further the development of our sound and musical approach. We plan to release that next year in conjunction with what we're really hoping will be a brief tour around Australia.


The Stranger Suite are launching their two new singles on Friday May 4th at the Evelyn Hotel in Fitzroy, supported by Hoi Palloi and Jazz Infuser x Lavasa.