Music / Features
Track by Track:
Liam Linley -
In the Course of Love
After years of steadily performing around Melbourne, Liam Linley has finally released his debut EP In the Course of Love - a collection of poignant indie folk, full with warm guitars, thoughtful lyrics and Liam's endearing charm.
In the Course of Love kicks off with 'Soaking Cherries', a pretty folk track that shows off Liam's textured vocals, over twinkling guitars and a rambling rhythm section. It's a subtle introduction, but does well to reveal the craft of Liam's songwriting and his ability to construct unlikely melodies over seemingly straightforward chords. Next up is the title track, which sees Liam revealing his singer-songwriter tendencies, stripping things back to guitar and vocals, with some ethereal background sounds filling the void.

Considering the relatively understated opening of the EP, latest single 'Head' comes as an invigorating change of pace. Bursting open with a full band sound led by crunchy chords and a clambering guitar line, it's a clear highlight, and 'Used To You' keeps the pace going with driving drums and charming pop hooks. Gears shift again, and Liam moves back towards ethereal folk with 'Xanadu', a tender ballad of sorts that shows off his storytelling skills. Finally, the EP wraps up with 'Tripping on my Toes a Lot', a triumphant conclusion to the EP, packed with uplifting vocals, jangling acoustic guitars and woozy organs.

In the Course of Love is a really strong debut release, and although it touches on a range of moods and feels throughout, never feels awkward or incoherent - indicative of a versatile musician who has clearly spent the last few years honing his craft. To get a better insight into the EP, we chatted with Liam to get the lowdown on each of In the Course of Love's tracks.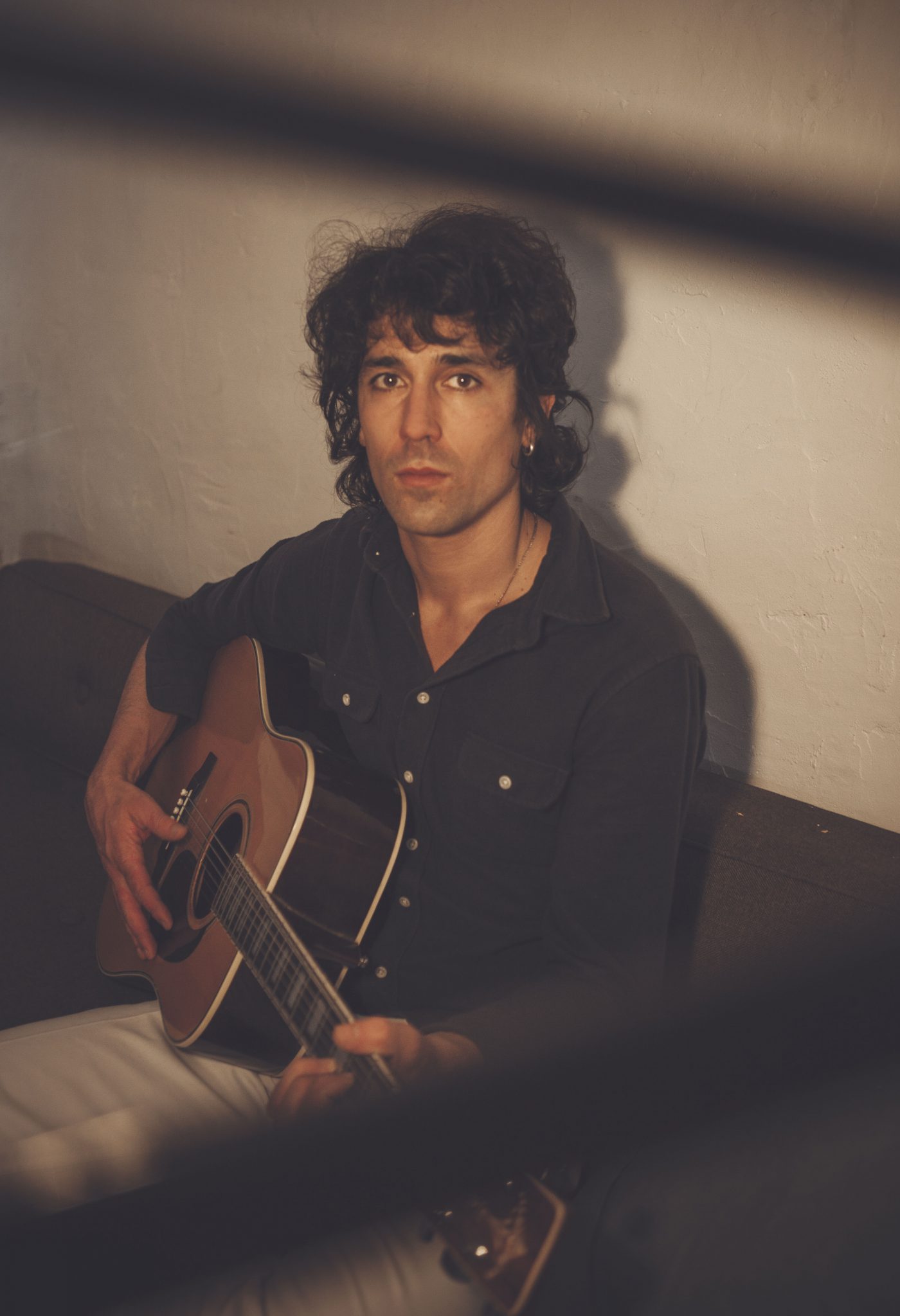 This EP was produced by Nick Higgins. It was a really satisfying recording experience. Some days I'd show up to his studio in Point Lonsdale with some fresh scones (bought) and some half written ideas, and other days I'd be armed with fully fleshed out demos. We took our time on a lot of the ideas... Nick is great at knowing when to push hard for a better take, or a different idea, and when to leave and idea for another time and move on. We had worked together before, and so we already had a great creative rapport. I really love his work.

This is my first solo EP, and I didn't really have much of an idea of what it was going to sound like... or even what the hell I sounded like as a solo artist. I had songs, demos and a bunch of sonic references, and away we went. We recorded it sporadically throughout 2016/17, and I did bits and pieces of recording at my home studio as well. I liked working this way, because I could show up to Nick's studio with a bunch of other parts and he could give his opinion on my 'howework', and then we could explore the ideas together.

Soaking Cherries

'Soaking Cherries' came about as a bit of a composite of ideas… it sounds like it's about a specific set of events, as it follows a narrative, but it's more like a patchwork. A lot of lyrics came out of the initial mumblings after playing the main guitar line for ages… I had no idea what I was talking about, but once all the words were on the page, I was able to weave together a story and cut some of the verses. Since writing it, I think I've learned more about what it's about, or at least have a better understanding of the flashes of subconscious that poked up to be a part of the song.

It's a song that seems to connect with people at live shows, and although I'm really proud of it now, I wasn't that keen on it initially. On reflection, I was in a really good writing zone when I wrote this.

The Course of Love

One of my favourite sayings is "holding on to anger is like drinking poison and expecting the other person to die" ...maybe Buddha said that… not sure, but it underpins the idea of this song. I was also inspired by the lyrical structure of Bob Dylan's 'Forever Young', where each verse finishes with "may you stay forever young". The song is essentially about letting love help you navigate through a crummy time, and wishing the same for someone who has hurt you.

This song is another that I wrote a bunch more verses for and had to file it down a bit. In terms of the guitar line, I was playing around with an open tuning, which can sometimes sound a bit hokey and bluesy for my tastes, so I experimented with some less tried chord shapes. It's kind of wonky, but I really like the guitar progression in this song. 

Head

I remember the day I wrote this, I was standing in front of my heater early one morning and I specifically decided to write a song called 'Head', and that it would describe movements of the head. I may have already had the riff… it's a bit of an unusual riff for me, I don't normally write in such a choppy four chord progression. I knew it was pretty catchy early on in its evolution, so I wanted to give it an interesting melody. The lyrics loosely describe a young girl being wolf-whistled at by a bunch of tradesmen and the consequences that follow.
I tried a few different demo versions of this, including a much heavier version with a drum machine. I ended up settling on a more slack-pop vibe. When we play it live, we bash it out pretty hard and it's always a fun one to play.

We made great clip for it which involves me being stalked by an aspirational version of myself.


Used to You

When I was writing this I was thinking about the ebbs and flows of long term relationships… how lovers can turn into best friends, enemies, or any combination at any time. How we can take for granted the person we wake up next to every day, who knows all our secrets, who cops our bad moods and who shares our dreams.
The riff is a bit of a nod to my power pop leanings more so than the other tracks on this EP so it probably sticks out in that regard. The initial demo of this song was more of a lo-fi reverberous sludge, but we decided to clean it up and go a bit more poppy.

Xanadu

I wrote this song at my mum's house in Yanakie. Initially, I was humming the word "attitude" and I quickly realised that felt a bit lame, so I changed it to 'Xanadu'. Once I did that, the whole idea for the song unfolded pretty quickly. It's set in Wangaratta and surrounding townships in north east Victoria, where I'm from, and I weaved  a story about a flamboyant young guy who is pretty clear that's not where he belongs. Sometimes I wonder if it's about me, or if it's about Nick Cave. He's from Wangaratta as well and I'm pretty sure he didn't appreciate the town all that much when he lived there. It's from the perspective of his best friend, who is observing all that's going on with the changes in the main character, Jamie. I probably enjoyed recording this song the most… even though is somewhat stripped back we explored some interesting layers and had fun with the tape machine.

Tripping On My Toes a Lot

In Mario Puzo's The Godfather, when Michael Corleone goes into hiding in Sicily, he sees a woman and experiences of what is called "the thunderbolt". It's like an instant crush or the moment that you realise you are insanely attracted to somebody. I feel that this song is like a dive into of one of those moments. It's a little surreal and explores the imaginings of what could be. The lyrics for this song came very quickly, and again, it sounds like it describes a specific real set of events or episode in my life, but I wonder how much it has to do with me. Maybe just flashes. I like that this song closes of the EP… it has a sense of nostalgia and a dreamy quality.


Have a listen to In the Course of Love above, and with a handful of great shows coming up in July, follow Liam Linley on Facebook to keep up to date with everything he has going on.