Music / Features
They Made Me Do It -
Talking Influences with Clea
Ahead of her upcoming east-coast tour, we got in touch with Brisbane dream-pop mastermind Clea, to find out what inspired 'Cool Days', her latest offering of wistfully woozy psychedelia.
It's been an incredible two years for Clea. Following a handful of singles, she dropped her debut EP Fairweather in mid 2017 and immediately earned herself an abundance of national airplay and a good 12 months of impressive show after impressive show. Now gearing up to release her debut album, Clea dropped 'Cool Days' about a month ago, and she's picked things up right where she left off.

The track bursts open into a lush wall of sound, thick with ethereal keys and pulsing bass-synths, as Clea's intoxicatingly emotive vocals drift on top. By the time the chorus hits, it's clear Clea is onto something - as guitar leads burn and arpeggiators bubble over a steady groove, she seamlessly manages to make things feel nostalgic and completely fresh at the same time. 'Cool Days' shifts slightly at the bridge with its eerie guitar plucks, but it just serves as a moment for Clea to show off her vocal prowess, before we're hit with one more explosive chorus.

With her 'Cool Days' tour just about to begin and the debut album on the way, we caught up with Clea to find out which influences have been seeping into her music of late.
Kafka on the Shore, a novel by Haruki Murakami
Haruki Murakami is an absolute genius and Kafka on the Shore is an intoxicating book. It is blunt, spiritual, conceptual and so beautiful. The way in which Murakami writes is fluid and ambiguous… right up my alley!


Call Me By Your Name, a film by Luca Guadagnino
There is so much emotion and feeling in this movie and I find it directly transferable to the heightened emotion or vulnerability I have when I'm lost in the creation of a song. The visuals seeped through the screen, you could smell the food and feel the unattainable love. I now have a strong craving for peaches and Northern Italy. There's so much incredible dialogue in this film and the characters were all so perfect, plus you can't go wrong with a Sufjan Stevens soundtrack.


Painted Ruins, an album by Grizzly Bear
I am a die-hard Grizzly Bear fan. They are a big reason as to why I play music. As a teeny-bopper I would fly to Sydney to see their all ages concerts. Grizzly Bear's latest album Painted Ruins showcases their godly musicality… it's transportive. My little heart exploded as I got to meet them earlier this year at A Festival Called Panama, it's not everyday you get to meet your musical heroes.


Summer At Carcoar, a painting by Brett Whiteley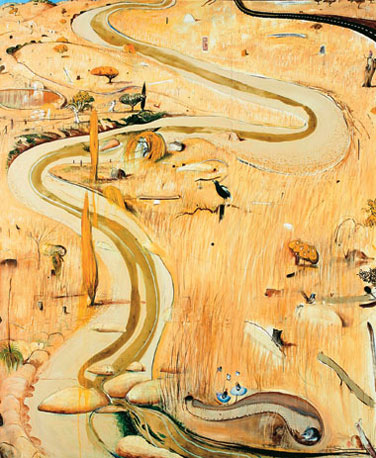 My parents used to have a print of this painting on the wall so I studied its intricacies as a kid. There's something about the expansiveness of the depicted landscape that is so dear to me. I loved going back to the print and finding a creature or an aspect of the painting I didn't notice before. That has stuck with me through music, there's something so cool about hearing a little guitar or synth line in a song that wasn't obvious in first listen… Hidden melodic treasures.


'Boyish', a song by Japanese Breakfast
Japanese Breakfast is my newest discovery. 'Boyish' is the melancholic, swirling ballad everyone needs. The album Soft Sounds From Another Planet where 'Boyish' reins from is unreal. Each song is its own little exciting world. I very much appreciate and aspire to create an album where there are a collective of different genres and sounds and a continuous feeling of anticipation for the next track.


Check out Clea's latest single 'Cool Days' above, and catch her at the Worker's Club in Melbourne this Saturday, August 4th, as part of her single tour, or head to her Facebook page to check out all the other dates.