Music / Features
They Made Me Do It -
Talking Influences with Soft Powder
Last month, local dream-pop guy Soft Powder released his debut EP Shangri-La, a collection of immersive lo-fi pop that brims with otherworldly sounds, introspective themes and tasteful 80's production, and we got in touch with the man responsible, Andy Szetho, to find out about the influences behind it.
Considering the tracks found on his debut EP under the Soft Powder moniker were never intended to see the light of day, it's a little surprising that the final product is as realised and self-assured as Shangri-La is. However, with a heap of acclaim already building up, there's no doubt that we're hearing an artist who will definitely shape up to do exciting things.

Shangri-La kicks off with 'Floating', a perfect introduction to Soft Powder with its pounding drum machine and translucent synths, and as Andy's dreamy vocals are buried within the mix, it often feels as if we're being transported into his sonic world as we lean in closer to make out his lyrics. A little rougher around the edges, 'Spinning' sees Slow Powder spin things up with a hypnotic groove built around a perpetual beat while layers of glistening keys wrap around each other, and 'Anywhere' takes things back down with its emotive melody and darker feel. Wrapping up with EP highlight 'I Wonder If You Dream', we're offered up one more mesmerising soundscape that overflows with poignancy with its expansive keys, wobbly guitars and playful grooves, and amongst the thick 80's vibes, rounds out Shangri-La in a charmingly tasteful way.

It's a really powerful introduction for the project, so we caught up with Andy to find out about what inspired the sounds we hear on Shangri-La.
Elizabeth Fraser's otherworldly vocals, combined with Robin Guthrie's sparkling guitar sound is what I'd imagine would be playing as you enter heaven's gates. I've always tried to make my guitar sound like Robin Guthrie's, and a lot of the time I do it without even thinking, it's almost completely instinctive now. On my EP I also tried to emulate some of their drum machine sounds. I really love how for the most part, the Cocteau Twins didn't play with a drummer.

Wong Kar-wai
I remember watching Chungking Express for the first time and trying to work out how it managed to be so funny and tragic at the same time! I watched more of Wong Kar-wai's films and fell in love with the mood he creates through his fractured, yet melancholic visuals and witty dialogue. His films always play on themes of alienation, loneliness and heartbreak, and I guess I tried to convey a similar vibe and ambience in my songs.

Watching Wong Kar-wai's films has also been culturally affirming for me and prompted an important turning point in my sense of self. As an Asian growing up in Australia I was always embarrassed about my family's Chinese heritage, mainly as a result of growing accustom to the way Asian people are constantly stereotyped and degraded in western films and media. Watching Wong Kar-wai's films has been a really cool thing for me because it showed me that Asians aren't exclusively there for comedic relief or to be made fun of, and that we can be emotional, sexy, romantic, and confident too!

Lost Horizon by James Hilton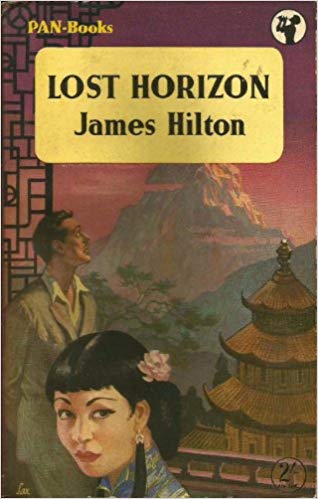 This is my dad's favourite story, and it's also where I got the name Shangri-La from. Lost Horizon tells the tale of a mystical, hidden paradise of eternal youth called 'Shangri-La'. When I was younger, my dad made our whole family watch the 1973 movie adaptation of Lost Horizon for his birthday. At the time, my siblings and I thought it was going to be torture, but it ended up having a pretty big impact on my young imagination, and it still does. The idea of escapism is one of the main themes of my EP and it's something I've always relied on. Escapism through music, film and books has always been a nice way to zone out from reality for a bit, and Shangri-La symbolises my ideal imagined paradise.

The Pains Of Being Pure At Heart
Their self titled album is one of my all time favourite albums and listening to it instantly makes me feel nostalgic. The lyrics are unapologetically and almost nauseatingly over-sentimental, but everything else has an air of nonchalance to it. The Pains Of Being Pure At Heart blend "sweet spot" pop music with just the right amount of dirt and fuzz, which is a similar mindset I tried to adopt when writing my songs.

80's Synthpop & Coldwave Music

Kate Bush - 'Hounds of Love'
Asylum Party - 'Play Alone'
It's probably quite obvious, but my music is heavily influenced by a lot of 80's music. I mentioned the Cocteau Twins earlier, but I was listening to a lot of synthpop as well. I'm predominantly a guitarist, so listening to the Pet Shop Boys, Madonna, New Order, and Kate Bush all made me want to explore the world of synths. I then found myself on an 80's coldwave tangent, particularly listening to bands like Asylum Party, who gave me lots of ideas in terms of drum machine sounds and blending my guitar with simple synth parts.
Have a listen to Shangri-La above, and follow Soft Powder on Facebook to keep up with everything he has going on.