Music / Features
Track by Track:
Shrimpwitch - Gave Me The Itch
It's been almost four years since they began tearing up stages around town, but last week local garage-psychos Shrimpwitch finally dropped their long-awaited debut album Gave Me The Itch. As raucous as it is disturbingly sweet, it's a wild ride and one that was well worth the wait, so we caught up with the band to find out a little more about it.
On their debut full length, Shrimpwitch waste no time with formalities or introductions. In fact, Gave Me The Itch opts for the exact opposite - clocking in at under 25 mins, it's a frantic blast of chaotic garage-punk, that sees the band throw any caution to the wind while making do with what they've got, which is a blown-out guitar, a drumkit ready to be beaten and two snarling voices. The result is freaked-out, messy and outrageous, in the best possible way.

From the sprawling garage rumble of 'Trouble', that hits hard with its volatile beat, crusty power chords and Georgi Goonsack's frenzied vocals, past the rock 'n' roll grooves of 'Bung-Eyed Baby' and the eerily swampy 'Green Looks Good (On Me)', and onto the fiery stomp of album highlight 'Digestion', Gave Me The Itch is a masterclass in primitive rock 'n' roll, served with the perfect amount of wild fervour and oddball charm. And then there's 'Shrimping', the album's careening closing track that threatens to fall apart at countless moments yet somehow survives, proving that Shrimpwitch can surpass any expectations, and maybe even their own own.

It's not by any means a stunning or flawless album, nor does it try to be - but that said, Gave Me The Itch makes up for what it lacks in a big way with its unruly sense of fun and untameable weirdness, something that even the most skilful musicians can't fake. Ahead of their enormous launch show at the Tote this weekend, we caught up with Georgi Goonsack and Kim Prawn to delve a little further into each of the album's tracks.
Trouble

GG: Almost asking for forgiveness about experiencing anxiety and being in love. The music sounds like a repetitive spiral of manic. It's hard when you're trying to get close to someone, and then you realise, oh wait, I forgot I get really stressed out for no reason! It's the complicated way of telling someone you get anxiety and it's nothing to do with them, you're just prone to getting bouts of anxiety. It makes it hard. But trouble isn't hard, it's growth, lol, so it's like getting closer to someone intimately by communicating the struggles you face with anxiety. It makes you closer.

Leerers

GG: This song is a hard frazzled "go away, but you've creeped me out! I feel powerless now!". Like you know when you've been mistreated and it's only after they've gone, you have things to say back? Also it's just annoying because I hate having to tell people to fuck off, but sometimes I have to. It's ridiculous that because when people perform, people in the audience can feel like they own them somehow - because they've made a connection to the music and therefore you are now at their disposal somehow. I'm angry because it makes me so sad. I don't leave the house to get sexually harassed and assaulted, so WHY DOES IT KEEP HAPPENING?


Green Potato

GG: Token f-you to the system banger, I like this song being fun and gnarly. I list some things off the top of my head that piss me off. And sometimes the most mundane things make you so angry. But is it you getting petty and disillusioned or is it something systematic like capitalism that has its flaws? Haha. Yeah.

KP: I think of 'Trouble', 'Leerers' and 'Green Potato' as a set. We wrote them close together (we tend to write a few songs at a time; they just kind of fall out like that). I'm playing similar notes on the guitar in each. I love the E string, what can I say? It's a large part of the Shrimpwitch palette.

Bung-Eyed Baby

KP: This one is semi-autobiographical; it's about interpersonal experiences but also just about feeling generally emotionally frustrated and leaning towards self-sabotage. The "I'm just as crazy as you" line is more so about gender dynamics and how women are often cast as overly "emotional", when really people's frustrations are expressed in different ways. It has very simple, repetitive chords, which gives it that mesmerising, swaying kind of feeling. Georgi's backing vocals are nice and spooky.

Green Looks Good (On Me)

GG: I wanted to write a harrowing villainess song that is uncharacteristically Shrimpwitch by being slow and quiet, but still terrifying. I think, like in any circle of people, there can be this upsetting jealousy that occurs and no one can admit it because it's awkward and not in good spirit. I wanted to personify this really annoying toxic feeling -- a feeling of denial and malice.

KP: The guitar is extra spooky and bare-bones. My tremolo pedal helps things feel a bit unsettled. And an a capella chorus?! Nothing creepier than that.

Digestion

GG: This song is the most personal song I've ever written. It's like a sequel to 'Lust for a Kick' off our EP. The song pretty much speaks for itself. I guess overcoming PTSD is always going to be fucking hard, and evidently you can move on with your life but it's still deeply saddening. This is my favourite song on the album.


Repetition

GG: 'Repetition' is more abstract than the other songs. The music and lyrics themselves are quite repetitive, to you know, make the song title make actual sense. It's about trying to get an answer out of someone, or a political figure and yet they can't or won't answer. I'm just kind of listing useless or benign statements in the verse to demonstrate the frustrations in the opposition's answers, which creates a horrible one-sided argument.

Sever

GG: I felt really bold writing this song. I don't really often write about positive relationships. This song is about toxic relationships where you're gaslighted into thinking that you're the most horrible human in the world. But you're clearly not. Anyway, therapy is really good. It's also the most glam-rock song we've ever written, and it's really long. It's a bit of a wank for myself, personally but I hope other people like it. It's out first "count-down" song too, so I feel more like an established rock lord.

KP: Also George was listening to a lot of Heart at the time, so it came out quite 70s and obviously her vocals absolutely rip.

Mystique

KP: This song was half written on the spot when we were recording. We had just arrived home from a trip to NSW the day before so we were a little tired and delusional but energised from a fun trip. It's fast and loose, just as it should be. Lyrically, it's about romantic/erotic ideas people can project onto you and how although that can sometimes be enticing, it's often a pretty hollow situation. The guitar was very slightly meant to be a warped Nancy Sinatra tribute.

Shrimping

KP: More of a musical sketch than a song. We wanted something weird to close out the album (much like our live shows, you gotta leave a strange taste in peoples' mouths!). Our engineer Oscar (who did a brilliant job on the whole thing and was very patient with us across multiple recording sessions) encouraged us to just press play and go for broke, so that's what we did. It shouldn't work and almost doesn't, but George and I have a strange chemical energy that means yelling and moaning and playing very quickly comes across as quite natural. The fade out obviously signifies us riding off triumphantly into the sunset.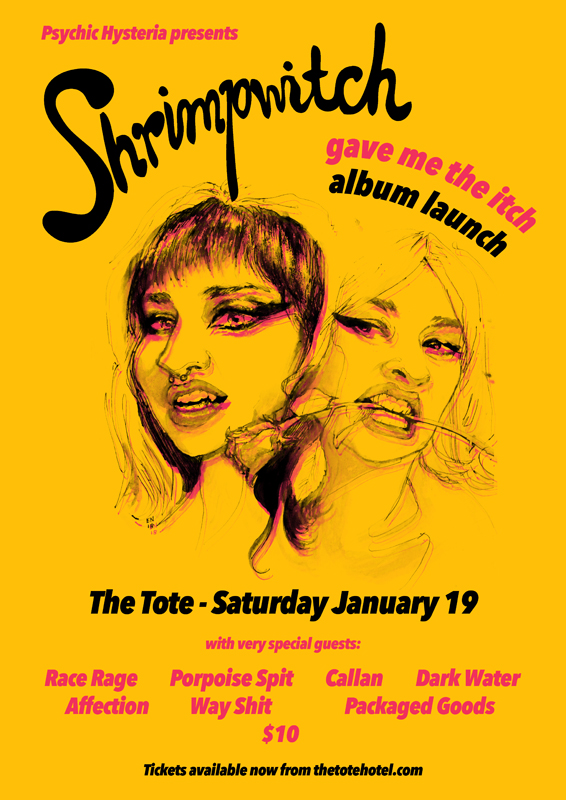 Check out Gave Me The Itch above, and catch Shrimpwitch launching the album this Saturday at the Tote, with Racerage, Porpoise Spit, Callan, Dark Water, Way Shit, Affection and Packaged Goods.