Music / Features
Track by Track:
Chakra Efendi - Until The Children Grow Old
After building up our interest with a string of introspective singles, psych-pop youngster Chakra Efendi has finally given us his full debut EP, and it's a knock out of the park.
The 19-year-old writes his songs at night as a sufferer of insomnia, and despite the upbeat energy found across the EP's sweeping mix of songs, a closer listen will give away the sort of thoughts that are best suited to plague your mind right before you go to sleep. The examination of mental health stands out as the collection's centrepiece.

That's not to say they'll get you down though. Throughout Until the Children Grow OldEfendi, who's based in Brisbane and on the Sunshine Coast, has used lo-fi sounds to both complement the murky territory his words are wading into, and to blur in up-tempo jangles, elevating the tracks to a higher level.

Opening track 'Waste of Space' is a perfect example, starting slow before launching into a complex balance of measured-but-racing drums and atmospheric guitar beneath his steady, restrained vocals. 'Mia' and 'Plague, Struggles, and Sin' follow suite with their bright chords and bubbling grooves, before 'Myself at Night' cools things off with its uneasy guitars and a pensive melody that flows smoothly despite its off-kilter movements. 'Grow Up' is another highlight - the track feels slightly darker, with its deep vocals and slower pace, but still feels soothing with Efendi's calm voice, before reaching a layered outdo that plays like an sonic equivalent of angst. Finally, rounding out the EP is 'Home', a prayer-like track that strips everything back to keys and voice, and sends the EP out on slightly disorientating, lighter note.

To celebrate the release of the new EP, we got in touch with Chakra to delve a little further into the tracks.
Waste of Space

I wrote this song when I was in a pretty strange place. I was in year 10 and was trying to make sense of my mental and physical state at the time, questioning why I was thinking these dark thoughts about myself - I felt like God had cursed me. A lot of my memories from this time period are pretty hazy, it felt as if I was viewing my life from a third person perspective, present in time but not necessarily tied to thoughts or reality, and I guess the chorus shows that. 

Mia

This song was written after graduating high school, when I started to delve into a deep hole of self destructive belligerence and hedonism. The 'Mia' in the song isn't about any particular person, but is actually the personification of mental health issues. I wrote it to help me cope with my dark thoughts, by not identifying with them, and to also show the effects that a battle with mental health can have on a person. Just because the problem isn't physical doesn't mean that it can't hurt you, but by choosing not to identity with the thoughts is to return power into your own hands.


Plague, Struggles, and Sin

Written mid year 12, this song is about a boy who had lost himself to the grip of substance abuse. It depicts a story consisting of various events that my friends and I had experienced during the time of our teenage angst. I had a lot of friends that were running away from home as an act of rebellion and seeking a substance to ease their woes. One of the events that inspired some of the lyrics was when I kicked in a glass window at an abandoned house and sliced my leg open, it was after the first proper Chakra Efendi show. I did it because I was annoyed at Fin (drummer) for stealing my lighter and refusing to acknowledge that it was mine... it probably wasn't even mine, goon sure can make a boy do silly things. I had to get stitches and was on crutches for 3 weeks, still have the scar on my leg today.

Myself at Night

This song was written in 2014, the oldest on the record. I used to hide behind a facade of happiness in social situations to mask my emotions, and found that I was faced with my true feelings when alone at night. The song was written at about 3am and reflects some of the things that I was feeling at the time. Towards the end of the song I reference to St. Peter, keeper of the keys to heaven's gates, I think that him and I have a lot in common and should go fishing together sometime. 

Grow Up

After graduating high school on the Sunshine Coast and moving down to Brisbane/Gold Coast at such a young age, I found myself thrown into a vast adult world, navigating it with immaturity. I was drinking heavily and reflecting on all of the events that had led me to where I was, crashing on couches whilst studying at uni and living in the sunroom of a small share house with 5 other people, all of which were already above the age of 21... I was like an alcoholic Harry Potter. The world was screaming at me to grow up, and this song is the result of that.


Home


This was the last song to be written, I wrote and recorded this at the start of 2019, I feel like it's the best way to close out the record. I'm 19 now, soon to be 20 and have faced some pretty dark days, but feeling better than ever. I'm happy, healthy, in love, and acknowledge the past for what it was, for it has shaped me to be the person that I am today. I've lived in many strange places that I wouldn't necessarily call 'home', but the idea of a home has always fascinated me. To me it is not a house, but more so a feeling. And what I'm feeling now is the most stable and comforting home that I've ever lived in. To anyone feeling lost at the moment, you'll find your feet soon enough and the path will eventually become clearer. Navigate the haze, the fog will rise and your home will be awaiting.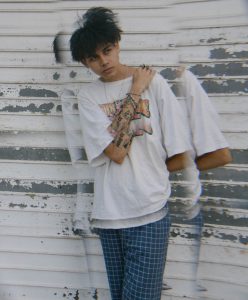 Check out Until The Children Grow Old above, and catch Chakra Efendi launching the new EP on March 15th at HeyWire in Brisbane.