Music / Premieres
Premiere:
Claws & Organs - Riding Without Driving
Today we have the pleasure of premiering the brand new single from Melbourne goths Claws & Organs - 'Riding Without Driving' is a turbulent blast of restless post-punk and a captivating taste of what's to come from their forthcoming album Real Life.
Since forming at the beginning of the decade, Claws & Organs have been mesmerising audiences with their visceral blend of brooding post-punk and scuzzy 90's alt-rock, sharing stages with the likes of Adalita, Tired Lion and WAAX over the recent years. Since forming, they've amassed a collection of EPs and singles, and now, six years on from their first release, they've given us a new offering with 'Riding Without Driving', an early taste of their debut album out next month.

Opening with a thunderous bassline, 'Riding Without Driving' quickly settles into an agitated groove, pushes along by a propulsive beat as nervous guitar leads flicker in and out. The tense mood only builds as vocalist/bassist Heather Thomas moves in with her captivatingly cold vocals, and despite her seemingly indifferent temperament, each line drips with attitude. Following a fiery chorus, the band shift back into another ominously calm verse, before they fully succumb to the chaos and ride the track out with a wall of fuzz, build with layers of frenzied guitars and spaced-out vocals over a driving stomp.

Speaking about the track, guitarist David Crowe explains "while working on some other songs that feature on the album, 'Riding' was written almost accidentally. Once the thundering, driving bassline was paired with the more sparse guitar sounds, the rest all came together very quickly and naturally. The main theme running through the song is a lack of control over life and the anxiety that comes with it, based on Heather's personal experiences. The abstract lyrics were inspired by a series of nightmares that symbolised these feelings, adding to the haunting tone of the song."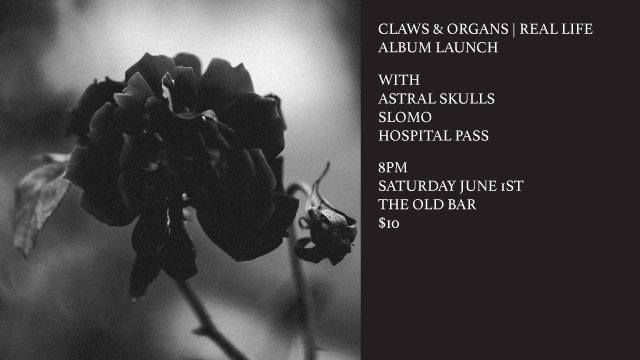 Have a listen to Riding Without Driving above, and catch Claws & Organs launching their debut album Real Life on June 1st at the Old Bar.