Music / Premieres
Premiere:
Lafferty Daniel - Faux Punk
Wacky-pop mastermind Lafferty Daniel is back today with the release of his debut EP Faux Punk, a collection of masterfully erratic garage-psych that never shies away from getting weird. To make sense of it all, we got in touch with the man pulling the strings to find out what's going on in his twisted mind.
If you're not quite up to date, Lafferty Daniel is the solo endeavour of local man about town Jack Foy, who you'll recognise as the psychotic drummer of a handful of different Melbourne projects. While Lafferty Daniel is Jack's first time tackling music from a melodic perspective, he explained last time we spoke that "playing drums is a very specific one for me, so I wanted to go down a different route. I'm very much a drummer playing guitar and I think it comes through in the music." This idea certainly shines through across the entirety of his debut EP Faux Punk, which sees Jack taking every possible opportunity to pull an eclectic left turn or throw a spanner in the works, but the result is pure joy.

Opening with a pounding beat and a wobbly guitar lead, 'Can't See Straight' immediately sucks us into Faux Punk with its careening drive, as Jack's colourful voice bounces over the off-kilter grooves - that is, until he throws a weirdo tempo shift and the track zooms off while we're left trying to get our bearings. Next up is 'Big Man', which follows suit with some equally erratic rhythms as guitars zigzag around a playful melody, before lead single 'Serotonin' throws us for a loop with its frantic chaos and contagious energy. Finally, Faux Punk wraps up with 'Another Batch', a woozy garage-pop tune that finds Lafferty Daniel at his most composed, as he slips a sunny melody through a tangle of gleaming guitars while a laidback groove bubbles underneath. Sure enough though, the calm and collected atmosphere is only temporary, and Jack switches gears once more to shoot the song out with a glorious sax explosion and a heap of charm.

It's a really fun introduction to the new project, and a move that adds another string to the bow of an already commendable musician. To celebrate the release, we got in touch with LD himself to dig a little deeper into the world of Faux Punk.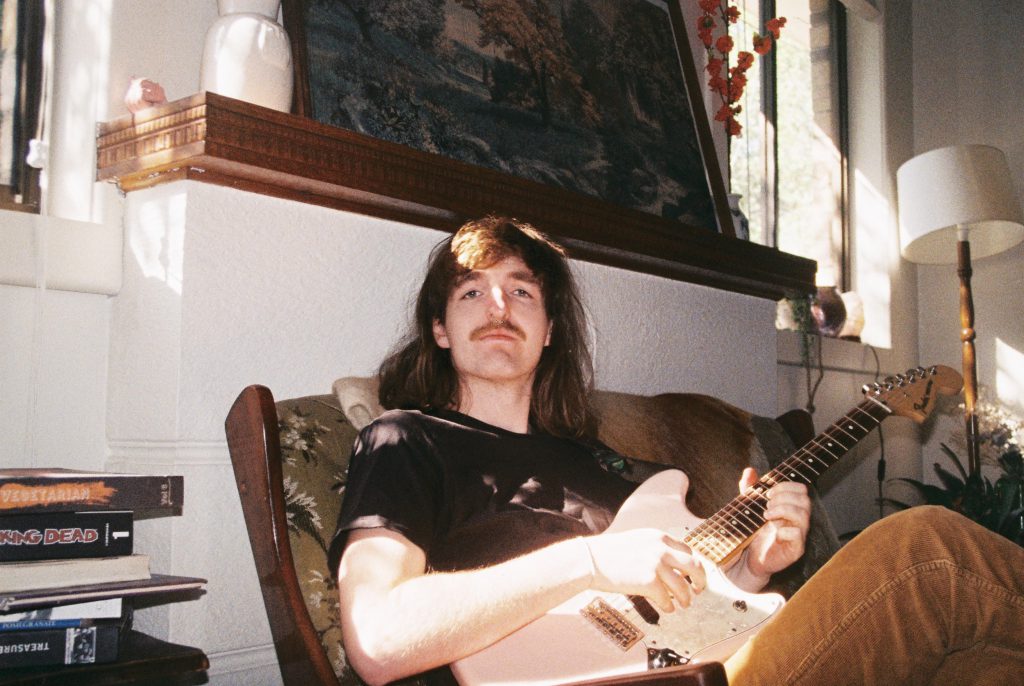 LD: For the EP as a whole, I was very much taking influences from older punk bands like the Ramones and Stiff Little Fingers, and also Blink 182; but combining them with more modern bands that have a punk-ish attitude like King Gizzard and Parquet Courts. I love the high energy and fast tempos of punk music, but am really bored of the constant distortion, and the squeaky-clean million dollar production of noughties bands. I guess that's why it's faux punk, I'm taking the things I like from music I love, but throwing away the parts I hate and trying to create my own spin on it.

Can't See Straight

'Can't See Straight' is a song I wrote a while ago when I had some self-imposed insomnia. It's got this verse that has a pretty circular chord progression, it gives off the feeling of spinning around and around, kind of like a being in a dizzy trance. But it's really upbeat so you almost enjoy it. It's a song about doing something that's enjoyable in the short term, but really detrimental in the long run.

Big Man

'Big Man' is about the daily grind. A lot of people do the same thing day after day, hoping that their efforts will ultimately be rewarded. It's about the security of having a stable job and a stable lifestyle; however the narrator thinks he is above all those other losers that drive in peak-hour to work every day, get home, watch tv, and then get up to do it again. It's also kind of addressing the idea of stereotypical man working his crappy job cause that's what he's supposed to do, even though he hates it. The narrator sarcastically refers to him as "big man", implying that if he is really such a man, why is he so discontented with his life? However by the end of the song, the narrator resolves himself to a regular life: "Our days will drift away, but I guess we'll be okay"; showing the apathy that he too has developed for his lifestyle.

Serotonin

'Serotonin' is the idea of going through a rough time, and rather than using constructive coping mechanisms to feel better, going for the short term option of going out and getting completely obliterated. This song features a duelling guitar solo between myself and good friend Zac E Tea. It really reinforces the absurd silliness of doing the absolute worst thing to help yourself, and then realising you are the architect of your own suffering. All you can do is laugh.

Another Batch

'Another Batch' is about breaking up after a long relationship. You've been with someone else for so long that you've kinda forgotten who you are, and now you have to figure it out. It's also a kind of allusion to someone moving on from another after they've had their fill and are looking for newer and grander things. This song has a sax solo from my very talented friend Aidan Hodge, I really liked the idea of it giving the song a bit of a Rolling Stones vibe, while still retaining modern guitar pop song writing.
Have a listen to Faux Punk above, and keep an eye on Lafferty Daniel's Facebook page for the announcement of the band's first live shows.