Music / Features
Track by Track:
Natasha Johanna - Golden Light
Just two days after the release of her debut EP Golden Light, we had the pleasure of catching up with Melbourne singer-songwriter Natasha Johanna to find out more about her new batch of woozy psych-folk goodness.
At times bright and colourful, at others eerily disarming, but completely enchanting all the while, Golden Light plays as a perfect introduction into Natasha Johanna's immersive dreamworld. Across the EP, we see Natasha flirting between folk and psychedelia, and coming out with five gorgeous moments of elaborately illusive pop, that breathe with spirit and charm.

We're immediately pushed down the rabbit hole with opener and debut single 'Belmont Park (Take a Photograph)', a dose of infectious folk-pop that bursts with character, set to a backdrop of tinkering acoustic guitars and wandering flute, while Natasha's honeyed voice floats on top. The mood shifts at 'Air', with its full piano chords and soulful melody, but it soon opens up with a downtempo groove and euphoric chorus.

Next up is 'The Calendar', which strips back to just guitar and vocals and plays like an evocative nursery rhyme, despite being buoyed in reality lyrically. However, as it drifts on, the simple vocal line and constant arpeggios take on a haunting quality, showcasing a new side to Natasha's sound. Golden Light rounds out in a similar way, teetering on the edges of delightful and sinister. 'Wild Ones' is almost dreamy, with its soft textures and unhurried lilt, yet its innocuous melodies leave everything feeling slightly eerie, before closing track 'You Can Be Free' sends the EP out on a persistent chime. But as a stark xylophone and flute duck in and out while Natasha's vocals entwine around the chord, the result becomes as captivating as it is uncanny.

To delve a little deeper into Golden Light, we got in touch with Natasha to get the inside scoop on each of the tracks.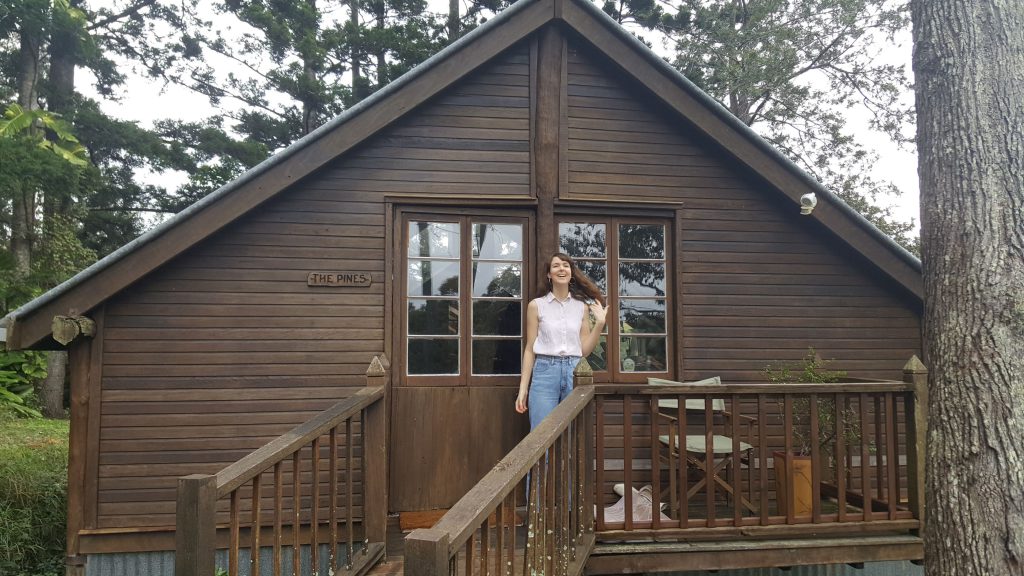 The EP was co-produced by me and Kate Dillon (except for the song 'Air', which was produced by Robin Waters) in a cabin in the forest in the Noosa hinterland this time last year. It was a dreamy experience. Recording can be high pressure so to escape into nature when you need some fresh air is so invaluable. We played all the instruments except for the drums on 'Air' and 'Wild Ones'. Kate fit her whole studio into her van and we drove it up and set-up in a tiny house with cows and birds for friends. I think living and working together for ten days and reaching the goal is a credit to our working relationship/friendship. I'm so lucky to have had Kate's passion and attention on this project. Go and follow #dirtypowerstudios

Belmont Park

A nostalgic, summery, fun number reflecting my childhood memories of living in San Diego, California. I'm really happy with how it's sounding with the band at the moment, as we have added some extra harmonies in parts. It's going to come alive at the launch on July 11th.

Air

'Air' was the only track we didn't record in the Cabin the Noosa forest, mostly because we ran out of time but also because a real piano was the only thing that we didn't have with us. We really had everything else we needed to create the EP there - instruments, equipment, sunshine, rain, nature, coffee, the ocean... not to mention the incredible Golden Light that would stream through the window most afternoons (which is why I ended up naming the EP after it). It sounds like a cliche but it was magic. Kate and I made a demo of 'Air' in my living room, a kind of stripped back version, but I later decided to add drums etc. so I worked with the wonderful Robin Waters back in Melbourne who produced the final version you can hear on the EP. 
The Calendar

Not sure if you're meant to have favourites but this is my favourite song on the EP - it's like a niggling memory with the persistent guitar picking pattern and it features some mermaid choir moments towards the end. It's a retrospective break-up song and it was cathartic to write. 

Wild Ones

A surreal utopian dream (also featuring mermaid choirs).

You Can Be Free

It is in the title but it's also my adventures in wonderland, meaning the way I wrote this song was really different from all the others and it is also always half improvised when we perform it live. I think it's also my secret longing to start an experimental project on the side…
Get lost in the world of Golden Light above, and catch Natasha and her band launching the EP on Thursday, July 11th, at the Grace Darling.