Music / Features
Lost Treasure -
Roolette Records chat with The Tropes
To celebrate the one year anniversary of The Tropes' debut album Bottom Of The Ocean, Roolette Records founder and Tropes superfan, Carsten Bruhn, got in touch with the band's frontman, James McLean, to learn a little more about his favourite album of 2018.
In late July 2018, Melbourne punk band The Tropes released their debut LP Bottom Of The Ocean. Little did I know it was going to change my life…

I'm out at The Tote in May 2018 to see Pinch Points play their first ever show at 'Bestfest', an annual day festival founded by lead singer and principle songwriter of The Tropes, James McLean. As my drunkenness peaked I was up in the DJ booth filming a bit of the headlining band The Tropes - however being extremely drunk I couldn't really comprehend the music. It was only after checking out what I had filmed the following morning with a sober pair of ears that I realised how much I loved it. I would soon find out the song I recorded them playing was '24/7' off their upcoming debut album. It's still my favourite track of theirs. 

From that moment on I became the albums number one ambassador and have assigned myself the task of ensuring it reaches a greater audience. It's a 16 track punk rock masterpiece - the guitar work is intense, the bass lines are melodic, the drums are straightforward, tight, and fast, and the vocals are loud and unique. I instantly fell in love with the lyrics, in particular how powerful the first line is; "You can be your own biggest fan", which I think sums up the overall feel of the album. It helped me believe that I could be happy, it helped me move on from my last breakup and helped me cherish the beginnings of a new one. I listened to it everyday for months on end. It's the soundtrack to the happiest year of my life.

Leading up to Bottom Of The Ocean's one year anniversary, I had the opportunity to interview James in an effort to help tell the story of this criminally underrated album.
CB: Hey James! First of all, thanks for doing this interview and thanks again for creating an amazing album. Looking back a year after its release, how does Bottom Of The Ocean sit with you? What does it feel like to you now?

JM: Hi Carsten. It's always a pleasure to talk to you and thanks for asking for the interview. Looking back at the last year, I've been so happy with the response The Tropes have gotten about the album. The album was a huge undertaking for us, in that it included almost all of our songs, which we'd written since the band started some three years prior. I think when you work so hard on something for so long, by the time it is completed it's virtually impossible to be objective about it. We knew we were happy with the performances and the production but would it stack up as a worthy piece of art? 

The great thing about the last year for me has been hearing other people's thoughts. Being surprised by insights people have or impressions people got from particular songs. For instance, prior to the release of the album, people only knew us as a live band. The song Bottom Of The Ocean was chosen to be the title track because we got the biggest response at gigs from it. It's loud, it's powerful and it's a release of angst. People latched onto those couple of phrases in the chorus and I'd see people singing along. We used to always play it last for that reason. Since the album has been out I've been happy to hear that people have warmed to many of the other songs. 

The opening track 'Don't Worry About It Mate' is one of those. I've come full circle about this song, which has become an icon of my own attitudes. When I first wrote it I had the intention of creating something very sentimental. Like something that may be the soundtrack for a montage in an 80s coming-of-age film. I have a heart of cheese when it comes down to it. When it was finished, I had this acute anxiety moment which happens when looking outward sometimes. I had this vision of a bunch of black-clad post-punks with their arms folded at the back of the room rolling their eyes and making snide remarks about 'pop' music and its apparent lack of real emotion. This feeling diminished somewhat but never completely went away until the album was released. People gave such warm feedback and it made me think attitudes are changing about optimism in art. There's only so long that people can wallow around in their existential dread. Eventually they will want something to pull them back up into the sunlight and spur them on. 


I think it's fair to say the album flew under the radar. I know you tried to get it out there quite a bit but just didn't receive much attention from the 'industry' and all that, right? I think the title reflects its reception in that it's like a treasure chest, or the titanic you know, lying at the bottom of the ocean waiting for people to find it. Would you agree?


I reckon that's pretty accurate. I definitely gave the album a big push prior to deciding to self-release. We were all really excited about the idea of this album finding its way into the world and we knew we'd have to do all those tedious admin tasks in order to give ourselves the best chance of gaining some attention. We thought we might have a chance with some local labels and so I focused my efforts on them. Sadly this failed to gain any traction. Sometimes people don't know what they have unless it's surrounded by a hype machine with its finger on the social media button. Self-promotion is not something that comes easily to someone who can't stand egotism.

I like the fact that you've referred to that metaphor. The treasure chest on the ocean floor. These themes are central to the cover art of the album, which was created by the incomparable Ashley Ronning. A framed photo of The Tropes in a moment of idyllic togetherness. How did the photo come to be on the ocean floor? At the time the artwork was made there was some unrest within the band. Mostly between myself and our former guitarist. Lost innocence perhaps? We can never return to those golden moments. The treasure chest is the album. Those precious gems that will live on long after the band and the people disappear. What's that looming over our heads? A sinister tentacle. Turn the album cover over to reveal a menacing sea squid of the like only Jules Verne could have conjured. The squid is the unknown. All of those external forces that can catch you off guard and cripple or destroy a person, a friendship, a band.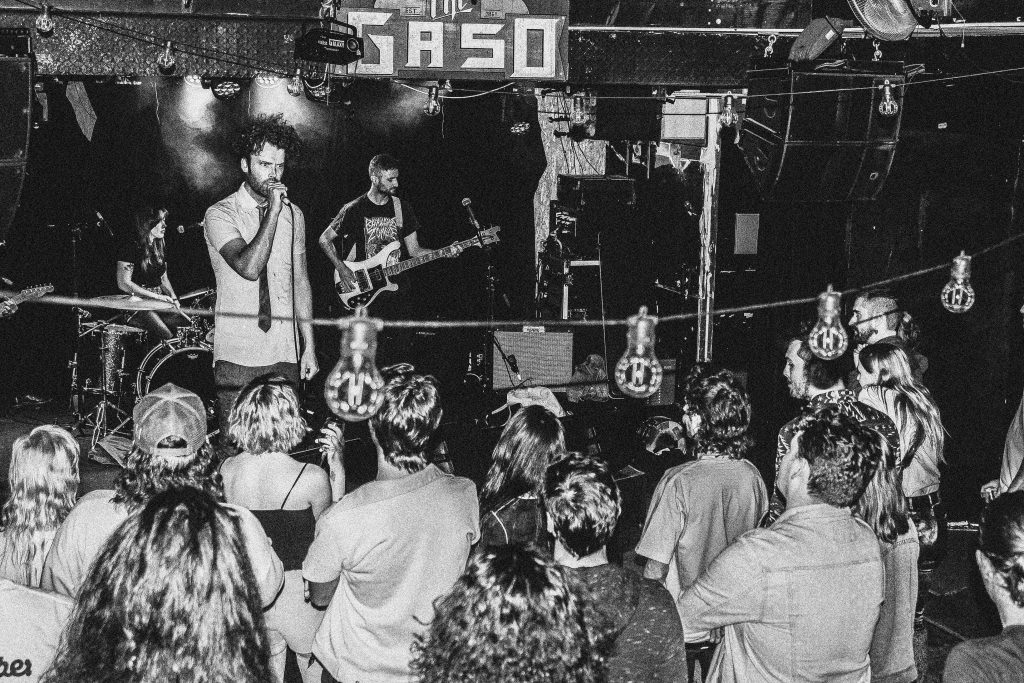 It's a breakup album but also a coming of age album, with pretty clear messages of believing in yourself, getting into a good place after a breakup, wanting to be happy again and meeting someone new. These themes complement each other pretty well, can you talk a bit about what you were going through during the writing process? Was there a specific point where it switched from themes of breakup and heartbreak to good vibes?

The band started when Jackson and I started hanging out and making demos. We used to work together years prior to this and were reunited by chance through a mutual friend. He'd just come out of a long-term relationship, so a lot of our talk was about this. I was having a hard time personally within my own relationship so I feel like we were good company for each other.

I'd been in a very good relationship for over 5 years. We supported each other. We shared friends and interests. We never fought. I can't remember ever raising my voice in a moment of frustration. As time passed it became clear that our lives were diverging and I could see that doing the things that interested me was making her unhappy. Some people think that being in a relationship means compromise or losing a part of yourself for the greater good. I've since come to believe that being happy in relationships is finding someone who sees exactly who you are and wouldn't change you given the chance. I think I learnt a lot from my parents' relationship and subsequent divorce. Never being able to reconcile what they want with what they have. 

I was very lucky in those first few months after the end of that relationship. I moved house and found a new world of friends and things to do. One of those people I met was Georgia, who became drummer for The Tropes shortly after. She helped me a great deal over those first months with a sympathetic ear as well as a very positive attitude. It was in those months of reflection and self-doubt that a new optimism came to my song writing. It actually preempted my own more optimistic outlook. I believed that if I wrote the words and sang it with every ounce of myself then it would happen. It's me telling myself to cheer up and get on with it. It worked incredibly well. Needless to say that by the time the album was recorded, every word, every syllable and note was truth.


16 tracks is a lot of tracks, I think you once told me there wasn't supposed to be that many songs included. Why did the band make the decision to have 16 tracks?

It's true. The album started with 12 songs. All recorded in one session. We had never had such a clear picture of what The Tropes sounded like. I was pushing very hard to get the vinyl made. Not just because it was a dream of mine to hold a record in my hands, but also because I wondered whether I'd ever make anything this good again. As it stood, the album went for about 24 mins. Not short by punk band standards, but not enough for me. Plus, I remember listening to Blood Visions by Jay Reatard about a million times in the years before and thinking 16 tracks is a brilliant idea. Then, almost a year later, as we slowly pulled all of the pieces together for those twelve songs, we'd written another four. I'd say that the songwriting had taken a different direction. I was on the way up. Feeling those warm sunny tendrils again. I'll let you figure out which songs they are. I'm really glad that we recorded these too because they balance out the melancholy and angst of the rest.


Where was the album recorded, and with who? And what was the vibe of the sessions? How were you/the band feeling?


We booked a farmhouse on AirBnB out near Ballarat. We spent the weekend recording, eating snacks and drinking beer. Chris Korczynski was the person in charge of recording us. We started tracking early Saturday morning and by the middle of the afternoon we had good live takes of all 12 songs. Once the pressure was off, we got to the serious business of drinking and taking a lot of drugs as we added overdubs. So many magic moments occurred then as the songs took shape before our ears. New guitar lines, noise, backing vox which were invented on the spot seemed to come from some other place beyond any one of us as individuals. I saved the lead vocals til the end. By this time it was about 10 or 11pm and we were all so high and excited that I managed to get great vocal takes down within an hour or so. There wasn't a doubt in my mind that what we were doing was going to work out real well.

The second recording session took place at Rowan's old house in Elsternwick. It was a lot easier than the first session as we'd all become better musicians and more cohesive as a band. Less party/debauchery than the first, but it made up for it with warmth, composure and ease. More reflective of the subject matter and equally satisfying.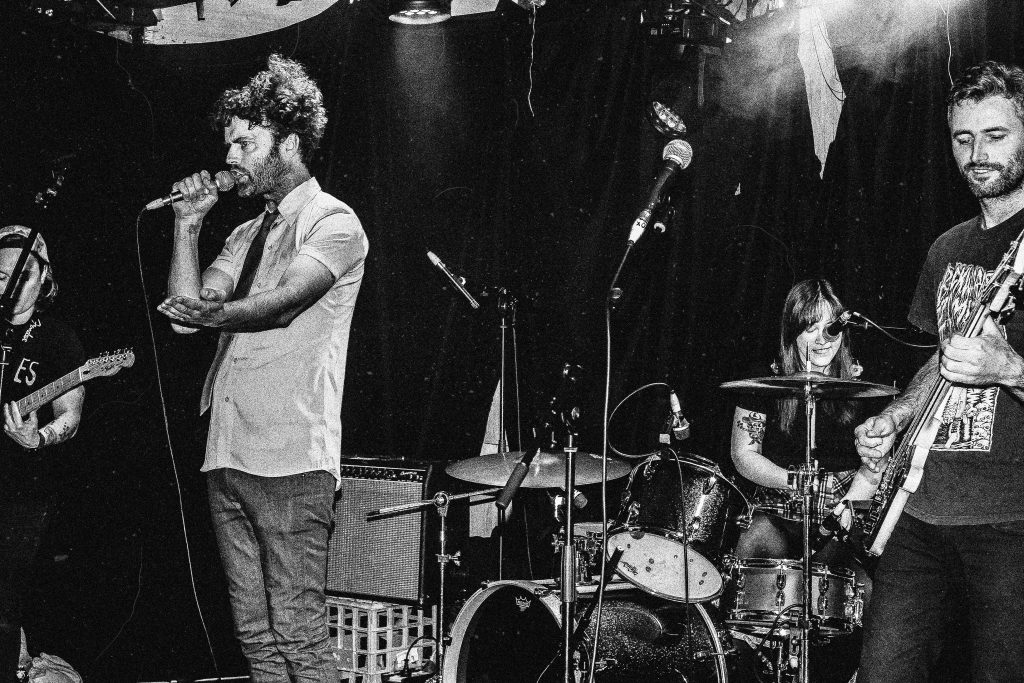 I've found that it's a bit hard to talk about what this album sounds like - there's a bit of The Ramones, some Replacements in there, and a bit of 60's garage. Can you elaborate on direct musical influences? How about lyrical influences? 


You're pretty much spot on with the influences. I guess the intention of the band was set in those early songwriting sessions by Jackson and I. I was all about Ramones, Misfits, Jay Reatard and The Hives in my shoutier moments, and trying to mimic garage/pop bands like The Troggs, The Kinks and The Black Diamonds. Jackson had suitably complementary tastes like: Replacements (definitely his biggest influence) and a bunch of those Flying Nun bands. He also put me onto The Nerves which was a real ear opener. We went on to cover their song 'Walking Out On Love' many many times in our early days. Lyrically, I couldn't say I have specific influences other than soul singers from the 60's. The simplicity of the content. The repetition with variations to incite an emotional response. I also have to say that Julian Casablancas was my biggest influence in terms of vocal delivery. There's a reason I always choose The Strokes when I do karaoke. 

Are there any songs on the album that you stray from playing live? Why? 


Definitely. A lot of songs have a very specific lifespan. They are front of mind for a very short period of time and then something changes and the thought of revisiting those feelings is unwelcome. An example of this is the song 'Stain'. I was angry at myself. I was angry that someone wouldn't let me go. I'd said everything I could to make them understand and it wasn't working. The thought of any anger being directed at someone who had only left me with good memories was unthinkable.


To what extent was the writing collaborative for Bottom Of The Ocean? How did the songs take shape with the band?

I'd say that in the beginning it was Jackson and I that shaped the songs together. As the band progressed we started writing songs individually and then ironing out the creases at band practice. Not for any specific reason other than we spent less time together outside of gigs and stuff. After a while Jackson started another band and pretty much stopped contributing songs. I was comfortable enough by this point that I would sketch out concepts at home on bass and bring songs to practice in very simple form. By then everyone in the band knew what they were doing so the songs were finished that way. Since then this has been the approach. Though since the departure of Jackson and the arrival of Rory on guitar, the band's sound has evolved further and is taking us into another place, which is yet to be fully realised.


This may be the last time you're interviewed about this album, is there anything you would like to add?

Thanks to everyone who has supported The Tropes. Thanks to everyone who bought the record or has listened to the album. If ya wanna know what three years of my life looks and sounds like, it's all there. If you can take something away from it that excites you or gives you some comfort than it was more than worthwhile. Thanks to all The Tropes that have contributed since the first song. I love ya.
Bottom Of The Ocean
is out through Roolette Records now, available
here
.