Music / Features
Easy Browns -
Dam Eels Tour Diary: Part 1
Psychedelic weirdos Easy Browns are currently on the road in support of their latest single 'Dam Eels', a dose of sprawling garage-pop that is surprisingly chilled-out for the volatile crew, yet still manages to sneak a healthy serving of their signature giddy hooks and ramshackle charm in there.

In part one of their tour diary, we follow the gang around Lutruwita/Tasmania, so pop on the new single and take yourself along for the ride.
Day 1: Kanamaluka/Launceston, Lutruwita (Tasmania)
Royal Oak Hotel Show

We get up at the crack of dawn! Easy Browns fly out of Naarm at 8:00am, we find abandoned juice boxes on top of a bin at the airport and enjoy the taste of sugary vitamin c drinks on our way to the terminal (not the first time we'd eat abandoned food on tour) and enjoy a smooth flight touching base in Kanamaluka/Launceston.

Zak's bad childhood influence "Uncle Glenn" picks us up from the airport and takes us to the local pub for an early lunch and a stare from the locals followed by a rescue by all-stars Brodie and his partner Hannah Kate who had already been in Nipaluna/Hobart for a couple of days on a saucy romantic getaway. We cruise into Kanamaluka and head straight for our pal Mary Shannon's (the badass fronter for MERES) home for a jam pre-gig. We dashed about her backyard on smoko with her doggo Juno and broke into her tea collection (Liam is on the instant coffees) before she lends us her future-mobile (Zak hasn't driven anything made post 2010) to get to The Royal Oak for setup and soundcheck.

We run all the door and merch stands ourselves and are gobsmacked at the loyal following our support The Saxons had. Meres open the show with a couple of bangers and the place is starting to fill up. Zak is ambushed on the merch stand by "Pinger Sam" chewing his cheeks off , and sells him a record for $25 as it's his birthday. Sam then hustles his partner to pay for the vinyl only after she exclaims "you already owe me money" in a dead-stare fashion. What a shithead! But hey y'know, we let it happen, gotta pay for the tour somehow. THE SHOW GOES OFF and the ratbags enjoy the whacky sounds we offer. Dougal from The Sunken Sea joins us onstage adding some bass-synth lines in for flavour, Pinger Sam dances his ass off in the front-row mayhem, Zak's uncles mate Max loves the rock show, they say Brownie really knows how to rock. We consume many beers and head out to Dougal's parents Colin and Jane's place in Underwood and hit the hay hard. Liam dreams that he burns down the house, something about a fire and drool on his pillow, dream Colin and Jane are not impressed, Liam wakes in fright only to realise it was all a dream, except the drool.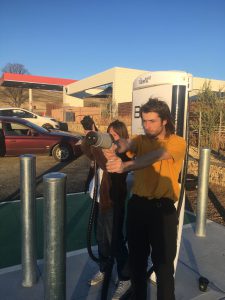 Day 2: Nipaluna/Hobart
Brisbane Hotel Show

We cruise out of bed and have a big breaky feast at Colin and Jane's, they provide us with fresh eggs from their chooks with serious hairdos. We get a call from Ian from 4zzz radio Brisbane and spin a big old yarn then hit the road in Hannah's packed Ford Fairmont. Zak knows that he annoys the fuck out of Brodie and Hannah on long car trips and humbly chucks on some headphones and slinks into the background like a good little rat.

We arrive at The Brisbane Hotel and sink some afternoon beers with Dave and his brother Adam who had just spent the day screenprinting Save The Brisbane! shirts, just another testament to how community focussed and tight the music scene is down there. Some doobies were shared in the beer garden and Zak got into a piano duet with Ivan, one of the locals studying at the Hobart Conservatorium of Music.

The Big Al's crew and their mates arrive (big fans of Trash!, our second LP) and we are offered the psychedelic adventure of a lifetime, which we refuse on them terms of moderation and mental health (we just go for some nugs instead). Big Al's open the show in a huge way (we also played with them at The Brisbane Hotel after our slot at Falls Festival Marion Bay) with heaps of fresh and tight as tunes - they actually really blew us away how much they had improved and developed their sound, such a lovely young bunch of musicians. Following Big Al's were Teens with their insanely tight experimental psych-rock sounds, absolutely huge sound for a three-piece.

We hit the stage and all our Hobart mates begin the boogie straight away and keep it pumping right up until we stop, although we were not allowed to finish until we had played 'Chippy Packet Respirator' for an encore, to which we had the experience of having the entire song sung back to us, what a time to be alive! We drank some local brews and when the Brisbane shut the party continued in the carpark behind the pub with two cars parked akimbo with doobies and beers being passed between the two cracked windows on the cold Nipaluna night. Brodie and Hannah head back to their private eco-pod and buggered browns Liam, Shelby and Zak head to their mate Hugh Foley's (Come Knights) home for a couch crash, a red-eyed Zak proceeds to ask Hugh where Hugh is and Hugh says "Its me" and Zak turns a crimson red. What a dope, time for bed cobber.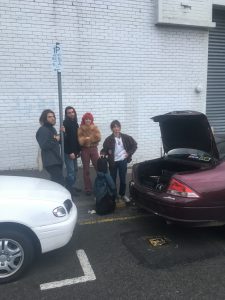 Day 3: Nipaluna
Brisbane Hotel Fundraiser

Liam, Shelby and Zak spend the morning walking around the local area and admiring the grand view of Kunyani/Mt Wellington, then take a heap of food to Hugh's house and do a big cookup. Chills in the backyard ensue until we head back to The Bris to grab our gear (and a beer) then head to a live stream fundraiser run by Phillip Couper and other locals such as George from Dissolver.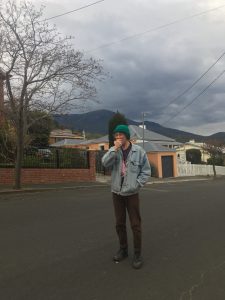 The setup is awesome, Phillip housed the gear all in his lounge room, there were heaps of cameras and good people about, George's mumma made wholesome veggie soup for everyone and it all felt so right! To be there backing The Brisbane Hotel amidst their council issues was an honour, you've gotta support the rock institutions that support you!! A highlight from the day was It Thing's set, fugging glorious whack-punk with all the good Dead Kennedys and B-52's vibes you could throw a stick at. Teens got the cops attending with their cooked loud psych rock right before we played too, there was some question as to whether we would rock on. BUT rock on we did. We played a lit set (which you can still check out online) and then wound up at Big Al's house for a few midnight couplas and a sleep on their lumpy couches.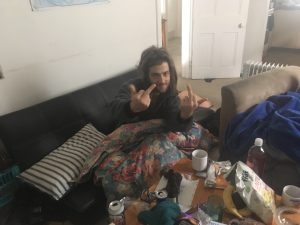 Day 4: Nipaluna
Recording at Hobart Conservatorium of Music with Come Knights crew

We spend the day hanging at Big Al's HQ with Mintie and Mintie's bird (which we affectionately named Brodie) and perused local op-shops in search of treasure in Riley's sick 1984 Toyata Celica.
| Hangs at Big Al's HQ | Zak and Brodie |
| --- | --- |
As the sun went down we made our way to The Hobart Conservatorium of music to record with Hugh and Nick of Come Knights. We had Liam on drums, Riley on rhythm guitar, Zak on lead and flutes, Shelby on bass and Hugh on banjo. We pieced together a silly psych-bluegrass tune written by Hugh and had some serious giggles. The night ended once again with more locals brews at The Whalers in and then back to the land of lumpy couches, Big Al's HQ.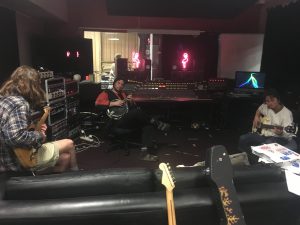 Day 5: Hometime

Alex (Big Al's) kindly took us to the Nipaluna airport for our return flight and Brodie and Hannah headed up to Devonport with the car. Everyone was buggered at this point and keen for home - we took full advantage of the free muesli bars on the flight and returned home happy as hell to have had a great start of the tour in one of our favourite places, Lutruwita, or Tasmania as some know it.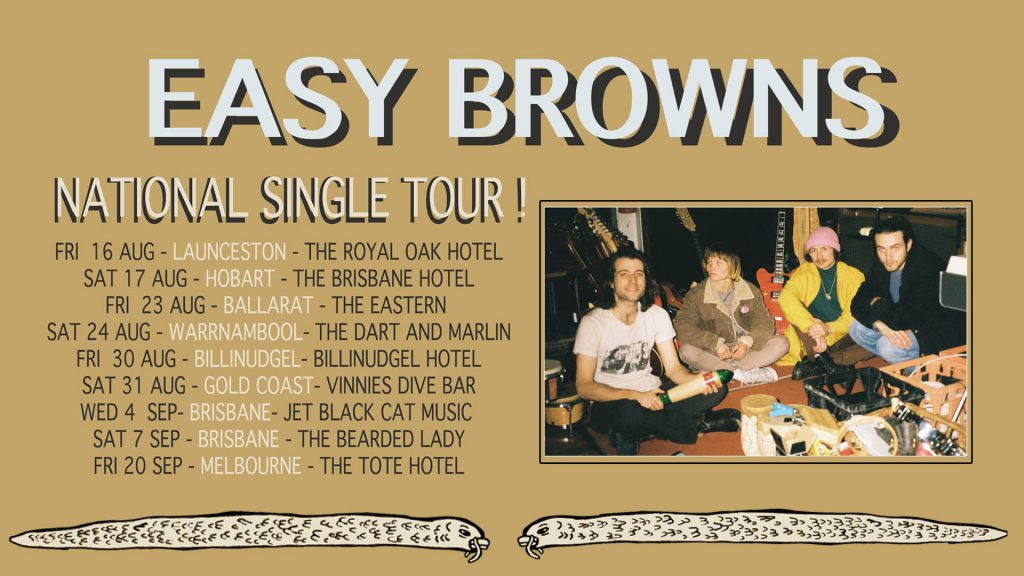 Easy Browns are currently on the road around Australia in support of their latest single 'Dam Eels', which you can check out above. This week they're hitting Brisbane for a couple of shows, before heading home for the last show of the tour at The Tote.