Music / Features
Easy Browns -
Dam Eels Tour Diary: Part 2
Psychedelic weirdos Easy Browns are currently on the road in support of their latest single 'Dam Eels', a dose of sprawling garage-pop that is surprisingly chilled-out for the volatile crew, yet still manages to sneak a healthy serving of their signature giddy hooks and ramshackle charm in there.

In part two of their tour diary, EZB head out east to Ballarat and Warnambool, and once again, have been kind enough to take us along with them.
Day 5: Ballarat
The Eastern

After our amazing four-day-weekend in Tassie, the mid-week back in Melbourne was a hard one - maximum re-integration into life and forever looking to the rainbow of hitting the road again. Friday hits, WE ROLL! We played The Eastern Ballarat with Baked Beans and Eggy, a breakfast themed lineup if we ever heard one. This one was part of Baked Beans 'Avalon Speedway' tour, which has a film clip of some dirty burnouts doing dirty burnouts (sorry BB's) and the tension was real. Easy Browns know that Liam is the ultimate drift pig but we keep our mouths shut in the namesake of not enticing a fossil fuelled hoon bust out front of The Eastern.

The show goes splendidly - we open the show to heaps of mates like James (of humble blog TROUBLE JUICE) and Bec (bassist for Gutter Girls and Pussy Willow with Zak and Shelby too) and everyone digs the cookery of EZB. We retire to the thrilled grin of The Eastern's key bartender Connor Toomey and the frothies flow freely in EZB'S direction. YUM. Eggy played a killer set, their songs feel familiar like nursery rhymes but upbeat and hit home with great lyrics. Baked Beans begin and shred their hell-tight set, with some grand new tracks added to the fold since we last saw them. Many festivities are shared post-show with everyone, and someone who we will not name dumps a cigarette filter packet full of shroom-filled gel capsules on our smokers table and prompts us to go nuts, take a few! Shelby, Zak and Brodie pop one each - having experienced such things in the past, one each didn't seem like much, but these were premium, prepared to perfection and they soon provided a lovely sheen over the evening.

The other bands headed homeward, some driving back to Naarm and some staying locally, Eggy accidentally took Liam's guitar case (Nylon string guitar for jams with all his clothes stuffed in there too, fresh undies) and we were met with wholesome hospitality as The Eastern crew offered us a place for the night out back in the gear room. They locked up the pub, and a couple of well-stoked Brownies, Connor and the owners drink a few brews around a well-stoked fire - if you do not know Ballarat you must know how formidably cold it gets, much appreciated it was. We eventually relocated to the back-bunk room and fell into the grips of slumber.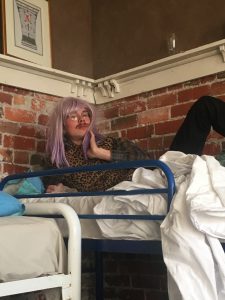 Day 6: Djab Wurrung Embassy/Warnambool
Dart and Marlin

GASP! Wake up at 9am with the dries something crazy - we hydrate, we walk, we get some cashews and bread and bananas (a well rounded breakfast) and get told off by the person that owns the rooms upstairs at The Eastern for using the kitchen amenities (they were watching us make toast on CCTV the CREEPS) because they were for "paying guests only" (not the same owner as The Eastern, don't worry, their rep remains untarnished in our eyes.)

We hitched off from Ballarat with a big box of fresh fruit and veg, our destination, the Djab Wurrung Embassy to show some solidarity with our indigenous family. We arrived at camp during a smoking ceremony, in which we walked through the smoke to cleanse ourselves and ward off bad spirits, or maybe even just Vicroads in this case. Everyone was being roused for the task of protecting the ancient birthing trees; the energy there was unbelievable and was great to see people in high spirits. As of recent news, there are workers and police on-site, ready to roll out the red carpet (or bitumen) of cultural genocide, so if you're free get your bums out there!
| At the Djab Wurrung site | Shelby with some veggies |
| --- | --- |
After a stroll around the site we hit the road, headed for Warnambool to show those ratbags a good time. This time we were playing with Tapdog, Liam's cooked project in which Zak also plays keys, incestuous gig anyone? GIG STARTS and the crowd are taken aback by Liam's songs. Well, maybe just the two drunk women holding UDLs, anyway. They berate Liam half the set and he plays along nicely the whole time, promising that "the next one will be better" and we all have a giggle while patient Gage, the bartender, allows these two gals who stumble like horses fresh from the womb to drink outside liquor and give the bands shit. All in good fun though, nothing malicious was said.

QUICK BREAK for Zak and Liam and back on stage for Easy Browns, the room fills up and excitement builds, close-quarter boogieing up the front and sweaty times all the way. DONE. Buggered Browns sink as much piss as the bar will freely give and then roll out to Gage's side-shack (River Minka) for some night time chill in the country air. We arrive and Murray, Gage's partner, comes over for a brew (we have stayed there before, playing Goomfest plus EZB did a writing session there earlier this year too) and we end up having loose whacky jams in his shed late into the night, rotating drummers, everyone playing anything they can, until Gage gets home from getting slammed at the Dart and Marlin and recommends we give some peace, we give. Gage and Murray are legends and really supportive of musicians so it's good not to piss their neighbours off too hard haha.

Most of the 10 of us crashed in the same space around the fire and cruised home at our own leisure the next day, again looking forward to the next weekend of touring in which the Brownies were flying up north.
| Sleeping arrangement at Wangoom | At the falls near Wangoom |
| --- | --- |
Ta-da.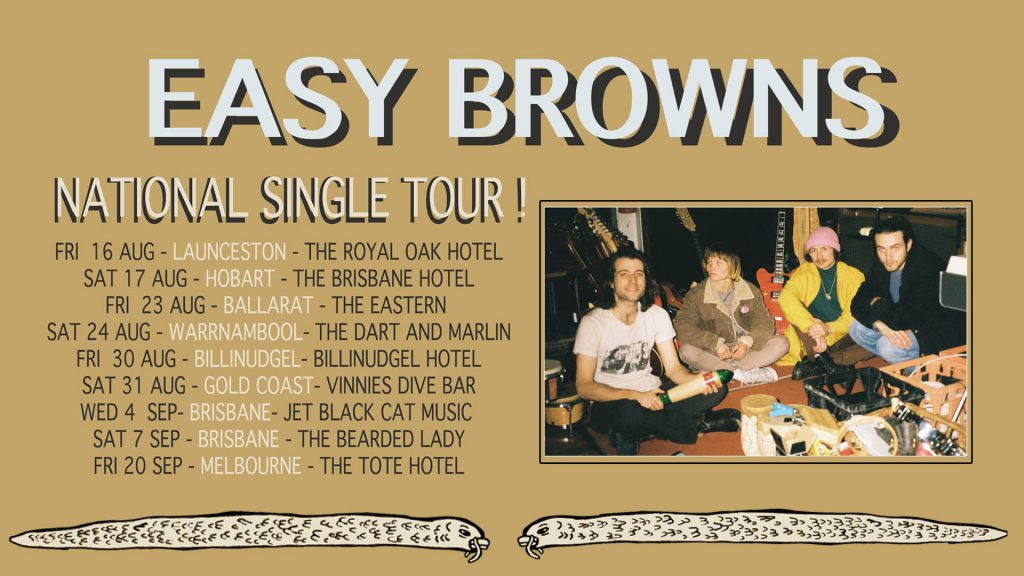 Easy Browns 'Dam Eels' tour has nearly wrapped up, save for their homecoming show next Friday, September 20th at The Tote.