Music / Irregulars
Introducing The Alley Cat
Brought to you by the team at The Night Cat, The Alley Cat is a new weeknight venue that is committed to offering emerging acts a chance to play in their iconic bandroom. With its entrance via the laneway behind the venue, The Alley Cat reimagines the Night Cat's space, with a curtin drawn across the room to create a more intimate and less daunting atmosphere, perfect for aspiring artists, sound engineers and promoters to hone their craft. Ahead of their launch party tomorrow night, we had a chat with Leesa Snider, one of the minds behind the new initiative, to find out what to expect from The Alley Cat.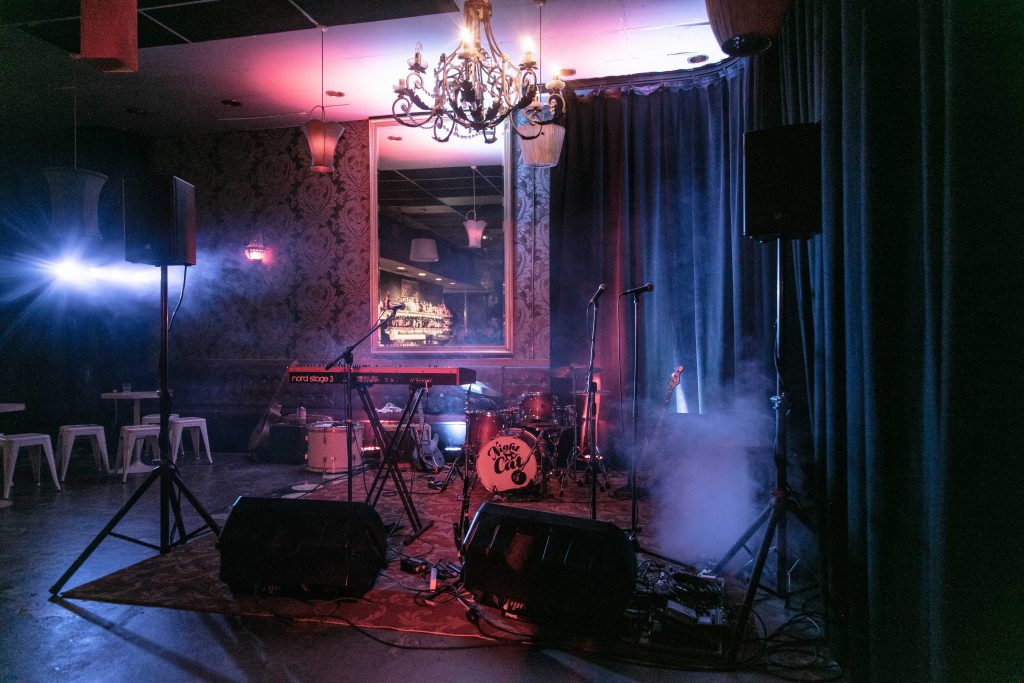 TJ: Hey, want to introduce us to the Alley Cat?


LS: Yes! The Alley Cat is our new weeknight initiative for emerging musicians.


The Alley Cat is a chance for emerging artists to play in an iconic venue at any stage of their career. Punters enter through the alleyway on Young Street to a cosy, intimate environment to hear new and exciting collaborations from the local scene. The Alley Cat is the perfect stepping stone to assist artists in transitioning to our big stage. The Night Cat wants to be a part of a band's entire journey and that is exactly what The Alley Cat is for.


Tell us where the idea for the Alley Cat came from.


The idea for The Alley Cat came from The Night Cat team wanting to utilise the space all week long and to support, shape and nurture the local emerging music community at the same time. Every aspect of The Alley Cat is focussed on young and emerging talent including the artists, promoters and sound engineers. We want to get the word out and create a place where this specific community can come together and support each other in the industry we all love!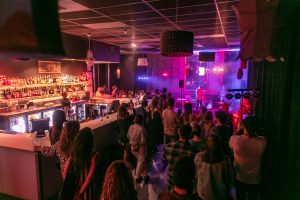 It's refreshing to see such a prominent music venue taking a step back and providing a space for emerging acts. What do you think the role of the Night Cat is in Melbourne's music scene?


As an iconic venue that has been around for 25 years, The Night Cat certainly plays a role as tastemaker for the local community. Many incredible bands have stepped foot on The Night Cat stage and we want to afford developing artists the same chance. But that's not the only role we want to play. With The Alley Cat, we have the ability to offer paid experience to aspiring promoters, sound engineers, designer and event managers. We want to help shape the music scene in a positive and supportive way all round. 


And where would like the Alley Cat to fit in? Where would you like to be in a couple of years?


The Alley Cat fits in as a transitional platform backed and guided by The Night Cat team every step of the way. The aim is for The Alley Cat to be instrumental in an artist's journey to the big Night Cat stage and to furthering their artistry. Similarly, The Alley Cat is a great place for industry professionals looking to get a foot in the door for promotion, event management and sound engineering.


In a couple of years, we would love to have every night of the week full of incredible and fresh music, with a solid young and emerging community crowd attending and supporting their fellow musicians each week. 



| | |
| --- | --- |
There's set to be two unique music nights at the Alley Cat each week - wanna talk us through the different vibes?


Current vibes include:


Tuesdays: Sonic Textures, a night of diverse music and warmth. The genre ranges from jazz, pop, indie electronic, soul and acoustic. These nights are aimed at female representation and young talent. Booked by Maddie Herbert, the lead singer of Velvet Bloom, an artist who is currently part of the emerging music scene. 


Thursdays: Era Feralis, Melbourne's finest rock 'n' roll, punk and alternative acts. Booked by a member from Rusted Tongue, we are excited to be branching out and supporting the Melbourne rock scene!



You're launching the Alley Cat this Friday with a bit of a party, any idea what's in store?

It's definitely going to be a party! Free drinks, free entry and some amazing artist showcases to give everyone a bit of a taste for what's to come from future Alley Cat shows. We've included a mix of emerging acts and a Night Cat favourite, Amber Ferraro, who graces our big Night Cat stage regularly.

We decided on this Friday from 6-8pm, so everyone can have that knock off drink they deserve at the end of a long week. Plus, anyone who attends The Alley Cat launch and has a stamp can return for free to our show later that night - Better Late with Cofi, Next Man Dead, Kong Kord + more. It is limited capacity so RSVP to our event is encouraged!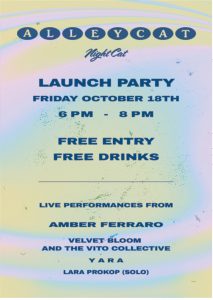 The Alley Cat is launching this Friday, October 18th, with a free party from 6 - 8pm, with free drinks and live acts performing. Spaces are running out though, so you'll need to RSVP using the link below.