Music / Premieres
Premiere:
Candy - Sorry, Sydney
Today we're thrilled to be premiering the latest single from bedroom-pop connoisseur Candy - 'Sorry, Sydney' is a dose of sundrenched indie-rock and an exciting new taste of his forthcoming second album Everything In Motion.
Following on from the release of Under The Weather late last year, and a string of singles in the interim, Melbourne favourite Candy is back today with 'Sorry, Sydney', paired with the announcement that his new album Everything In Motion will be released next month on November 15th.

While Under The Weather was defined by its volatile temperament, 'Sorry, Sydney' immediately strikes a different tone, as a woozy organ opens the track, backed by a swirl of nonchalant jangles, leisurely grooves and crafty bedroom production. The buoyant mood is only furthered as Calum Newton's sunny vocals gleam through, as he effortlessly weaves hook after hook through the ebbing instrumentation. While the track cruises along playfully, we can still feel the remorse in Cal's voice as he apologises to his old home town, before he's eventually washed over by the meandering guitars and warbling keys and the track drifts off.

Speaking about the track, Cal shares "'Sorry, Sydney' is an apology to a dear old city that I called home for awhile. Sometimes it felt like a hug from mum and other times I got so lost walking around Surry Hills I thought I'd tumble over. I love that place, but I talked a lotta garbage about it when I moved purely cause I didn't feel as if I was ever really welcome. It's taken me awhile to realise I've always got this imposter syndrome and I shouldn't take for granted the wonderful memories and relationships that came to fruition from living in that sunny city. I prefer Melbourne, but hard to deny how beautiful Sydney is with those stacked dishes and harbour bridge."

To celebrate the announcement that the next Candy album is just around the corner, we got in touch with Cal to find out what he's been up to.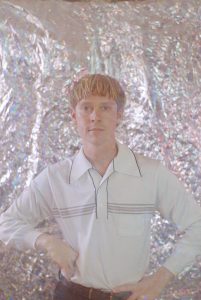 TJ: Hey Cal, for some reason I'd just assumed you'd already been featured on TJ, so was pretty surprised to see you haven't yet (probably because you've recorded, mixed or mastered about half the stuff on here anyway). Anyway, in the name of context, wanna tell us a bit about Candy?

C: Yea, long time subscriber first time contributor haha. Candy started just as a means to work on my own production/mixing/recording. I started it around 2013 and regularly put out albums, occasionally I realise I don't like then anymore and hide them on my bandcamp haha.

We've just had the pleasure of premiering 'Sorry, Sydney' - what's the story behind the track?

I'm originally from Sydney, then moved away after my parents' divorce up to Ballina (kinda near Byron Bay - it's the place with the giant prawn) with my mum. I went back to Sydney to finish year 11 and 12 because I'd been accepted into Newtown School of Performing Arts. Moving away from my friendship circle ended up being kinda rough and I felt pretty isolated. It's taken me a little while to realise that I'd actually gotten some great times and memories from that period of my life and I felt like I should formally apologise lol.

You've also just announced your second (third?) album Everything In Motion. What can you tell us about the new album? Does it feel like a step on from Under The Weather?

Yea, it's been done for awhile so I feel kinda removed from it haha. It's a bit less wannabe Joy Division / New Order-y and a bit more wannabe Neil Young / Sparklehorse vibes. I think it's less mopey, and a bit happier sounding.

There's something about a Candy song that is instantly recognisable - does writing in your own sound come effortlessly or is it something you need to think about?

Awww aren't you kind! I don't know, it's probably my voice? I've got pretty nasally vocals which I've grown used to now. 

What else is coming up for Candy?

Well I'm putting out this album, hitting the old dusty road and playing a couple shows then who knows!


Everything In Motion is set to drop on November 15, and you can catch Candy launching the album on Friday, November 22nd, at the Old Bar. Head to Candy's Facebook page for more tour dates.