Music / Irregulars
Sustainability x Music with Green Noise
Green Noise is a new initiative that focuses on environmental issues and sustainability in the music industry. Curated by Acacia Coates (of Pinch Points, Slush and Sunfruits) and Winnie McQuinn (of Sunfruits, IV League and Culte), the first event takes place this Sunday as part of the Darebin Music Feaster, and finds four of Melbourne's most exciting bands - Jade Imagine, Elizabeth, Empat Lima and The Vovos - coming together to amplify the conversation and raise awareness.

Ahead of the show this Sunday, we had a chat with Winnie and Acacia to find out about the initiative, and what we can do to work towards a greener future.
TJ: Hey Winnie & Acacia! Tell us a bit about Green Noise and how you get involved in the project.
GN: Hey James and Trouble Juice co,
Green Noise
is going to be an afternoon of great music and green thinking. It's a live music event organised as part of Darebin Music Feast and City of Darebin AMPLIFY program. We pitched our idea of a sustainable music event to the AMPLIFY program, which gives underrepresented voices the opportunity to organise a Darebin Music Feast event, and were thrilled to have been chosen for it.
Woody McDonald has been our mentor and the whole team working with us to create
Green Noise
are superb. We're both touring musicians and were super excited to gain some more experience from an event organisation and producing perspective, instead of being the ones performing at events.
Green Noise
aims to use the arts as a vehicle to promote green initiatives, spotlighting the work of groups like
FEAT.
,
Green Music Australia
,
Friends of Merri Creek
,
AYCC
and
SEED
, and hopes to set an example for local gigs through our efforts to make the event as environmentally-friendly as possible.
What are some key practices that you think the music industry needs to start rethinking? What can we do at our own shows to promote sustainability?
Some key areas that need rethinking are riders, waste management, transport, electricity usage and offsetting carbon emissions in general. These things produce significant carbon emissions and working to minimise their impact is a fantastic start.
Opting for locally-sourced, waste-free, organic and vegan riders (which we're doing through the eco-friendly Preston cafe Moon Rabbit) reduces emissions, as well as requesting no single-use plastics, trying to reduce your food waste. Plastic-free riders mean the venue can easily compost food waste and recycle cans/glass, effectively managing waste too.
Donating some of your event budget or profits to an offset program that sequesters carbon from the atmosphere (such as bush regeneration or tree-planting) is a great way to reduce the carbon footprint of your events. We've found that most venues, being older buildings, often aren't equipped to use renewable energy or manage their waste super well, so an offset budget is great for neutralising the emissions created, as well as engaging venues in discussions around these issues.
Transport can be tricky, as most bands fly or drive long distances to play shows in Australia. Again, having an offset budget counteracts the effect travel has, as well as trying to book local acts where possible, and encouraging punters to cycle or catch public transport to shows while promoting your event.
FEAT. is a new organisation tackling the issue surrounding artists' travel carbon footprint by opening an investment fund where musos can invest a portion of their tour budget into a solar farm in Queensland. Whilst this doesn't offset emissions directly, it does contribute in a meaningful way to renewable energy solutions for the future.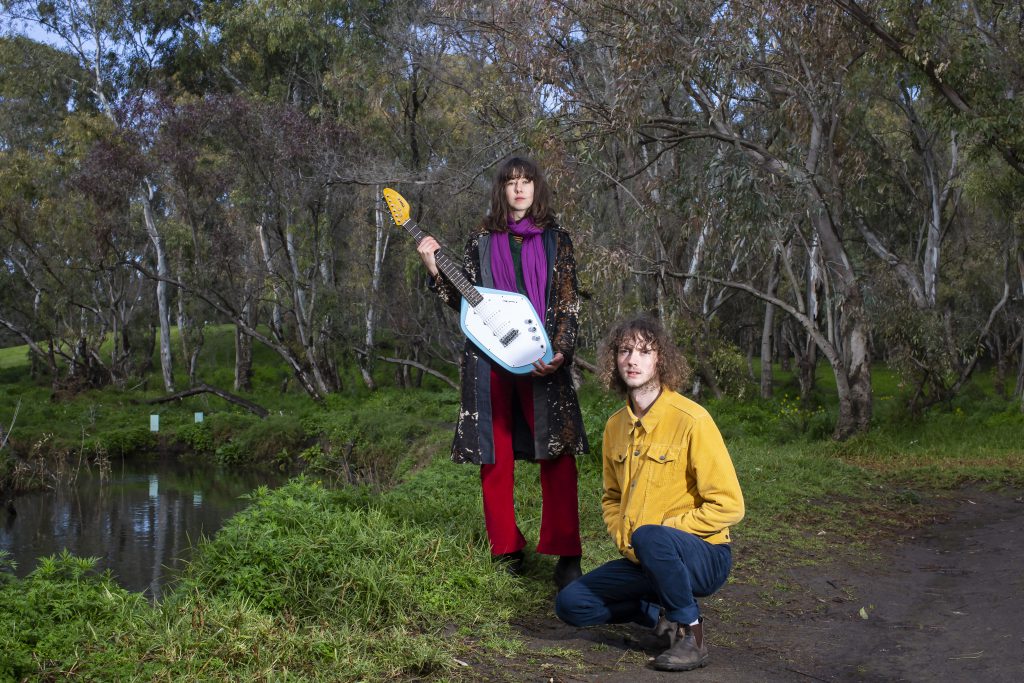 It's interesting that while the vast majority of people in the music and arts world can be really environmentally conscious, it can be easy to stay oblivious to the environmental impact of some of our practises, especially when they're in the name of art - how important do you think it is to be raising awareness that we can always be greener?

We believe that it's super important to always consider what impact your show/tour/event will have on the environment, and educate yourself on how you can minimise this. No matter how small or ineffective you may think it is in the broad scheme of things, every bit of effort matters. If lots of people and groups in the music industry adopt greener practices, we can create meaningful change. Music and art has the ability to influence a wide range of people, so why not use that power to create positive change?

Do you think a truly green music industry is on the horizon? Could we become completely sustainable?

The resources and tools for a truly green music industry definitely exist, but it's going to require a pretty big shift in attitudes and approaches to reach this. Some see greener options as being too 'hard' or expensive, but if we started viewing them as the norm we could have a big impact.

Tell us a bit about the lineup you've booked for the show.

The Green Noise lineup features Jade Imagine, Elizabeth, Empat Lima and The Vovos. We wanted to book artists who were not only fantastic musicians but who also support environmentalism. For example, Jade Imagine is an ambassador for Green Music Australia's BYO Bottle campaign, and The Vovos are student climate strikers who protest for climate justice. We've also added DJ Hydralyte (who you may know from the Melbourne bands Jungle Cuffs and Sunfruits) to the mix, who'll be keeping the tunes going during band changeovers.


You've put this event together under the mentorship of Woody McDonald, who's a bit of a booking legend around these parts. What was it like working alongside Woody?

Woody's been a treat to work. He's given us some invaluable advice and it's been great having the opportunity to bounce questions and ideas off someone with his level of experience and expertise. His relaxed demeanour has also been great, as event booking and management can get pretty hectic at times.

You're also working with a number of local environmental groups to make the event as environmentally friendly as possible. Who are you working with and what will you be doing during the event?

We're very excited to have Friends of Merri Creek (who we will be working with to offset the emissions created from our event), Extinction Rebellion (Darebin Group), AYCC (Australian Youth Climate Coalition), Seed (Seed Indigenous Youth Climate Network) and Moon Rabbit caterers all having a presence at the event. Having these groups involved in the event will hopefully inform punters about different green initiatives operating in their community, and provide a chance to learn from them and get involved with them.


| Acacia Coates by Liam Brownlow | Winnie Mcquinn by Liam Brownlow |
| --- | --- |
At the moment Green Noise is just a one-off event, but do you have plans to keep developing the initiative going forwards?

We're definitely keen to put on more events. We're also keen to share the information we've learnt throughout organising this event to empower other musos and event organisers in making their own shows greener. We haven't fully decided what this might look like, but we've been speculating about the idea of collecting and sharing information about the average power and waste usage at each music venue. If information like this was easily accessible and even common knowledge, we could empower artists and event organisers, emerging or established, to easily offset the emissions created by their shows. Carbon emission calculators for events do exist, but we've found that they're not usually tailored towards gigs/music events.

Any idea what to expect from the show? Any special surprises in store?

Be prepared for some seriously good music, some Green Noise themed food on offer from Moon Rabbit (yum!), some inspiring environmental initiatives to chat about, and an overall great vibe.


Green Noise is happening this Sunday, October 27th, at the Thornbury Theatre, as part of the Darebin Music Feast. Kicking off from 3:30pm, the event will feature Jade Imagine, Elizabeth, Empat Lima and The Vovos, and is free.