Music / Features
They Made Me Do It -
Talking Influences with Karate Boogaloo
Earlier this year, we were graced to have a second mixtape dropped into our earholes by the dizzying groove-masters that go by Karate Boogaloo. Their first tape was a collection of covers of songs that would later be sampled into famous hits, and this time finds KB doing it again - but crucially (and gloriously), each song comes exclusively from the 80's.
If you didn't know, Karate Boogaloo have created a manifesto which isn't surprising considering their cult following of fan base. Every time they get together in the tiny attic they set some of restrictions, to create a forced outcome. When selecting the songs for KB's Mixtape No.2, they had to answer yes to each these three questions:

1. Is the song from the 1980's?
2. Is the song famously reused as a sample in a hip hop song?
3. Will we record this song directly on to half-inch tape, in one take, exclusively in mono, with no later edits?

If none of this seems impressive to you, let the music do the talkin', as Karate Boogaloo only speak in skilled craftsmanship and tasteful tone mastery.

Mtume's 'Juicy Fruit' is a stand out, known to most as the sample from Notorious B.I.G's 'Juicy' or anyone that's had Fever 105 playing whilst driving a car around in Grand Theft Auto: Vice City. The under-watery guitar plays the melody whilst also sliding and bending into every note. Simultaneously, the synth is at same level of bent-ness, with a cool detune swirling in-between the organ's more airy lines. For the drums and bass, they hold a strong groove together like the partnership of mozzarella and fresh basil.

To delve into the project even further, we got in touch with the Boogers to find out what else gets their blood pumping.


Wendy Carlos - Switched-On Bach
KB's mission statement of late has been "create zain brain versions of much loved classics". Carlos' Switched-On Bach is true and pure zain brain. Produced with Rachel Elkind, this album recreates pieces by Bach on a modular Moog Synthesiser. Up until this album was released the synthesiser was predominantly used in experimental music (also cool), Carlos' desire was to bring the synth into popular music. Absolute Booger behaviour.


David Axelrod - Songs of Experience
Conducted by Don Randi, enough said. David Axelrod is a true Booger. The album is musical interpretations of the William Blake's 18th century English poetry, performed in Axelrod's interpretation of the Third-Stream concept (a combination of jazz and classical music). Axelrod's arrangements are dark and ominous, and always grounded by Earl Palmer's super funky drumming. 101 Booger material here!


Dorothy Ashby - Dorothy's Harp
The harp is a big, big instrument and that's why we love it. Mostly known for her small combo funk-jazz albums, this album is a perfect example of how incredible a musician and composer Dorothy Ashby is in a larger more orchestral setting.


Emma Donovan & The PutBacks - Dawn
Without doubt, the greatest Australian Soul record. Hands down. Mandatory listening, put this in Kirribilli, put this on the moon, make this the NAPLAN test. Emma Donovan writes no nonsense incredible songs. Powerful lyrics sung strong. Backed by The PutBacks, real musicians. Rumour has that drummer Rory McDougal has never hit a 3-pointer.


The NAPLAN Test

Karate Boogaloo constantly test ourselves, sharpening our minds and fingernails. This is the test we use.


Trang Bakery & Cafe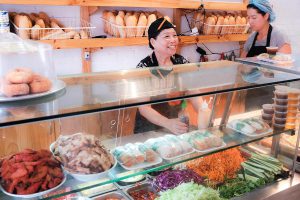 If you're in Collingwood and in need of a Booger Boost, Trang's have it. Best vegan meat going, heavy on the chilli and the battered eggplant is legit game changing.
Check out KB's Mixtape No. 2 above, and catch Karate Boogaloo this Saturday, Nov 9th, at the Night Cat, before they close out the year with spots at Strawberry Fields and Meredith Music Festival.