Music / Premieres
Premiere:
Gamjee - Legacy Project
Today we're thrilled to be premiering the debut album from local garage weirdos Gamjee - Legacy Project finds the fuzzed-out family band rewriting their own rule book to serve up their most bizarrely captivating music yet.
While their previous EP leant into classic garage-psych mayhem, Legacy Project has Gamjee delighting in throwing listeners off any scent left behind by Crooked. That's not to say the two releases don't share characteristics, but Legacy Project stands out thanks to its wont to spiral off unpredictably at every possible chance.

This shift is immediately clear from the erratic guitar lead and off-kilter groove of the title track, before the layers of sound amass into a blur of frantic noise just for Gamjee to re-emerge with a wave of deft hooks in tow. I recently described single 'European Cars' as being deceivingly simple and effortlessly clever at once, and 'Legacy Project' proves this was no accident. Tracks like 'The Smallest Incidents', 'Too Many Times' and 'Popped Collar Thoughts' follow suit, each with hiccuping grooves and spluttering synths that conceal the band's undeniable pop smarts, yet crucially avoid burying them completely.

We're also treated to some completely new sides of Gamjee. The band truly shines as they flirt with the more gentle side of psychedelia, notably on album standout 'A Painter', with its stirring chords, swelling strings and precise harmonies, and later with the warbly freak-folk of 'Sink In Dirt', which sends Legacy Project out on a dizzying note. Similarly, with its angular groove, warping guitars and restless spoken-word vocals, 'Guessing Window' doesn't quite echo anything they've done before - however the uncanny blur of styles is fiercely compelling, and Gamjee pull it off with ease.

Tied together by the band's knack for smart songwriting mixed in with their eye for absurdity, Legacy Project makes for a completely fluid listen, despite its constant left turns and mood swings. And as all the grime is eventually peeled back and the album closes out with a janky acoustic guitar, all that's left to wonder if where Gamjee might take us next.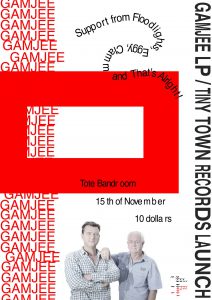 Listen to Legacy Project above, and catch Gamjee launching the new album on Friday, November 15th, at the Tote as part of Tiny Town Records' label launch.