Music / Premieres
Premiere:
Majak Door - Samples From The Solar System
Lo-fi whizkids Majak Door are back today with Samples From The Solar System, a new EP bursting with their signature woozy surf-pop, and we have the pleasure of premiering it for them today.
After releasing singles 'Daisies' and 'Shotgun', Melbourne's Majak Door are closing out their excellent 2019 with their new EP Samples From The Solar System. Featuring a new lineup, this EP has founding members Frank and Ronnie joined by drummer Joe, guitarist Louie, keys player Joe plus recently added conga player Max, which adds an extra level of depth to their layered sound.

It's tricky to discuss the band without noting the touchstone of Mac DeMarco - DeMarco irrevocably changed the landscape of indie music in the last decade and, while Majak Door's sound can certainly trace itself back to the surf pop of the 1960's, they're a band of their time, coming as they do firmly as a by-product of the Canadian slacker crooner. This isn't just about his musicianship, but also his entire aesthetic, the laid-back vibes hardened by an exhausting work ethic. Judging by their consistent output both this year and in 2018, Majak Door share this ethos.

Their first album Weird Guy, was more overtly influenced by DeMarco - one needs only to watch the goofy irreverence of their accompanying video for 'Big Salad' from that release to witness the hallmarks of him - but their music is more versatile on Samples From The Solar System.

Five songs is the perfect length to showcase their growing range. The band are often lyrically vague but that's not a bad thing as it allows for the dreamy nature of their instrumentation to dominate and be explored. 'Alien' opens with guitar work that sounds like Johnny Marr when he isn't weighed down by the doom-laden Morrissey. 'Shotgun' is an excellent attempt at a more straightforward indie rock single, a throbbing yet melodic song that should be a crowd favourite when witnessed live. 'The Magic Door', contrastingly, is the most psychedelic song, dripping in woozy charm. It's an effort that more than matches the output of their contemporaries like Mild High Club, Triathalon or, closer to home, New Zealand's Soaked Oats.

Closing song 'The Snooze' - aptly titled for the chilled charm it exudes - is perhaps the song most emblematic of the band. The tropical lo-fi sweetness is drenched in riffs so languorous and hazy that it would be impossible not to be transposed to a sunnier, happier place, even if you found yourself suffering under Melbourne's volatile weather. At a time when even our biggest pop stars are making political statements, a band like Majak Door are worthwhile and welcome: their slacker rock is pure escapism, completely unhurried and the sound of youthful exuberance.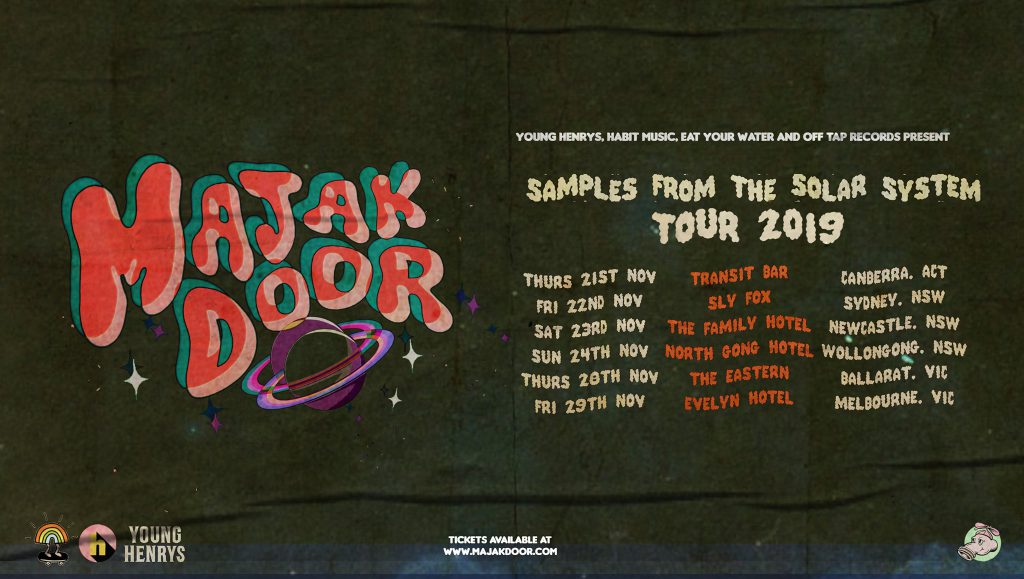 Have a listen to Samples From The Solar System above, and catch Majak Door on the road along the east coast throughout late November.