Music / Premieres
Video Premiere:
Jackson Reid Briggs & The Heaters -
Hide Away
Ahead of their launch this Friday, local rock 'n' roll gang Jackson Reid Briggs & The Heaters have shared a hyperactive new clip with us, to perfectly accompany the relentless intensity of latest single 'Hide Away'.
The last time we heard from Jackson Reid Briggs & The Heaters was as they dropped the frantic 'Hide Away', which happened to be just a few days before the band jetted off to take their manic live show around Europe. Jackson and the crew are now back in Melbourne, and as they gear up to launch the single this weekend, they've shared one more treat with us - a new clip that works to capture the band's time abroad while pairing seamlessly with the limitless energy of the track.

Serving as a perfect companion to the unhinged garage-punk heard on 'Hide Away', the new clip finds Jackson racing through European towns on foot, while passersby (members of the band) watch on unenthused. The outcome is striking, as the visuals combine the picturesque backdrops with an undeniable sense of urgency and we almost feel worn out watching on, as Jackson paces towards us while the music sprawls chaotically behind him.

Speaking about the clip, Jackson shares "it was filmed by our friend Luke Smith who came along for most of our tour of Europe. We tried to film a little bit in each city we were in, no matter how shitty we were feeling in the morning!"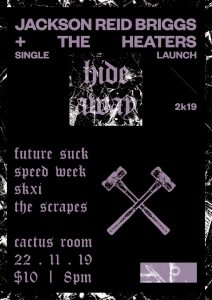 Check out the new clip for 'Hide Away' above, and catch Jackson Reid Briggs & The Heaters launching the single on Friday, November 22nd, at The Cactus Room.