Music / Features
They Made Me Do It -
Talking Influences with Chitra
Last month Chitra released her sophomore single 'A Kind', furthermore establishing her as a skilful young songwriter with the ability to shake her audience by the heart. Ahead of her single launch, we caught up with her to chat about the songs, albums and books she is constantly inspired by.
If Chitra were a Pokémon she'd be an flying type, as she has the nifty ability to write songs that soar high above into the stratosphere. Her first single 'Better Than Before' was a soulful tear jerker, a perfect soundtrack for drifting along a bay in a hang glider. Her second evolution 'A Kind' has a faster pace and fiery instrumentation, yet somehow simultaneously floats like a feather.

Led by a driving beat that dominates the feel of the track, we're instantly thrown into the thick of things with an almost marching rhythm that make you want run head first into battle. Chitra sits front and centre as the instrumentation blooms around her, and opens with a descending melody, but she quickly rises high above as she sings "do you think of me as much as, I hate to admit it, I think of you." While the lyrics feel vulnerable, it's easy to spot touches of sarcasm and cynicism underneath - so much so that we can almost hear Chitra's cheeky grin as she sings. As more guitars and vocal harmonies are layered up as the track jets on, we feel that sense of ascension into the clouds once again, but before you know it, the engine is cut - however, as we're parachuting into the sunset to the sound of sparse instrumentation and the soft lulling oohs that round 'A Kind' out, it's hard to find a more fitting ending to an emotional airbus of a song.

To learn a little more, we got in touch with Chitra to find out what inspired the sounds heard on 'A Kind'.


Dirty Dancing Soundtrack
I don't care what anyone says - the Dirty Dancing soundtrack rules. I listen to this soundtrack quite a bit and you may even stop next to me at traffic lights to see me belting 'Be My Baby' by the Ronettes, which will be a cringe moment for all.

A lot of these songs just remind me of dancing around my room and pining to be in a 50's girl group.


Big Thief - Masterpiece
I'm pretty sure everyone everywhere loves this album. It's the ridiculous songwriting of Adrianne Lenker, which can pull the rug out from underneath you at any moment, as her lyrics jump from being tender to blunt. But also as a band, their ability to leave enough room for the story as well as having some incredible moments instrumentally is something that I admire a lot. AND the guitar solos on this album make me wanna scream in a good way.


The Shirelles - 'Will You Still Love Me Tomorrow?
This is my all time favourite song. I'm a sucker for those backing vocals. What I love most about this song is how it's still upbeat but the topic and tone is worrisome and frustrated in a way. It's a nice contrast and takes a good amount of gloom out of it for me.


Thao & The Get Down - 'Nobody Dies'
I think everything in this song is arranged well and the production stands out for me too. Something that definitely influenced me is the drive of the song and how it really pushes it along, but stops at all the right moments. The vocals are also really forward and hold a lot of emotion which I also strive for.


Angel Olsen - Half Way Home
One of my favourite songwriters and one of my favourite albums. Every time I listen to the album it feels like iIm listening to it for the first time and getting something different out of it. The way she tells stories feels direct whilst still making it interesting. It's always nice when you can listen to a song or many and feel directly attached and at home with it. I think that feeling is wonderful and strive to be able to create it.


Just Kids by Patti Smith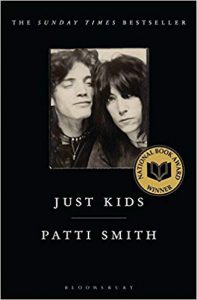 This is one of those books I read once a year. If you haven't had a chance to read it, you should. Especially if you're creative. I think its a beautiful and at times crazy story, but holds a lot of value and insight into what being an artist can/does mean. What I take most out of it is how much art can mean and how hard it can be to create but it also being almost impossible not to create.



If you're not too keen on flying, let Chitra do the work for you as she launches 'A Kind' this Friday, November 29th, upstairs at the Gasometer - you'll just need to make it up one flight of stairs though.