Music / Features
Punk Across Hemispheres -
A Chat With Glasgow's KAPUTT
During an extended stint in Melbourne which has seen them become instantly adopted by the local music scene, we got in touch with Tobias Carmichael and Cal Donnelly from Glaswegian post-punk group Kaputt to find out how the two cities compare.
Earlier this year, renown Glaswegian band Kaputt released their debut album Carnage Hall, a collection of eccentrically careening post-punk. While the sextet are involved heavily in their local DIY scene back home, Carnage Hall is a release that wouldn't have sounded out of place if it had first been played at The Tote or The Curtin.

The style of punk they play is playful, absurdist. There are shades of Melburnian contemporaries - they share the same frenetic wiriness of The Shifters with a little of U-Bahn's colourful hookiness. The music may sound surreal and irreverent, but the lyrics underneath are pointed, taking on everything from capitalism to alcoholism.

Carnage Hall was released on Upset The Rhythm, a London-based label who also have Melbourne favourites Terry on their roster of artists. The album twitches with charisma, filled with all the boisterousness of the no wave movement.

In many respects, Glasgow and Melbourne share a lot of similarities in their music communities and output: who better, then, to ask about this than Kaputt. We spoke to Tobias and Cal from the band about their recent experiences diving into Melbourne's scene, as well as their highlights of their hometown's music.
TJ: Firstly, how would you describe Kaputt's music for anyone not familiar with it?

K: A slinky falling down the stairs.

Your sound is often called post-punk but it's a lot wilder than the standard definitions of that genre - there's a lot of experimentation on Carnage Hall. Was this something you were conscious of wanting to achieve going into making the album?

It wasn't a conscious effort of making it experimental - it was deliberate in the way the parts interact with each other, but in terms of striving or trying to be different to the genre, it was a total accident. The songs came out the way they did because of the group of people working together on them.

The band's name is succinct, instantaneous - any inspiration for it?

Six people, six letters - funny and serious at the same time - glad you like it!

Major publications like Pitchfork picked up your release. Are reviews like that something that you care about as a band?

It's nice but it's not pivotal. We always appreciate feedback of any kind but try not to read into it too much or put too much weight upon it.


What brings you to Melbourne then?

Sun, sex, and suspicious parents (a classy reality TV show from Britain that is exactly about what it says in the title).

What was your perception of the city's music scene before coming here? Did you know much about it?

Our perception of the Melbourne scene was that it was really vast - lots of good punk music we were already aware of and listening to which we were excited to see. When we got here, we realised what we were seeing or perceiving before was a tiny fraction. It has been so nice meeting new people from the music scene here and getting to know the venues/labels/musicians personally.

Have any local bands particularly stood out since you've arrived?

Moth, Kosmetika, Me Channel, House Deposit, Pting, Culte, Rhysics.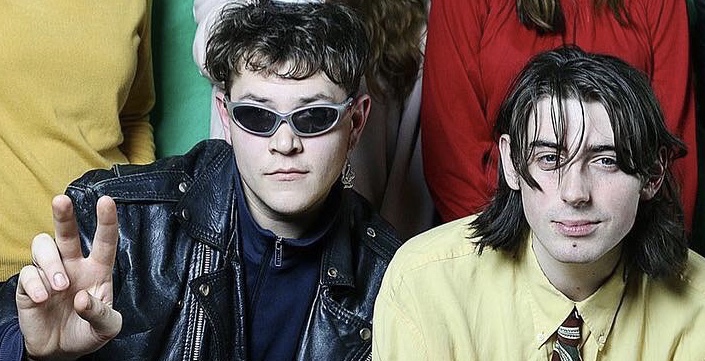 Glasgow's DIY music scene is strong and mirrors Melbourne's in many respects, albeit on a smaller scale. Have you noticed any similarities in their output or sense of community?

We've noticed how supportive people are here, not only towards the scene but the musical output in general. Pretty refreshing to see!

Glasgow's crowds are often reputed for their raucousness and energy. Have you found this to actually be the case and how does Melbourne's gig-goers compare?

Glasgow is more raucous, for sure, but maybe Glaswegians feel they have a reputation to uphold? The gigs seem to go "off" more, but it's a smaller city - so perhaps all of that energy is more condensed into the shows. Making the most maybe?

Finally, if someone from Melbourne wanted to begin listening to some current - or recent - Glasgow bands, who would you suggest?

Bands to recommend: Comfort, Yung KP, Daria, Rapid Tan, Romeo Taylor, Overwhelmed, Intrusive Thought, Irma Vep, Bamya, Sulka, Yummy Fur, Pozi, Banana Oil, Snout.
Kaputt's debut album
Carnage Hall
is out now - you can purchase it
here
.