Music / Premieres
Video Premiere:
Abbey Rose - He
Today we're thrilled to be premiering the debut video from luminary singer-songwriter Abbey Rose - 'He', a sumptuous and slow burning indie jazz-pop track oozing with charisma and depth.
Canadian-born, Darwin-raised, and Melbourne-claimed songwriter Abbey Rose is back today with a brand new clip for her effervescent yet soul-laden debut offering, 'He'.

In between supporting NGAIIRE, Emma Louise and performing with soul/RnB outfit The Mamas, Abbey Rose has somehow found the time to harness all her songwriting prowess into the concoction that is 'He'. Dripping with soul, 'He' is a romantic snapshot of long-distance love, best enjoyed with a whisky in hand, sinking into the plush velvet cushions of a down-lit lounge bar.

From the drop of the needle, this track is brimming with catchy soulful hooks and RnB bass grooves, delivered by some of Melbourne's young star players, with Abbey boldly up front. Her vocals are undoubtedly the hero of this release, dazzling us with effortless floating melodic riffs and delicate harmony lines, delivered with perfect restraint.

The new video, shot in magic half-light by Melbourne filmmaker Jesse Gohier-Fleet, takes us on a playful and contemplative adventure with Abbey around iconic Melbourne locations including Westgate Park, the waterfront at Port Melbourne and St Kilda's Luna Park.


Speaking about the track, Abbey described 'He' as a deeply personal snapshot of long-distance love, tenderly walking the line between hope and lament. She divulged to us that "this song is essentially a page out of my journal. It's about loving someone, missing someone, and the countless packed bags, train tickets and late nights involved in making it through a long-distance relationship unscathed. I wanted the video to feel equal parts wholesome, bittersweet and nostalgic - and it's noticeable that there's always one other person absent from the frame."

So, listeners, click play and slow-dance along to 'He' all the way to your next red eye flight or sunrise train ride.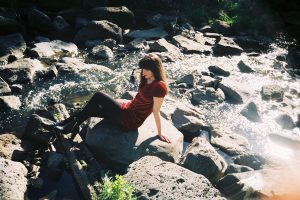 Watch the new clip for 'He' above, and catch Abbey Rose live at upcoming shows at The Tote in Collingwood on
March 21st
, and Open Studio in Northcote on
March 29th
.