Music / Features
Life's Good, well mostly -
A Chat With The Rollercanes
Off the back of the release of 'Life's Good', the new feel-good/feel-bad garage-rock belter from The Rollercanes, we had the pleasure of picking the brain of frontman Daniel Wright to take a look at the inner goings-on of the band.
Melbourne garage rockers The Rollercanes are one of the wildest bands on the scene right now, with the swagger of The Strokes mixed with the self-deprecative charm of Car Seat Headrest. However, following the release of their debut album Less the Love Between Us almost two years back, the band fell quiet and moved into a transitional period - pondering their next step, and adding Bek Nafiz on guitar, turning the scrappy three-piece into four. They're finally back with 'Life's Good', a punchy new single paired with a DIY clip, and we've gotta agree that life's pretty good finally having some new Rollercanes music in our lives.

To celebrate the release, we had chat with lead singer Daniel about a plethora of topics, from the band's search for a new sound, to the daily grind of being a musician, to the top places to take your lunch break. Here's what's up!
TJ: Hey Daniel! For the readers who might be hearing about The Rollercanes for the first time, could you tell us a little about who you are and what you do?

TR: You've hit me with a super difficult question straight away. Honestly, as wankery as this may make me seem, I don't really know how to answer that. I guess The Rollercanes are an indie-rock band that's trying to not be an indie-rock band anymore. Probably doesn't make much sense to say that when we're here [and] because we just released a pretty typical indie-rock song. The irony isn't lost on me.

We're glad you haven't dropped the indie-rock stuff altogether! After the release of your debut album Less the Love Between Us and your sold-out album launch (of which I was in attendance, you smashed it!), you seemed to go into a bit of hibernation. How were you feeling after the album's release?

That launch was a really great night. It was pretty overwhelming to have gone through such a gruelling 6-8 months trying to get everything finished and then have it so suddenly out there for people to listen to. I think I felt like I didn't really have a chance to let what we had accomplished sink in before heading into the launch and I really struggled to stay out of my head on the night and soak in everything that was happening.

As a band we were really proud of what we managed to pull off with both the album and the launch. As these things go, it felt like it was over too quickly, but I still managed to have fun. The hibernation wasn't really intentional, I think we just needed to get back into a bit of a normal routine again instead of running around like maniacs trying to get things finished while still playing shows. We all looked at the album afterwards and knew what we wanted to do better and what we wanted to change moving forward, that takes a bit of time also.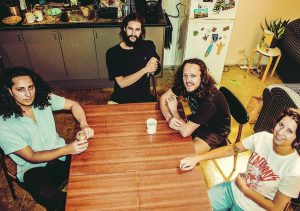 Your new track 'Life's Good' is a real angsty track about the feeling of getting older and finding some semblance of stability, but still feeling uneasy - how did this track come about?

I was working at the time behind the paint desk at a very large, very green hardware chain (that'll remain nameless), and was feeling the absolutely soul sucking dread of having to work retail because I'd run out of options for work after I graduated uni. I had a bit of a moment the morning after a gig while I was driving to work where it dawned on me that I had all the things I used to think I needed to be happy (love, steady income and playing music) but I was probably at the lowest I'd ever been.

The opening line of the song "I've never felt less like myself, I've never liked myself less" was sort of bouncing around in my head all morning while I was shaking up paint cans and when it got to my lunch break I went out and wrote most of the lyrics in the car. I got some chords together before the next band prac and we finished the song in like 20 minutes. That was like two weeks before our album launch and we opened that show with it.

We will definitely keep the large, green hardware store's identity a secret as we definitely can't afford a lawsuit. You mentioned writing the lyrics in the car, we're guessing that's where "I act cool in the bar, but I eat lunch in my car" came from? It's one heck of a line, can you tell us a bit more about that?

Yeah I was literally eating my lunch in the car in my work carpark when I wrote it. I felt like such a phony having played a gig the night before (probably at Yah Yah's) acting like top shit and then like 12 hours later was just sitting in my car, in my work apron, eating a sandwich. This guy doesn't rock all night AND party every day? What a frickin' phony, dude.

No phonies here, there's nothing more rock n' roll than a good eight hours and a balanced diet. But lastly before we say au revoir, is 'Life's Good' indicative of future The Rollercanes music? Can we expect a new album soon?  

'Life's Good' is the first song that our new guitarist Bek has played on and her influence on the band's sound has been such a refreshing element that extends far beyond this one track. We've got a lot of new music recorded that I'm currently mixing and recording overdubs on. It's hard to say what sort of format it's going to come out in. We've discussed the possibility of all the major formats: albums, EPs, interactive theatre art pieces etc. However, I can definitely say for sure that there are some more singles on the way very shortly and that they aren't typical Rollercanes songs - whatever that means anymore.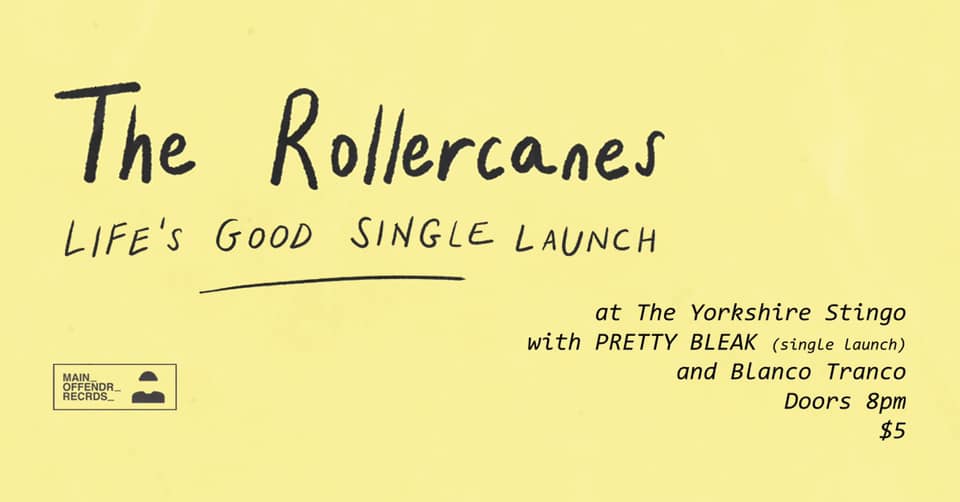 Check out 'Life's Good' above, and catch The Rollercanes launching the new single on Friday, March 20th, at the Yorkshire Stingo.