Music / Features
Aubergine, 'Lonely Peak',
and the new jazz underground
Following the release of 'Lonely Peak' last month, a thrilling single that takes us on a spiritual excursion through jazz, neo-soul and psychedelia, we got in touch with Oliver Hughes, leader of Brisbane's Aubergine, to find out about the group's rise and what's to come next.
'Alternative Jazz' is a new term to me. I've spent most of my life on a steady diet of rock and garage music with a few sips of hip-hop in between. If people mentioned jazz it always felt like something I wouldn't understand, something more cerebral than visceral (and a tad bourgee), that you needed a deep knowledge of technical playing to appreciate.

The last couple of years though, there's been a blossoming scene in the Australian underground that seem to be revitalising the genre - around Melbourne it's groups like WVR BVBY, Sunnyside, and FinalFinal, bands that root themselves in jazz, but bring in funk rhythms and big hip-hop drops. It creates a genre that features mind-blowing instrumentation, massive dramatic highs and way too boogie-able breakdowns. It's a style of music that you feel in your body a lot more than typical classical style jazz and makes for live show experiences that stay with you for ages.

Aubergine are the newest band to hit Brisbane's psych-jazz underground. Their new single 'Lonely Peak' features this repeated piano melody you can sink into with horns slowly layering in and punctuate the drops -the swinging drum beat guides you along, while everything slowly builds throughout the six-minute track to a big crescendo that leaves you with an epic mountain-climbing feeling. It's groovy as hell.

I had a chat with Oli, the founder of the group, to hear a bit more about their genre, the genesis of the band, and all their new music. These are some of the things we said to each other:
TJ: Aubergine are a new band just starting out, but you sound very tight and well versed in your instruments - I was wandering what your musical history was like, and how you came together as a band?

A: So, my personal musical history; I'm a guitarist, I've played in many bands around Brisbane and northern NSW, and for a long time I was doing - a lot of rock stuff, punk, funk and reggae. Maybe about three years ago, I picked up a synthesiser, and I kind of started just tinkering away. Then I joined bands as a keyboard player, but I've always kind of written in this [Aubergine's] style myself, and a lot of the time that didn't work in the other bands. So I was kind of developing my own voice on the synths and keyboards which ultimately resulted in the formation of the some of these songs. The other guys, Jamie and Olivia, our two horn players, they're both classical conservatorium saxophonists. Brad Williams on the drums, he's done a lot of rock stuff, he's quite a good session player, he'll play around town in all sorts of different bands. And Henry, like me is a guitarist, and it just kind of naturally worked on the bass for him.

How did it grow for you working on these songs yourself to getting these guys together as Aubergine?

Well Aubergine actually started as a recording project with two friends in Sydney, it was for the most part a bit of a google drive project. You know, I would record stuff up here, send it down to them, and they would mix it in and vice versa - we have an album out on Bandcamp called Prelude. That's how two or three of the songs that we play now actually come from, and then I basically started up the Brisbane band, and then its grown from there.

You've just put out your debut single 'Lonely Peak', how'd that one come together?

That was one of the songs that came from those initial recordings, from Prelude. I felt that the song had a lot more growth in it. So we kind of reinvented the song, re-wrote lots of the parts, added a kind of an improvisational element, and more of a classic element. With the new players on that track it's kind of given it a very different vibe and tone overall.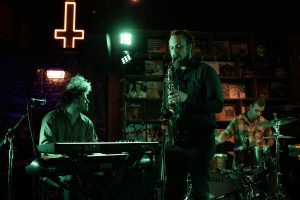 When you write instrumental music, do you have feelings and imagery you're trying to convey in your music or is it about more sort of just playing around and finding grooves that feel good and working it up that way?

I would say it's a combination of both, definitely. The way that I write instrumental music is that I have an image in my head, or I have a visual, or my imagination comes in to play. There's no strict image of lonely peak… they're quite open-ended concepts. To me, it's all about confliction between beauty and struggle, you know it's a sad song but also, it's hopeful, so the imagery that I hope people get out of it is somewhere along those lines.

How did your single launch go?

Yeah great, we played three shows as part of the single release weekend. The highlight was Bearded Lady, which we did as a free show, and it was quite a beautiful night - everybody was sitting on the floor, we played to a packed out room, the audience was so amazingly receptive to all the songs. It was a real highlight of my gigging career.

I wanted to ask you a bit about where your music fits into the Australian music scene at the moment, it feels like there's sort of a growing underground scene in Australia for your kind of alt jazz stuff. Do you feel like that's a scene that's simmering up lately, or is it something that's always kind of been there and I'm just learning about it?

I think it's on the rise. I've noticed in Brisbane that there's this kind of amazing scene of bands that are all, kind of not so worried about pop appeal, they're presenting a bit of an experimental kind of jazz music. So how we fit into that? I suppose is that I wanted to create music that is texturally appealing and accessible, but also has those jazz elements. It's jazz I suppose, it fits under that category, but at the root of it it's quite simple. I wanted to create something that's kind of simple and accessible but experimental at the same time.

I think that jazz kind of infiltrated hip-hop from the get-go, and that's kind of grown into genres like neo-soul, which uses this same kind of instrumentation that Aubergine uses. And for me, because I love all those genres it was about taking from all of those which are just a very accessible form of jazz music, but then kind of adding in a bit of a virtuosity element to it. That said I feel that it's not… it has virtuosity in it but it's not about virtuosity.

I'm sure this kind of music scene has been alive for a really long time, but maybe it's just hitting the shelves, so to speak, and people are paying more attention to it now. I think the fact that 'Lonely Peak' is a six minute song, and it's really gone so well for us, in terms of radio play across the country, it gives me a bit of hope. You're always told to write a three or three-and-a-half minute song to kind of get that commercial appeal, but I just don't really buy into that - if a song needs to be six minutes, it can be six minutes.

You have an EP coming out later in the year, is there much planned for that yet?

Yeah, so we've got an EP kind of ready to go, that'll come out. We're aiming to do quite a bit of content this year, so we're in the works of our second EP now. So, we're kind of hoping there'll be a relatively steady stream of songs coming out for everybody. That'll all be released through 4000 Records.
Check out 'Lonely Peak' above, and keep up to date with Aubergine by following their socials.