Music / Premieres
Premiere:
Double Vanity - Double Vanity
Brought to us at the end of a confusing and unprecedented week for music, Melbourne trio Double Vanity have shared their self-titled debut single, a genre bending, dystopian-punk song eerily fitted for isolated reflection.
There is a collective spirit to the sound of Double Vanity. After finding a quiet corner in Melbourne's punk canon throughout 2019, today the band bring us their debut, self-titled single - a self-assured, no holds barred approach to dystopian post-punk. Comprising the talents of Sarah Blaby, Zec Zechner and Amy Chapman, this trio (alongside their trusty Rhythm Ace drum machine) bring their songwriting powers to the forefront - a collaboration built on genre exploration and engrossing mood. 


Known for their work in Plaster of Paris, Remake/Remodel and Dumb Whales, Double Vanity is the product of combined experience - a unique band that explores sound through experimentation and future-funk leanings. On 'Double Vanity', the first single off an upcoming full-length release through Psychic Hysteria, the band invites listeners into a sonic dreamscape, blending elements of 80's new wave with a clear contemporary ear. There is a balance at play throughout 'Double Vanity' - a track that feels as uncharted as it does familiar. 



Unbeign and confident, the track unravels with every listen. Delivering striking imagery and visual concepts, Zec's vocals particularly stand out - a whaling soundscape that layers throughout. Acting as an instrument of its own, Zec's vocals complement the track's synth undercurrent, an element of the band's sound that is both foundational and sporadic. This playful use of sound is what rewards the listener on 'Double Vanity' - the idea that a song led by sturdy guitars and vocals can have entire layers waiting to be unpacked. Behind the layers, Double Vanity let us into their earnest world.

Although sonically dense, 'Double Vanity' finds beauty in melody and the power in raw emotion. While it is their debut single, the band feels fully formed - a seasoned group of musicians showing all the footnotes of an important band to come.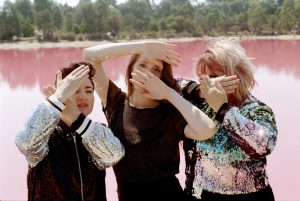 Listen to 'Double Vanity' above, and with their debut album set for release later this year through
Psychic Hysteria
, follow them on Facebook to keep up to date.