Music / Features
A Leisurely Ride With Aliens -
A Chat With Madi Leeds
We had the pleasure of chatting with Melbourne-based singer/songwriter/pop-queen Madi Leeds about her brand new single and music video 'Spinelli', a true synth-pop masterpiece.
Madi Leeds' brand of retro synth-pop is infectious to the highest degree. The songstress is a frequent performer in bars and clubs around Melbourne, refining her art and bringing her soulful music to countless onlookers.

Her new single 'Spinelli' is beautifully dreamy - it fills out the sonic-space like a deep, calming breath in. The song is primarily made up of wonderfully arranged synth parts, with a simple electronic drumbeat and subtle vocal harmonies that make the track feel like a floating cloud. The track is accompanied by a one-shot music video featuring Madi riding around a velodrome with a phenomenal sunset backdrop. We were fortunate to pick Madi's brain on the track and what the future holds for her.
TJ: Hi Madi! For the readers who might be hearing about you for the first time, can you just give your best 'me in a minute' pitch of who Madi Leeds is?

ML: For sure! So my name is Madi Leeds and I'm an indie-pop/singer-songwriter based in Melbourne. I play locally quite regularly, as well as interstate, and I just absolutely love it. I've always been passionate but it wasn't until I got an audition for music uni that I realised this could be a career. I released my first EP in 2017 Spinning and I am most known for my crazy alien-themed music video to my first single 'Water to Me'. I wrote all five tracks from the 'folk-pop' EP but ever since releasing my single 'Refresh', my writing and arrangements have gone more synth-pop.

My favourite artists at the moment are CHAI, Pronoun and Graveyard Club. I also love dogs, coffee, my cat Nico and 90's Nickelodeon shows?... I hope I'm doing this right!

You are absolutely doing it right! On to the track - how much fun exactly were you having with the synths? The track is choc-full of their goodness.

I actually started off writing the song with the main synth-line on a Go-Keys synth sound and then writing the lyrics separately. I definitely wanted the track to head in a more synth-pop direction but (thanks to Damon Langley), for the actual recording we ended up using a Moog Sub 27 which was able to add so many layers and vibrance to the track. The main synth line seemed to have so much character and is so much fun to play live.

The opening line of the track "marshmellow youth" really peeked our imagination. Could you tell us a little more about that reoccurring line? How do you think it ties in to the overall story of 'Spinelli?'

I wrote the song about a crazy Halloween party I went to which involved (like the lyrics) people toasting marshmallows to a fire created from a burnt down shed. I wanted it to also represent a particular scene of young people socialising together with no cares at all – happiness from simplicity and each other's company. I think to me the line also symbolises how influenced young people can be or have on one another, like our brains are some sort of sponge (or marshmallow?) I guess still figuring so much out.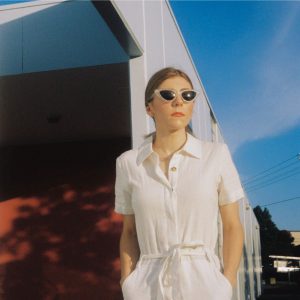 The music video for 'Spinelli' is beautifully simplistic, with some really stunning sunset backdrops. What was the motivation for the video?
Thank you so much! In the past, my music videos have been quite imaginative and out of control (dancing aliens etc.) so it was Damon Langley who suggested to go in a more simple direction. I chose a playground/park initially wanting to relate back to the Disney show
Recess!
(Spinelli is the name of a character from the show who I was dressed as for the Halloween party), but ended up going for a one-take cycling idea. This also reminded me of
E.T
(I'm an insane fan) and once again teenagers riding around together just hanging out. I guess this also connected to the 80's synth sound as well and my influences.
I really wanted to create a sense of dizziness for the video though as the lyrics explore themes of multiple emotions (oh my head…) as well as isolation and disconnection at the same time from reality. The sunset wasn't actually planned – we just tried to shoot before it got dark!
How exactly did you… well… film the video clip?
The video was filmed by having a Go Pro mounted to the back of a bicycle directly in front of me as I rode around. It was really difficult to put it in place and at the right angle but Damon was very creative and did an amazing job with the video. We had to wait for the perfect time to use the Velodrome after cycling training sessions etc. had finished but still managed to have an old man get onto the track with his bike mid-take which ended up making the cut!
Though these are quite uncertain times, do you have any exciting things planned for 2020 that you can elude to?
Due to our current pandemic a lot has been currently postponed/cancelled music-wise. I have been sitting on a lot of material though so hopefully I can use this time to work on new releases and honestly just try to write and play as much as I can. I find if I'm not playing a gig or working on music I start to feel incredibly restless and sick in a way. My heart really goes out to all of the music industry at the moment, so many Australians without jobs and artists who aren't able to express themselves to an audience, or attend a show. It's not only the profession/work-side of it but the mental health aspects musicians are going to be facing or trying to connect with one another (which has already been evident in ways such as live streaming gigs etc.). I'm actually going to be playing as part of a
'24 Hour Virtual Music Festival'
with the 'Live and Amplified' podcast on March 29th (March 28th in the US)!
I'm hoping during this live stream to raise money for Support Act to give back to the Australian music industry who has been majorly affected by COVID-19. You can
donate here!
Check out 'Spinelli' above, and catch all the news from Madi Leeds on her socials.