Music / Premieres
Premiere:
No Statues - CS
Uncompromising and harsh, Melbourne three-piece No Statues come to us today with their debut tape - four tracks of effortless synth-pop, grounded by melody and an eccentric post-punk edge.
After navigating 2019 with an impressive string of support slots, No Statues enter 2020 with their first release - pairing MRT-3 drum beats with searing instrumentals and uncompromising performances, these tracks play like a brooding exploration of their dark world.

On their debut tape (aptly titled CS), No Statues bring four tracks of honest dark and contemplative punk - a label used only to pin down the groups explorative sound. Navigating the underbelly of gothic and dark-wave sonics, the group's sound feels comfortable among the likes of East Germany's Diät, or falling closer to home with notes of Sydney new-wavers Orion. Amalgamating these sounds, CS sees the group "showcasing their live set" - a collection of tracks that have been considered and feel true to the band's sound. Having formed just over a year ago, jamming in a cramped lounge room and playing "through terrible Logitech laptop speakers", No Statues debut feels polished - a true testament to where the band have come in such a short period of time. 

On tape opener 'Picked the Rose', No Statues establish their sound with piercing, underlying synths and an emphasis on melodic bass lines. Through deadpan vocals and a driving beat, the group use space to their advantage, finding grandeur in melody and slow ascension. Holding an unapologetically pop ethos, 'Personality' sees vocalist/guitarist Ali Mustafa at his most earnest - singing "no excuses, no regrets" as he navigates a shift in relationships and internal adaptation. 

Although just four tracks long, CS finds cohesion in simplicity and defined instrumentation - a quality most notable on lead single 'Overtime', a track that slows the tempo and provides room for each instrument to shine. Closing track 'Despair' sees the group leaving their strongest grooves for last, pairing overdriven bass with a layering of distorted synths. Continuing themes of reflection, Ali sings "there's no point waiting round for someone else to change your tune." Discussing poor excuses and strange behaviours, Ali's vocal delivery helps conjure an ominous ending to CS - a striking closer for the group's first offering. 

At just over 13 minutes, CS leaves the listener at the mercy of No Statues. Released in a time where live music has grinded to an uncertain halt, No Statues offer an honest reflection of their performance - a tape that feels as equally raw as it does laboured.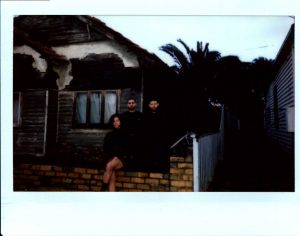 Although it is uncertain when these tracks will be launched in a live setting, for now you can listen to No Statues' debut tape above, and head to
nostatues.bandcamp.com
to purchase the release on limited transparent orange cassette.