Music / Features
Baby TV -
Tuning in with Dianas and friends
Tomorrow, Melbourne dream-pop trio Dianas are unleashing their long-awaited sophomore album
Baby Baby
into the world. However, in lieu of a proper release show, the band have been launching the album all weekend on their own online channel,
Baby TV
(tune in here!) - an ongoing livestream that pairs each of the album's 12 tracks with new film clips created by the band in isolation, and plays on repeat.
Almost verging on a full film, the visual album is a thrilling journey that reveals every unique side of Dianas sound as the track's blur past – zigzagging from ethereal and mesmerising to disarmingly spooky, from playful to sincere – all while each clip peels back layers of the band's sparkling personality.
It was a pretty difficult task finding a suitable way to properly amass the incredible amount of creativity, craft and passion that has gone into Baby TV with one article – but in true Dianas DIY fashion, the band have called on a heap of friends and family to walk us through Baby Baby, one clip at a time.
'Going Gone' with Lauren McCurry & Niketh Raghavan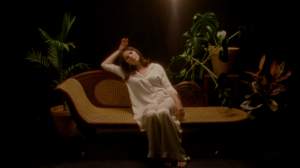 If your imagination is remiss, here lies your ticket to a feminine dew-ville; a howling, harrowing 80s sparkling wonderland. Garbled guitar shreds meet angelic vocals set against the backdrop of an interwoven tapestry of Virgin Suicides-cum-Marylin Manson, with a pinch-of-Prince 80s nostalgia. Glittery and bonafide sorrow you can dance to, or sip something as strong as you wish you were. Three cool women courting a freaky, luminescent set of inanimate objects; shards of metal, and a bright, wafting spotlight - it's eerie and beautiful.


'Try Hard' with Emma Russack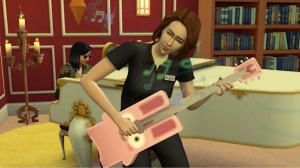 I haven't played The Sims for almost 20 years - and, to be honest, I never really got my head around it. However, The Sims was a different game back then - it was basically just town planning. Fast forward to 2020, and latest version (The Sims 4, released in January of this year) appears to be everything I wanted in the old, original version… it's got characters. And they can probably have sex with each other.

I know for a fact that one particular Dianas member (her name may or may not rhyme with hat) has been playing The Sims 4 obsessively during COVID-19. It makes sense. It seems like the perfect game for these times. Create a simulated version of yourself, in a simulated world of your choosing and go do whatever you want. It's the perfect escape from isolation and the general weirdness of our current reality.

In their video for 'Try Hard', Dianas have filmed simulated versions of themselves within a Sims session. They appear to live in some kind of mansion, surrounded by grand pianos, claw-foot bathtubs and chandeliers. Nat's Sim wears a hotdog, Anetta's Sim paints portraits and Caity's Sim… well, she spends a lot of time on the couch. And the three of them throw a huge party towards the end of the clip that looks like something out of Bohemian Rhapsody (the recent Freddie Mercury biopic). It's quite the scene.

What are Dianas trying to tell us? Are they longing for more glitz and glam in their lives? Do they want what their Sim-selves have? I don't know. But with lyrics such as "You are just where I wanna be/And I try and I try though I only feel pathetic/Gotta aim high even if you'll never get it", you gotta wonder, "when the HELL is life gonna go back to normal?!"


'Easy' with Annabel Blackman (Body Type, Solo Career)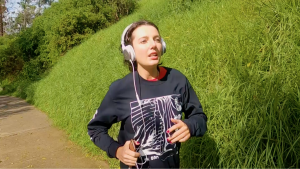 What a huge drum and bass opening, one second down and already sucked in. Watching Caity running instantly makes me feel nervous because vigorous exercise always poses a vomit threat to the system, endorphins aside. Makes me wonder if 'Easy' is about willpower. It's certainly easier to go for a run if I drop the thought of how much I don't want to do it - but if I was part of the Dianas relay I would be there in an instant.

This song sounds like an internal battle in the best way, I'm not going to describe everything that's going on but there's a lot of contrast. Dianas know how to densely weave small, medium and large-size feelings together… I keep having to replay the video because watching them running is compelling and the 3:55 minutes worth of song keeps getting away from me! Go Dianas, GO!!


'You Beauty' with Sophie Treloar (Poppongene)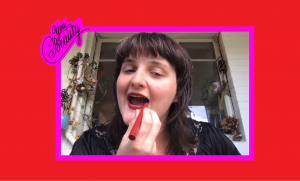 In the video for 'You Beauty', we initially encounter some well-known visage classics - a classic red lip, a classic wing. As we progress, we are welcomed to multiple must-have looks for this iso-season. Annetta shows us an ever growing and ever dazzling scarlet lip-to-full-face-rouge (a real day-to-night game changer if you ask me). Nat gives us a versatile 'KISS-me-I'm-spooky-sweet' look with a monochrome flying mammal mask, paired ver-y well with a two-piece pearled hair clip set. Caity serves an inspired full-face multicoloured crayon contour, complete with a bold violet shaping of the nasolabial folds. However, I simply must confess, Caity's Cheetos teeth are a standout and truly the glow-up we're all striving for this season.

When the Dianas makeup line descends upon us the world will be a better place. You're all beautiful, 3/3 stars.


'Did Ya' with Corey Thorn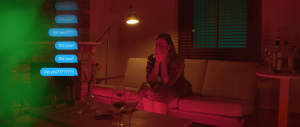 This manages to capture two minutes of pure worry, perfectly. Unfortunately, an all-too-familiar feeling for all of us second-guessing every single thought and feeling. As we try not to feel alone in this world.

Let this be all you need to trust yourself and hit send. And while you wait for those stupid three little dots, remember the Dianas are right there with you.

3 animating dots out of 3.


'Weather Girl' with Holly Pereira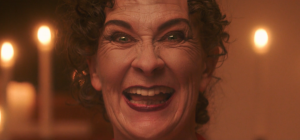 When I was young I spent a lot of time imagining I was a witch that everyone was terrified of crossing. This fantasy was no doubt bred out of hours of watching Charmed and reading Roald Dahl's novel The Witches.

This childhood obsession has made me feel as though I have an innate ability to sniff out other witches, and this is why I've always felt as though Dianas were somehow connected to this mythical world I'd often daydream about.

The video for 'Weather Girl' has strong connections to the occult, with the head witch played by Felicity Steel - the stuff that dreams (and nightmares) are made of.

Over the course of the video, we witness the disintegration of a relationship, a captivating ritual and in its breathtaking final moments, the ultimate sacrifice. As the song swells to its apex so too does the action of the video which in five and a half minutes possesses the drama of a feature length film. It's a powerful visual that accentuates the intoxicating effect of the song, while also strengthening my belief that witches are among us all.


'Jewels' with Lyndon Blue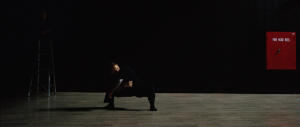 Alright okay here we go. Floorboards, big black backdrop, fire hose reel… nice pop of red. Quiet, minimal shot; feels more austere than any of the other vids so far? But I'm into it.

Alright, Zoee Marsh has walked out! Nice title card. Very elegantly done. Get a load of that "W"! Zoee's movements are getting brisker as the music fades up. Great lighting, making a long shadow shuffle around the floor. There's a mysterious figure watching from the shadows, on a… line-umpire's high-chair?? Sick. Zoee's stretching, folding and unfolding, corkscrew limbs, big arcs and flashes of crab-walking.

Gotta focus on audio for a sec. The song feels like an exhalation at this point in the album. Trademark harmonies are there but none of the olympic zig-zagging guitar/bass or rapid fire drums! Nup, this is quite slow for a Dianas song (tho there's still plenty of blood pumping), but what's most striking is the piano - changing the palette up a lot, feeling contemplative and bright, but weighty. Like a thick layer of fresh snow.

And wow ok, now they're dialling the backbeat out altogether, easing in shiny crotchet bells and church-ceiling harmonies in step, and a conversation-chatter sample woven through? I wasn't expecting this and it's giving me quite literal goosebumps. The chords keep looping eerily, cymbals are swelling and un-swelling, Zoee is an archer - now a wave - now a willy-willy, a self-hug in iso, an eel, a balloon skipping down the street in the breeze. The song doesn't so much end as it evaporates, Zoee stands up, exits left, thinks again, exits right.

I loved everything about that but I'm gonna need to go back over it to catch the lyrics properly. Dianas' lyrics often take a few goes to emerge for me. And what about the line-umpire?? Riddles to untangle, definitely won't be a chore to keep revisiting this one tho.


'Star Emoji' with Elodie Callow-Nevin (Anetta's sister, 8 years old)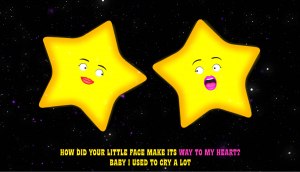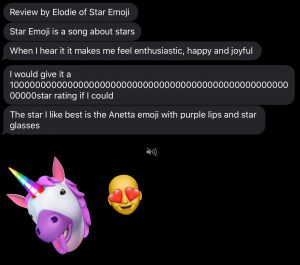 'Real Love' with Xanthea O'Connor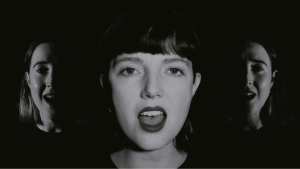 "Do you have to be sad before you can be happy
Do you have to be lonely before you can love anybody"
There was one summer night in Perth during my early twenties, when the months and years marinated together in a sticky alcoholic punch, where a huge monochrome poster of Nat's face melted from the wall of a bedroom I was sleeping in and fell on top of me. I woke up disoriented in the dark, scratching for air through enlarged eyes printed on thin paper. The boy whose room it was pulled it from us and tacked it back on his wall, now creased and battered. He went back to sleep but I stayed up, blood still pounding through my ears. Nat and I share this ex, a bad one. He told me that he liked the way I looked a little like her at the right angles – the curve of our brow and the sway we held our mouth. 
Do you have to say sorry, do you have to make up
Do you have to move on before you find real love
I heard the band got their name from a Princess Diana novelty lenticular photograph suck up in the toilet of a North Perth share house I frequented, a place that hosted chaotic backyard gigs and art-parties. One housemate spent the afternoon of New Year's eve one year digging out an island water feature in the rear of the garden. There'd been a note left on the fridge from a housemate I'd never met explaining they were undertaking a vow of silence for the month. The community we existed in was small, crammed with jumbled-up kids who just wanted to make art and hang around the other people making art. A lot of behaviour was forgiven, a lot more was just ignored. 
I've watched Dianas evolve in both our hometown and then in Melbourne, when we all inevitably migrated over the space of a year or two in our mid 20s. The boy with Nat's face on his wall would come along to Dianas gigs at The Bird but stay out in the beer garden during their set to chain-smoke. He told me he'd seen their set enough times already. I'd bounce back and forth between him and the band room, unsure of where I should stay. Years later, in that same beer garden, I'd dunk a schooner of Sly Fox on his head during some confrontation, leaving before it could escalate. 
What I want
I do just what I want 
I'm streaming Baby Baby from an unfamiliar living room in New Zealand during the pandemic lockdown. I walk to the kitchen between clips and find my housemate naked at the sink. "The milk's gone rancid", she says, rinsing its carton. I pour myself some wine and we share a rushed, quiet moment. When I return, Caity, Anetta and Nat are stripped of instruments and singing directly to camera. I can feel the heat of that Perth summer again, smell the dirt on that shared ex's sheets, hear the dry paper crack under my fingertips. I laugh to myself at the absurdity, the emotional weight gone, no anxiety of feelings too complicated to process. I've known this band for almost a decade now. I miss seeing them play. They've grown less apologetic over these years, a quiet, honest excitement buzzing between them during their sets. I feel it tonight too. I'm left to love these women in a way that I was never taught as necessary or significant, but now feels essential for our survival. 


'Happy' with Elizabeth Mitchell (Elizabeth)
Nathalie Pavlovic is a precious magical jewel in the video for 'Happy'. A slick and glamourous magician in a cowboy hat, Nathalie performs tricks to make her audience happy. She is joyous in her tricks, some are failures, others are triumphs. She is full of glee as she makes her brooding assistant (played by local hero Snowy) disappear and reappear, she creates a bird out of her hat!!!
As someone who loves magic, I was charmed. This video reminded me of something from the past like
La Voyage Dans La Lune
by Meliere, with the sharp cuts and blended footage used to create the illusions and transcend the scene beyond its location. I'm obsessed, thank you Dianas.
'Million Dollar Baby' with KEWL (Marcus & Tobias)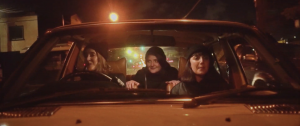 Marcus
(on the track): Instead of 'what came first, the chicken or the egg?', with the band Dianas, it's a question of what came first, the lyrics or the vocal harmonies or the guitar lines or the drums – it's near impossible to identify what came first. It's like every song created by the dynamite trio is the result of some kind of Power Ranges transformation to the Megazord, a giant robot with an arsenal of weapons only achievable when the trio are together in the same room. And 'Million Dollar Baby' is another example of Dianas kicking butt, or in this case wanting to see someone else happy, as a million dollar baby. It's impossible to compare Dianas to anything in Australia, and the closest thing overseas would be like Eternal Summers or Dum Dum Girls, but even those great bands can't pull off the Power Blaster harmonies of Dianas.
'Million Dollar Baby' is a masterclass on seamless harmonic transitions, rather than stiffly clumping together a verse, chorus, verse, chorus, bridge, chorus, the seam stitching is invisible and irresistible. If you're going to be stuck in isolation with any song looping in your head, there's no more satisfying choice than 'Million Dollar Baby'.  
Tobias (on the video): Stylistically, the Dianas' clips are always very strong. Across the whole catalog of clips, the creative direction is well considered and the aesthetics all compliment each other nicely. There is something beautifully DIY and relatable about the productions but it's always executed with a professional finesse. 'Million Dollar Baby' is no different, the technicalities behind pulling off a one shot clip on a moving vehicle (and a beautiful one – Mercedes 280e) is no easy feat. Worth pointing out the masterful location scout and route planning to! However, having said all that, it's such a comfortable watch you forget about mechanics of the shoot and it reflects the band's personality perfectly. 
The direction and timing is nice, it's a big vibe when they're all back with the spoils of the heist. It could have been a cool touch to have an in-car audio up as Caity delivered the pre-heist pep talk, rather than subtitles perhaps? It's nice to see them get away with it (as far we're aware) and complements the music beautifully. 
This clip makes me think of the German film Victoria directed by Sebastian Schipper – a glorious but gritty one shot feature film set around a heist in Berlin. The budget for that film was relatively low for a full-length feature but it had such strong personality which this clip has. The colour palette and shot composition in the clip is very reminiscent of some Australian Ozploitation flicks brought back into the spotlight by Mark Hartley's documentary Not Quite Hollywood which I found an enjoyable correlation.
The team behind the Dianas' music video world, in my humble opinion, are some of the most resourceful and creative music video-makers in Melbourne right now.


'Learning/Unlearning' with Dianas' mums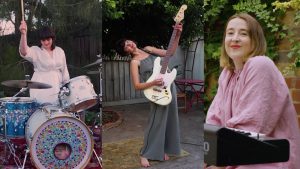 Anetta's mum, Marzena Topka:
Sitting on my back verandah overlooking the garden, I was in a perfect spot to join Dianas' garden party – okay okay, I could do better by tuning in at a more romantic hour of dusk or dawn to match the melancholic atmosphere of Dianas garden/s. But that's something to learn for the future.
In 'Learning/Unlearning', Anetta Nevin, Nathalie Pavlovic and Caitlin Moloney took me on a moving journey exploring shady suburban backyards, looking into forgotten corners of what I eventually realised were my past. Although filmed in separate locations, each band member secluded in their own space; the visuals are combined seamlessly, including the viewer/listener into one experience. A sense of intimacy envelops all. Dianas' sound is truly growing up as they have done a formidable amount of learning and unlearning of their own.
'Learning/Unlearning' will leave you in a very different spot than where you started. Life is a process, and sometimes the best way to learn is by letting go of what we know.
Nat's mum, Chrissie Pavlovic: Welcome to a garden party with Dianas, as they navigate the restrictions imposed during the COVID-19 pandemic, for this production of their new release, 'Learning/Unlearning'. Dianas is a Melbourne-based band of talented songwriter/musicians and performers, who have created this great production for this weekend's launch of their new album. During the gentle and harmonious introduction, we meet each of the band members preparing their instruments: Caity on keys, Nathalie on bass and Anetta on drums, for this innovative performance in their respective gardens, filmed by their respective housemates.
These tight harmonies are the signature style of the band, and are maintained during the song. Bass (Nathalie) and drums (Anetta) introduce the driving rhythm that carries through, underpinning Caity's melody on keys. This picks up the tempo, and provides a good contrast with the intro. Cunning editing by Tom Mannion shows the three performers individually and in group shots, which maintains the connection between the girls. There is a dramatic instrumental interlude, prior to the introduction of dubbed harmonies which serve to create an even bigger sound as the song builds towards the final section. This is a song about forgiving yourself and growing/learning from the past, to become the person you are, in the present. It has Diana's unique hallmark all over it!
I guess that these social restrictions lead us all into realms of greater creativity, in order to find new ways of connecting with our audience! Well done Dianas!!!
Caity's mum, Leonie Squire: 'Learning/Unlearning' is a song that illustrates the growing maturity and inventiveness of the Dianas' sound. You can hear their trademark reverb-laden harmonies, the driving eighth-note melodic basslines, and the juxtaposition of an immersive wall of sound with the stillness of their ethereal vocal harmonies.
But this song takes their songwriting craft to another level. It opens with an interesting, slightly dark chord progression on the piano, always a welcome addition. Vocal phrases are left hanging with open fifths over minor 7th harmonies, further reinforcing the overtones of regret for the past in the lyrics. The unison singing is particularly effective as a contrast. The repetition of this chord progression is virtually throughout most of the song, but the clever layering of basslines, electric guitar, inventive drumming and vocal counterpoint make it anything but monotonous. It's all about the texture here, with the musical interludes bursting with inventive energy. The moody interlude on the piano morphing into a typical joyous Dianas sound with the electric guitar picking up the piano riff is a delight. And the transformation from the slightly melancholic mood of the rest of the song is perhaps ultimately offering us self-acceptance and redemption.
Of all the videos for this album, 'Learning/Unlearning' lets us see the real girls behind the Dianas sound. No magic, emojis or avatars – the setting is the typical Melbourne backyard, complete with fairy lights, hills hoist, and the faded paint of a garden setting and back shed. Even the dog makes an appearance. The Vic social distancing requirements make for nice spacing, and allows us to focus on each musician, beautifully framed in this setting. You come away feeling like you know each of them a little bit more. The lighting is perfect; a typical cloudy Melbourne day. Some nice camera work highlights the vocal counterpoint and the buildup of the instrumental interludes. This is my favourite song and video of the album.
Baby Baby
is streaming now at
Baby TV
- tune in to hear the full album with each clip, and head to
dianasband.bandcamp.com
to purchase the album on limited cherry red vinyl.
Baby Baby
officially releases tomorrow.