Music / Features
Yanked out of Retirement -
A chat with Le Villejuif Underground
About a year after the band had supposedly broken up, French/Australian garage-punks Le Villejuif Underground have re-emerged with a chaotic new 7" in tow, and some ambitions to eventually make it over to Australia.

We weren't quite up to the job of making sense of it all, but it turns out that frontman Nathan Roche is friendly with the Osborne Again crew, so label-head Nick Kearton got to task sorting out what was going on for us.
I've been a fan of Nathan Roche's music since I read a feature in Mess + Noise on his old band, Camperdown and Out, back in the glory days of Dolewave. He's a charming guy and that has always shone through in his writing, both in his books and songs. He's great with characters and I always enjoy trying to work out what is pure fiction and what's an extension of himself.

As a person, he's always had a fair bit of mystique about him. For instance, I feel like I was pretty regularly hearing that he'd quit music to focus on writing books, but then all of a sudden, he'd be in Melbourne playing a show with a handful of new records that he was flogging. When I heard that he'd moved to Paris, I assumed it was one of these things and next time I went to Sydney, I'd run into him at a bar, however that turned out not to be the case.

I've been lucky enough to get to hang out with Nathan a bunch in France. He's excellent company and I always look forward to hearing what he's been up to, as he's never short of a story and it's never dull. He's hopped around a few cities, lived in artist squats, joined bands, toured China, become marooned with visa issues in Morocco, got married and done photo shoots for high-end fashion magazines, amongst many other adventures.

He mentioned the other day that his excellent band in France, Le Villejuif Underground, had put out a new single called 'Ghost Of The Water', so I figured it was a good chance to indulge my curiosity and ask him a bunch of questions.
NK: I feel like trying to pinpoint your location is a bit like a game of Where in The World is Carmen Sandiego, I'm always a couple of cities behind. Where are you now and how have you been keeping yourself sane during lockdown?

NR: Actually, I'm in Ardeche at the moment, in a village deep in the forest. Since the lockdown I've learnt other very valuable life lessons and primitive techniques… like how to use a chainsaw, rebuild a 16th century ruin, use plants, flowers and fruits in the forest to cook, and the fine art of how to empty an entire wine cellar in two months. 

When I describe you to people, I often refer to you as being from Sydney, however you grew up in Townsville. What was it like growing up in North Queensland as an artistically minded kid and what took you to Sydney?

I got pretty lucky, and fell into the Pet Sounds record-store crowd. A crowd of wild, passionate tropical drunks that loved Brian Eno, King Crimson and Throbbing Gristle, just as much as Bundaberg Rum and the local NRL football team. They switched me on to a lot of great stuff - cinema, film, books - when I was still 12 or 13.

There's surprisingly a lot of wildly educated eccentrics up there to keep the place bloody-well interesting. Like Steve Price for example, the local weatherman, radio host and crowd starter for the NBL team. A great entrepreneur of our times.



In grade nine, Mitchell Kerley who drummed in The Marf Loth Loloply got me onto all the beatniks, your Bukowskis, Berryman's, Bolanos, Black Mountain Poets, and we listened to lots of Tom Waits, Captain Beefheart and prog rock in his garage. After that, I met the local graffiti gang, and we started putting shows on in their art space, and around that time I met all the guys from The Middle East who I've been making records with ever since.

In reflection, I think It was probably more inspiring to come from Townsville than New York City. 

Can you give us a little run down of the bands you played with in Sydney?

There aren't that many that left the bedroom or didn't play more than two gigs thankfully, but I'm pretty sure there is Marf Loth, Nathan Roche & The Wentworth Avenue Breeze-Out (Springsteen reference), The Revisionists, Redneck Discotheque, Home Run, Camperdown & Out, Nathan Roche (solo), but I also played guitar in Disgusting People, Angie, Joseph Liddy & The Skeleton Horse.
Before I was playing in the band, you did a tour of North Queensland with The Ocean Party. The way they tell the story - you'd been left in charge of booking the shows, which involved you quickly ducking into pubs as you rolled into town and asking If you could play a show there that night? They claim that at one of these shows, a gentleman was eating dinner at the bar and as they started to play, he had the kitchen wrap his meal and took it across the road to eat it in peace at another pub. Is any of this accurate and how do you remember that tour?

Yeah, I was really having a hard time finding a concert in Cairns! And to make matters worse the true-blue Aussie troopers of The Ocean Party were driving from Newcastle to Cairns for the gig, which is roughly 30 hours. I naturally took the Qantas Business Class because it was after all a business affair.


Anyway, I finally found something at The Great Northern Hotel, but they wanted us to start playing at 11 in the morning until 8pm in the evening, before the strip show started, and we would do two different sets each with a three hour break in between. I couldn't find anything else other than that, so I quickly made a poster, printed off a hundred copies at Officeworks and then threw them out the window of a moving car in different parts of the city and esplanade.  



I think throughout the course of the nine hours we were there, roughly 15 people passed through the room, 10 of which immediately walked back out. The man with his now-wrapped chicken parmigiana was one of them, and said unrepeatable curses on his way out. Thankfully the boys in Ocean Party saved the night with a selection of covers of beloved pub-classics by the likes of Cold Chisel, Crowded House, Paul Kelly and The Go-Betweens.  

You moved over to Paris some years ago now. What took you there and what's it been like establishing home in a new country?

A nightmare! I don't recommend it. I'm not sure - I've always tried to make good in situations, roll with the punches, living on the breeze and whatever other cliche phrase you can imagine… but it was pretty rough for a few years there. I think everything got easier once I fully grasped the language, I didn't feel so much like an outsider, or that I was always missing out on things, that be in conversations, interactions, all the important things in life.



You really have to destroy who you are back home and rebuild everything from scratch - your morals, your humour, your life in general, your very fucking soul. And all those things are different over here, so it gets rebuilt as a slightly different Frankenstein model from your standard Australian manufacturer, you know? It doesn't just automatically translate, your perception of time is slower, and more straining when you are using your brain all the time.



BUT! thankfully, it is like a bicycle, and when you are fit as a fiddle you can ride that mountain and feel nothing but pure pleasure. 

Actually no, I recommend it to everyone with patience and the desire to do it, but it involves an innumerable amount of sacrifice… just don't go spending all your time in an expat bar.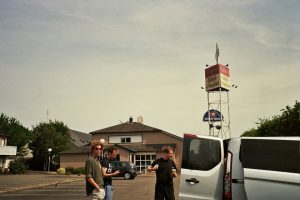 We did a few shows together in France not long after you'd moved there, maybe circa 2015? At that stage I think you'd maybe just done a few solo Nathan Roche shows. Was it difficult to find a music community and people to play with in a new city?

Oh right! This is the first time we toured together. Yep, it was pretty difficult at the beginning but I like to see how it was a slow gradual climb to total mayhem. The first show I ever played in France was with Cool Sounds at L'Espace B… I'd decided to stop doing music and focus on writing, but I got yanked out of retirement (again).

It was hard to get gigs at first but I organised a sideshow for Ausmuteants at L'Olympic Cafe, and those guys are like The Beatles in France, so a few days later I got some more gig offers, and there was an article in Les Inrocks on me, so I was able to get a few more gigs on the side thanks to that.

This brings us to Le Villejuif Underground, your current band. How did this project come together?

Well, that started with me and Charlene Darling - she plays in Rose Mercie, perhaps the best band in France, they are like The Shags meets The Spice Girls. Anyway, she started drumming with me for these initial shows. I was living in a squat near Pont de Sevres, and her boyfriend Jerome was living next to Parc St. Cloud which isn't far. We recorded two EPs (Basement Crepes and Incoherent Vice Magazine) together because the others in Villejuif couldn't get their shit together with their Tascam 388.


I met the guys through Charlotte, and we put the band together like that because I really wanted to support The Rebel for this SDZ Records night, since I missed him at Gonerfest in Memphis a year earlier.



Anyway, long story short, Thomas, Adam and Antonio were in the band from the second or third gig and we've stayed that way until now… I lived in their cabin in the garden for two years, and this is how I lost my mind. 

I've watched loads of live clips and it looks like a pretty entertaining show. Is it liberating to lose the guitar and get to fuck around more onstage?

Yeah, for sure - that was after maybe two or three years of still playing guitar. Thomas is a really unique guitarist, so we had to get him off the drums (the others kicked Charlotte out!) and back onto the guitar. So, that is why we started using a drum machine after our tour of China. 

Jumping around like an idiot has been fun for two or three years, but I'm sick of it. I'm getting older, I've got a sore back, it's getting a bit embarrassing. But it was very liberating, like some sort of deranged theatre performance. I think after seeing Eddy Current so many times, I realised you can climb just about anything. Them, and seeing Royal Headache a few hundred times in Sydney taught me the idea of being a lunatic on stage, or that you could get away with it.  
When we toured together last year, you sent me a bio in French, which I slung around to a few of the venues. You made a gag about doing Nathan Roche karaoke, which a number of the venues took very literally and were pretty concerned about. How do French audiences go with your extremely Australian sense of humour?

Well, that's what I mean by restructuring your soul. You literally have to become funny in another language… so our beloved dinky-die humour actually make me just seem like an idiot taking the piss.



I definitely did do the karaoke thing for a while. It didn't go down so well. But, a few months ago I saw Molly Nilsson play in Marseille doing more or less the same thing and she fucking nailed it. 

Really enjoyed the new Villejuif single 'Ghost Of The Water'. Is it a cut from a new record and if so, when can we expect to hear it?

Well, it's actually lifted from a two song 7". The band is very slow moving these days and I think we have all quit several times, but hopefully we can get a new album out by the end of the year.

Once (if) international travel becomes possible again, any chance of getting the band over to Australia?

Well Nick, I am glad you asked. This is why I'm desperately emailing whatever blogs, radio or press there is in Australia so we can come and tour over there. The French lads need to grasp the concept of AFL, cricket, two-up, and other cultural delights and wild landscapes. So, if any booking agents are reading: we are ready when you are. It's just very expensive for the four of us to get over there, so if we can find a way we will do it… I told them that sticking your head over the Kiama blowhole is the cure for the coronavirus and that Australia is the promised land. 

Looking forward to seeing you, hopefully sooner rather than later. Should I get some Pastis ready, or are you drinking something else these days?

Well, I'm finally heading back to Marseille this week, but the past few months here has been strictly wine from St Joseph and Tain-l'Hermitage. I'm looking forward to getting back to the bar downstairs from the apartment that sells Pastis for 1.50 euro. 

If that tour ever happens, I'll bring a case. 
Le Villejuif Underground's new 7"
Les Huitres A Cancale
is out now - head
here
to grab a copy. Nick Kearton runs Osborne Again - dig into all their excellent music
here
.