Music / Features
Wall Of Noise -
A chat with Party Dozen
Sydney's noise-rock duo Party Dozen are back with their new boundary-pushing album Pray For Party Dozen, and ahead of its release tomorrow, we had the pleasure of discussing it with saxophonist Kirsty Tickle.
Party Dozen is the intense sonic partnership of saxophonist Kirsty Tickle and percussionist Jonathan Boulet who are - it's not inaccurate to say - unlike any other band currently operating in Australia. The duo formed in the dark musical melting pot of Berlin and returned to their home country to unleash their curious instrumental savagery and ferocity on Sydney and beyond.

Their debut album The Living Man was released in 2017 to cultish acclaim and prestige festival slots followed, undoubtedly a result of the reputation of their magnetic live performances. To witness Tickle and Boulet together is to see two skilled instrumentalists at once do battle and interlink, creating dense and heavy sonic landscapes that both overwhelm and free the listener - Party Dozen is a case study of leaving comfort in the quest of pushing one's art as far as it can go.

Their latest album, Pray For Party Dozen, is no exception, an improvisatory noise-rock explosion imbued with enough melody and lightness to gain them a new and larger following. We had the chance to catch up with Kirsty from the band to discuss the making of their new record, their journey to it, and the future for the duo.
TJ: Some bands relent a little out of fear of the difficult second album but that doesn't sound like the case with you - was it something that played on your mind?

KT: I don't think we had any second album worries, the first album was just us trying it out and completely self-released it without a marketing plan. We figured we couldn't really do worse this time around, in terms of releasing. We just tried to make a record we both really liked and just experimented and made the best music that we could.

Sonically, is there much difference between your albums?

Yeah I think so. The first one was pretty much just balls to the wall, noisy, it was kind of hard to listen to and this one is a bit more realised. It's a bit easier to listen to. For me it feels more cohesive as well for us as a band. We know what we're doing a lot more now than we did with the first one.

So much of your sound is based on improvisation. How much changes between the record and your live performances?

We're trying to change it more and more without people feeling like they're getting ripped off if they like the song. So just like trying to add in little bits and little b-sections in the middle just to keep it interesting. You don't want to be that band who just plays something completely differently to the record, especially for someone's favourite song. It's not really fair for someone who's bought the record and bought a ticket. There's a sweet spot there!

Your sound is so unique but was there any music - or anything else - that inspired the album?

We were talking a lot about humanity when we were recording it and getting into religion and how stupid humans can be sometimes. We were looking at extreme human traits and groups and organisations and we drew a lot of inspiration from that. A lot of art inspiration from old films as well. Musically we were listening to a lot of old 60s and 70s stuff, even though our music is a lot more hectic than that. I think you can sort of hear it in some of the ways the drums are recorded and some of the tracks on the album are a bit more psychedelic and that stretches from that inspiration.

What kind of films were you watching?

Even more so than watching whole films, we were looking at the whole Film Noir movement and the posters, they're very striking, and they're kind of like that black-and-white vibe, but then they've got this one really big bright bit of colour on them and they feel quite gothic in a way.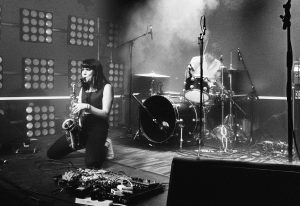 With a unique sound like yours, getting the right venue must be important - where are your favourite places to play, either here or abroad?

We played The Metro in Sydney once and that's a pretty awesome venue, it's pretty loud and the stage is really huge. I guess locally, The Lansdowne have always been really good to us upstairs. They've always been really accommodating and Oxford Arts Factory as well. We actually haven't played anywhere overseas - that was meant to be this year!

The band really came together in Berlin, a place well known for its noise and industrial music - did the city energise you much?

I think the vibe towards music definitely inspired our sound when we were in Berlin because it just seemed like anything was possible, any genre was possible, you didn't have to fit into a small box that just satisfied one audience and unfortunately Australia can be a bit homogenous with music things. I think it inspired us to be a bit braver with the choices we make and making music for us because there's always an audience for you if what you're making is good, I think.

Now you're based in Sydney - what's the scene like there currently?

When we first moved back it was a pretty DIY scene, there was a record store called Black Wire that was open which has unfortunately since closed. There's still little pockets of that and warehouse shows. I think Sydney's just so varied. You've got really big pop acts here and you've got people who move here because they want to do publishing or they want to do writing. Then you've got really young bands who are just playing in pubs and bars. It's a really wide scene and I think that's why people always think that we come from Melbourne because Melbourne has a tighter community of DIY bands.

This album is being released on you and Jonathan's own label, Grupo. Is this freeing in a way?

We started it with our friend Steve in London and we don't do a terribly good job at releasing music but it's really nice to have it under our own banner and we can just make our own decisions and we can put our friend's music out as well. Just tapes mostly, sometimes vinyl, split 7"s, just basically being an outgoer for our friends to be able to put it out and it just creates a mass community for us as well.

As a Glaswegian, I was thrilled to see Mogwai remix 'Auto Loser'. How did that come about and were you already a fan of that band?

So our manager is also Glaswegian and he knows Stuart (Braithwaite) from the band and sent our stuff to him and Stuart was like "yeah, I'd love to remix this" and it was pretty amazing. We had been such big fans of Mogwai for years. I remember seeing them about 10 years ago at Harvest Fest and just being completely blown away by them live, they were just so impressive. Watching people who can just play their instruments and capture a crowd so well as well.


Can you tell me the origin of the song title 'Scheisse Kunst'?

It's meant to mean Shit Art. Apparently we should've taken the umlaut so now it means something different so we kind of fucked that up! I mean it looks like just really bad words.

< Noise rock, the genre you mainly operate in, has a reputation for being too abrasive and alienating - why do you think fans have taken to your music so well?

I think because we've got such a good sense of humour and maybe it's also because we've done a lot of other music things as well so it's not just noisy things. Even though it kind of is aggressive and abrasive, there's still like an element of fun and songwriting to it as well. It's not just ten minutes of noise which can be too much for some people. It's a little bit lighter than that.

How has lockdown affected you and Jonathan's partnership? Have you been recording things separately?

Our studio has been within the workplace requirements to have both of us in there so we've been quite lucky but we haven't been using it heaps. It's just meant that we can do the live streams that we've been doing in there together. And even just get together and mail out all of our pre-orders!

As a band who thrive in the live setting, this must be a highly frustrating time.

It's pretty shit not being able to tour this record for another six months at least! I guess it's like one of those things where everyone is in the same boat - we can't do it but nobody else can so it's ok because of that. I know that's a shit thing to say! We've rescheduled for November. We're also playing small venues, like 250-300 cap, so I'm hoping by then we'll be able to do that.

And what are the tentative plans for the future?

I've got an EP (as Exhibitionist) sitting there but I'm focused on the Party Dozen stuff at the moment. Exhibitonist is really great and I love doing it but it's so hard doing solo music. It's also the kind of music that takes a long time to record because everything has to be so considered. I think we'll probably jump into recording with Party Dozen straight after this record releases on Friday and just get cracking on the next thing because I think that's the only thing to do at the moment.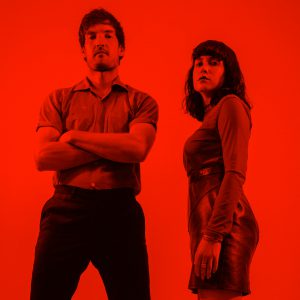 Pray For Party Dozen
is out tomorrow, May 22nd, via
GRUPO
- head to
bandcamp
to pre-order the record.