Music / Premieres
Video Premiere:
Astronaughty - Changing Hands
Today we've got the pleasure of premiering the debut single and clip from emerging party-starters Astronaughty - 'Changing Hands' is a futuristic indie-rock belter that'll transport you out of wintery Melbourne and get you in the mood for a boogie in the sun.
Despite being relatively new to the Melbourne music scene, Astronaughty are working hard to cement themselves into the local indie-rock game, and on debut single 'Changing Hands' they've shown listeners how they seamlessly blend elements of indie-pop, psychedelia and even moments of funk - while staying true to their DIY roots, crafting the song from their Brunswick East garage. When listening to 'Changing Hand', be prepared to have a bit of an iso-boogie in the comfort of your own home, or on your daily dog walk round the 'burbs.

As 'Changing Hands' kicks off with an infectious guitar riff alongside a steady backbeat, we're instantly transported to a sunny beach afternoon, bringing to mind lazy summer holidays spent with friends and family. While the high-register guitar chords seem to reference Weezer's 'Island in the Sun', adding an early alternative-rock influence to the track, 'Changing Hands' still feels firmly rooted in the present - its colourful guitar flourishes and playful bass melodies making the track far more than a simple pop song. Backed by an intoxicating groove and powered by Michael Baini's caramel vocals, 'Changing Hands' is a certified hit that is guaranteed to be stuck in your head for days.

Although the band describe the track as a "DIY dance number at its purest", thematically 'Changing Hands' is a little more turbulent, yet ultimately hopeful - telling the story of a person being deceived by a former lover, which results in them leaving the life they know for the creation of a brand new beginning. Michael, the lyricist behind the piece, explains that the story formed as a reflection of his own personal "getaway fantasy during a tough time", but masterfully, the band have managed to capture these feelings of liberation without leaving home. Recorded in their garage studio along the Merri Creek, they share "people often walk past while the roller door is open, and listen to us serenade the neighbourhood with our futuristic goldie pop."

Alongside the single comes a new clip that is "ready for human consumption" today, which finds Astronaughty performing the song in the very same garage. The clip does come with a slight warning though - "it does get a bit silly, but hopefully it can make people laugh if they are having a tough time at the moment."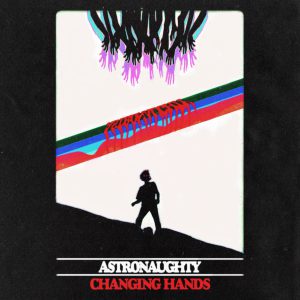 Treat yourself with a listen to 'Changing Hands' above, and keep up to date with Astronaughty by following them below.