Music / Premieres
Track by Track:
Adam Gibson - The Songs of Adam Gibson
To celebrate the release of The Songs of Adam Gibson, a new compilation from Coolin' By Sound that memorialises the work of one of Australia's finest, yet most under-appreciated songwriters, we had the Sydney wordsmith walk us through the album and reflect on each highlight from his sprawling 20+ year history.
Adam Gibson is no stranger to the Australian music scene, performing in countless bands over the past 20 years, notably so with Modern Giant, The Aerial Maps and The Ark-Ark Birds, and across his revered six album catalogue, has perfectly encapsulated an enchanting canon of cultured, distinctly Australian narratives. Hoping to emotionally connect and align with listeners through the use of Australian spoken word and music, Adam Gibson writes about life, family and his upbringing in Australian culture.

Last month, a collection of Adam's finest work was compiled on The Songs of Adam Gibson by Coolin' By Sound, and preserved on vinyl for the first time. From the beginning of the record, audiences are instantly transported to a hot summer's day listening to the radio, driving along country roads, as Adam sing-speaks in his rich Australia accent, masterfully crafting stories that unravel and amble effortlessly, dripping with wide-eyed nostalgia and genuine spirit. Using short phrases of spoken-word delivery proves as easy feat by Adam, seducing audiences with a style all in his own organic and inimitable style.

The Songs of Adam Gibson not only moulds the infrastructure of the house that is Adam Gibson, but dissects the human condition and narrative in his own, unique way. It is predominately a spoken word album with moments of lyrical melody intertwined in songs, especially in tracks such as 'Heartbeat' and 'Salvation Road' perfectly expressed with high register guitar strumming matched with Adam's highly expressive and distinct way of expression.

The Songs of Adam Gibson is the perfect example of "a walk down memory lane." While musically, lyrically and in tone, this is an utmost Australian record, Adam superbly uses time and geography to create narrative constructs. As the album bio states, using the '"tranquil flow of his unique, spoken-word delivery and endlessly empathetic worldview," Adam holds a universal appeal in the way he describes everyday experiences in the fine details of daily life.

Stand out tracks from the LP are 'On the Punt,' in which listeners get a firsthand experience into the relationship between Adam and his father. 'Be Home Before The Streetlights Go On' transports listeners to a world where the magic is in your childhood, and finally, "Trivia Night" which takes a break from predominately guitar heavy tunes, to a beautiful piano composition which fits perfectly with the themes of reminiscing that the entire LP references.

To help us dig further into his vast discography, which the new album only manages to scrap the surface of, we had Adam look back on the music of The Songs of Adam Gibson and talk us through each of its tracks.
On The Punt

I regard this song as like a well-travelled friend about whom I regularly get reports from faraway places. It was released more than a decade ago and has gone out there into the unknown and just "keeps on keeping on", connecting with amazing numbers of people both in Australia and around the world. It looks at my childhood and the experience of my dad being "on the punt", connecting that to long drives in hot cars - something that seems to connect with people in some sort of universal way.

The Band's Broken Up

Fundamentally I am a music "fan" and this song talks about the many years I've spent devoted to seeing bands and listening to music. From Midnight Oil to the Hummingbirds to the Clash, such music can frame reference points of your life and become part of the essential fabric of your history. The bands may break up but, hopefully, you can continue on and carry the legacy and inspiration of those songs or gigs or albums with you, forever.


Heartbeat

I remember the poet Les Murray called Australia's Pacific Highway a "great leaning city" and I've always remembered that line, the highway a moving stage upon which millions or lives are played out. I wanted to write a song that captured that idea, with a couple moving up and down the highway as their relationship ebbs and flows. In a way an expanded version of Paul Kelly's 'To Her Door', this song also ties in with Midnight Oil's song 'Koala Sprint', talking of the "mile after mile of the long coast road/smell of frangipani/ocean-sky blue."

Be Home Before The Streetlights Go On

Many kids of a certain era no doubt will remember their parents telling them they had to "be home before the streetlights come on". This was a very effective marker of time because the beauty of it was that it wasn't dependant on the actual time of day, with the streetlights coming on in an ebb and flowing pattern as the daylight got longer in summer or shorter in winter. As kids we learnt that we could get up to absolutely ANYTHING just as long as we were home before the lights went on. This is a song about my own experience of that.

Long Time Dead

My mum also had a phrase she often said when she, or my brother and I, were questioning whether to do something or not. She'd say, "Well why not? You're a long time dead." The meaning being of course that you might as well give something a go because you won't get the chance when you're dead and buried. In a way, this song is a call to arms, to encourage the listener to do EVERYTHING they can … why not!


Trivia Night

Everyone is pretty aware that friendship and community connection are important parts of life but at the same time, it's easy to take such things for granted. A decade or more ago a few friends and I started to go to the local RSL for the small-scale trivia night that had started up. It soon became a regular Tuesday night ritual, with a shared experience that I now look back on with great fondness. One of the regular participants was my good friend Sam de Brito, a novelist and columnist. Since he died five years ago, I have really realised how much we all lost when he left us.

Indian-Pacific

I've always been mildly obsessed with trains and train travel. I love the idea of getting in a big moving vehicle and essentially letting that take you to your eventual destination. And in Australia we are blessed to have this massive landmass, with the trans-continental railway line running across it. This song is a grab-bag of ideas, essentially articulating a cut-up vision of Australia, as if it's seen from the Indian-Pacific train as it speeds on by.

The Years Nobody Cared What You Did

A few years ago, I was talking to a mate who told me had an old mate who'd worked for a towing company and that one day he'd been asked to pick up a stolen truck and bring it back to the city. This song is basically a direct true story as based on that account, talking about an era of Australia when there was a real freedom to live your life as you wished, not worrying about people tracking you or putting too many restrictions on you. I often think we've given away a lot of that carefree spirit in these years now.

Salvation Road

Simon Holmes was a genuine musical genius and inspiration and working with him in the early years of the Aerial Maps was an honour and a pleasure. Oftentimes in the studio and he and Sean Kennedy and I would come up with ideas and it would be Simon's task to bring them to fruition. In this song we wanted to capture a real sense of freedom that the open road can bring. Thus Simon aimed for a Springsteen-esque "wall of sound" sound with this song; three drummers all playing at once, plus four guitarists all playing at once. We wanted that sense of cacophony, like the thrilling rush of hitting the road and just… driving…

New York '54

My brother Simon Gibson had this weird time signature piece of music and we kept trying to make it into a song in Modern Giant rehearsal. It didn't come easy but then we sorta patched two songs together and I was in a 'New York state of mind' for some reason and it all suddenly worked. We worked out that the time signature was "5/4" and thus we combined that with my visions of New York to create "New York '54", which tied in nicely with my Jack Kerouac inspired lyrics to the song.

Angie Hart

Angie Hart from the band Frente, to me, symbolised "Melbourne" in a certain era and I dreamt and hoped and wished that I could one day move to the city and, perhaps perhaps, meet her or a woman similar. Adolescent dreams perhaps but it was a vision that I held for a long time. But the overall point is I didn't move to Melbourne and I got on with my own version of life in Sydney - and it has been pretty good. There is a name for the feeling I had back then – I just can't quite name it to this day though.


London Still Exists

London was another city that held dreams and visions and hopes for me, as it did for many others. Growing up listening to the Clash and the Jam and Billy Bragg, plus hearing years of Australian expat stories, meant that I simply had to "do" London when I had the chance. The reality of it was bloody hard, cold, and expensive. This song title combines the Go-Betweens' line "And London no longer exists" with the title of the Waifs' song, 'London Still', to try to capture both those dreams of London and the lure and magic of coming home.

Dead Europe

I have spent a lot of time in Europe subsequent to that early London experience and on a trip just a few years ago it really struck me that a lot of my dreams about the "continent" were very romantic and imbued with a golden-lit light that perhaps wasn't justified. This song speaks about how the hope and expectation you may have for something can become disillusioned and how you can sometimes realise it's time to go home. As I did.

Blanchey

A song about my grandma and my mum, this track seeks to give a quick thumbnail sketch of Australia through the 20th century, using my family story as a frame for the telling of the tale. In recent years I have realised the power of a sort of "epic" storytelling atmosphere and have enjoyed creating vast soundscapes in which to place my words. This is a very difficult song to perform live as it simply is too emotional for me to do so but I love the recording.

The Great Australian Silence

At some point in the distant past, can't actually remember specifically when, I found myself on a two-week stint as the 'Writer In Residence' at Broken Hill City Council. What that role entailed no-one, including me, really knew, but I sure had a good time in the "Silver City". But the experience there, in the middle of nowhere, really ignited a feeling about the great silent landmass of Australia. This connected a long-held feeling about the vast space of Australia and this song, a real personal favourite, captures that for me.


Belanglo, Byron and the Road Between 

The Ivan Milat Backpacker Murders of the early 90s were a formative event for me. I was working as a reporter on a major Sydney newspaper and was assigned to report on the case. I felt a very deep personal connection to the case because, as it turned out, I had earlier interviewed the mother of one of those who died, and their surname was "Gibson". I felt an eerie connection and subsequently felt that these events saw both Australia and I lose a sense of innocence.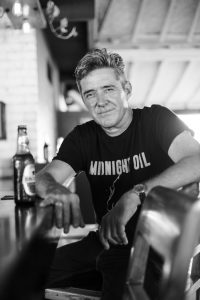 The Songs of Adam Gibson
is out now through
Coolin' By Sound
- sink into the full album above and head
here
to purchase the record, available on limited vinyl for the first time ever.