Music / Features
The party's over, what do I do now? -
A chat with Holy Peyote
Following the release of 'Post Grad Party' last month, we caught up with dream-pop party-starters Holy Peyote to dig into their debut single, as well as their forthcoming album due next month.
Melbourne's Holy Peyote have been quietly releasing tracks for a while now, but what's been impressive to witness is the duo's ever increasing leaps in quality from song to song. Once a lo-fi tinged electro-rock outfit, Holy Peyote have transformed themselves into a proficient and confident dance act on new single 'Post Grad Party'. There's still everything you'd expect from a Holy Peyote track - emotive, honest lyrics, slick production and some neat guitar lines - but on 'Post Grad Party' the duo makes some welcome new moves: in comes the disco-laden rhythm, the energetic percussion and the distorted, warbled synthesizer.

The strength of this new single lies in the unabashed vocal delivery that has just enough of a hint of Australiana infused with an evident tinge of emo and post-hardcore. Made up of Daniel Carr and Darcy Howard, the group is tight knit and there's an audible back-and-forth between their respective influences.

We can't wait to hear what's next for this exciting act, but to tide us over until then, we caught up with Daniel and Darcy to chat all things Holy Peyote.
TJ: Hey Holy Peyote, who are you?

HP: We're Darcy and Dan, we make up both halves of the dream-pop duo, Holy Peyote. We met at uni four years ago and bonded over our love for music, we pretty much started writing songs together the day we met and although we have been releasing music together for years under different names and projects, our new single 'Post Grad Party' is what we feel is our first true release.

How has your isolation been spent?

We've both been getting real wholesome - enjoying some reading, some gardening and spending time with our partners. Living in a city, life is always so fast paced, so it's been nice having the chance to take things easy with everything slowing down. It's also given us the chance to hone in on the finer details of our recording process. As we weren't able to be in the same room together, it forced us to take a break from the performance side of things and allowed a big focus on mixing and the general fine tuning that comes with writing and recording your own music.

Tell us about the recording process of your new single 'Post Grad Party'.

It was recorded in Darcy's home studio. The skeleton of the track started how most of our songs do with just a chord progression played on a Roland JV80 and some rough lyrics. We then worked on it together, slowly adding each element. Both the guitar and bass were recorded DI using a few pedals and a nice tube preamp to give it some saturation and warmth. The keys were played on a collection of analog and digital synths including the Behringer Model D and a Juno 160.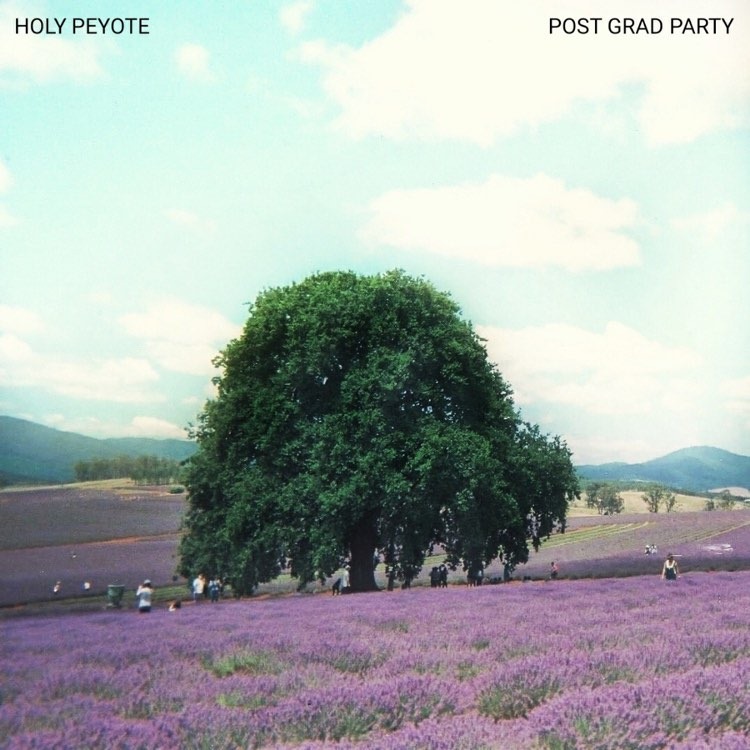 There's always been a hint of electronica to Holy Peyote, however this song drives more clearly in the direction of straight-up dance music compared to your previously released tracks - what or who has influenced this shift?

At the time of making the demo Darcy had been listening to Rumours by Fleetwood Mac on repeat and was drawn especially to the more dance driven tracks, especially 'Dreams'. I found a demo of the song that Stevie Nicks had done where it was just her and some Fender Rhodes, it was beautiful. In an interview she explained that when jamming it with the rest of the band, it turned quite disco which was new for her. So we took that idea into the studio, wrote a vocal melody along with some chords/keys and added a dance beat in later, with the idea of trying to keep it raw at heart, but dance driven.

There's a raw honesty to the lyricism here that hints to late 2000's hardcore. How have you grown as a writer?

The lyrics for 'Post Grad Party' were written when we had both just finished uni and felt that all too familiar pressure of not knowing what comes next. The concept of the song is pretty relatable to a lot of people our age so we wanted the lyrics to be simple and to the point. They're pretty straight up - 'The party's over, what do I do now?'

Throughout our new material we touch on a lot of subjects that we've been going through lately and I think that's where we have grown as writers, being able to put our own life experiences into our lyrics with honesty. The hardcore comparison is probably due to Dan growing up playing in punk and hardcore bands, so that aspect will probably always subconsciously be engrained in his songwriting.

Can you tell us a bit more about your upcoming album that we're hearing whispers about?

Our debut album Infinite by Design is set for release towards the end of winter. We had the idea of wanting to make an album before even knowing what we wanted to be or what we wanted it to sound like. For the first 6-9 months we got together every week and just made songs, basically anything that came to mind, constantly starting and scrapping ideas before we finally found a comfortable sound. Once we had a definitive vision, we hired a cabin in a small town just out of Melbourne called Black Rock and recorded a lot there. It's a strange time to be starting off as a band as playing gigs is not really an option, but it has also given us a chance to release a full body of work before anyone has heard us live, giving people that option to delve deeper if they like what they've heard from our first single.

Who should we be listening to?

Darcy: The Strokes new one, Julia Jacklin blows my mind always, BENEE writes the best pop hooks and GUM's latest is the best from him yet. But probably the artist who has opened up my eyes to a new style of music has been 070 Shake, she makes mad music out of NY with the most infectious of hooks, she really turned me around to the idea of using autotune - if it makes the melody more interesting why not?

Dan: I've been loving the new Enter Shikari album Nothing is True and Everything is Possible. They are so under appreciated in Australia and a lot of people only know them as a UK metal band but to me they are just so unique, intelligent and exciting. Besides that i'd have to say DMA's as their new album is probably going to be the best Aussie rock album since Back in Black.
Check out Holy Peyote's single 'Post Grad Party' above and with their debut album on the horizon, keep an eye on their socials for more to come.