Music / Features
They Made Me Do It -
Talking Influences with The Citradels
Following the release of their tenth album last month, the country-folk tinged Tracs, we caught up with psychedelic brethren The Citradels to find out what inspired their most stripped back effort yet.
Now veterans of the Melbourne scene, The Citradels have spent the last ten years building a cult following around their reverb-drenched psych and 60's garage stylings. With an undeniable love for sonic exploration, their extensive back catalogue has seen the band consistently trying their hand at anything that might fit beneath the psychedelic banner, an impression that can be only be matched by their loyal commitment to DIY, with each of their ten albums (and three EPs prior) entirely self-produced and released by the band. It's been two years since the release of their previous album Fuck the Hits Vol.1 way back in 2018 - by far the longest time between drinks for a band that's averaged more than an album a year since their debut in 2013. 

Listening to Track, it's clear that they've not been idle over the break. The band spent a full year working on the record in their rural home studio, developing their songwriting and honing their vocal and instrumental arrangements, until they bristle with an artful intrigue that belies their refined, stripped-back simplicity. As a result, the album feels cohesive and well-defined from the fingerpicked 5/4 acoustic guitar of opener 'Tracs' to the melodic instrumental finale of 'The Fifth Time Around'.

Interestingly, they've left behind some of their wilder psych-rock tendencies in favour of ballads driven by piano and acoustic guitar, but that's not to say that they've abandoned psychedelia altogether. In fact, the album as a whole is still deeply psychedelic, with lush vocal stacks, spacious textures and that classic deadened, compressed drum sound reminiscent of Abbey Road-era Beatles. However, the focus now is quite clearly on the storytelling - a move which the band refer to as "a step forward in clarity and tenacious commitment to songwriting".

Here's what they had to say about what inspired their new direction.


Castlemaine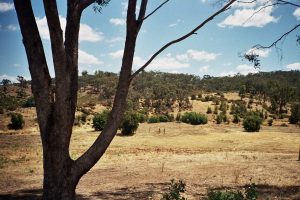 I moved out here about 18 months ago with my partner who works in the area. In the first few months of living here I was unemployed and found myself going for long walks around the town during the day. While the main chunk of songs had been written/recorded, my lyrics had not. A lot of my lyrics for the album (both Curtis Goodfellow and Sam Heathcote wrote songs for the album also) were written in this time, either during these walks or just after as I sat at home in the garden. I don't really know what parts of the town or the walk got to me but little phrases would come to me which I would use as a base for the lyrics.


Bob Dylan - John Wesley Harding
I found this album pretty early on and at the time didn't know a single thing about the context of the album but loved the sound. It's consistently been my favourite Dylan record. As time went on I learnt it was his first post motorbike crash album and that it was recorded around the time he was spending most of his days with The Band in the basement of Big Pink (which also played a massive part as an influence on the album). I constantly came back to this album while mixing for sonic inspiration.


Pete Dello and Friends
I can't quite remember when I read about this album but I'm sure it was in Shindig! Magazine. During the first listening I remember thinking I want to make a record similar to this. I showed it to Curt and we both listened to it a lot while writing and recording. It's a really unique album. Pete Dello had another band called Honeybus (who I strongly recommend checking out) and this was his first solo outing after that finished. It's got this solo Paul McCartney feel to it but with a more English folk influence. 'Do I Still Figure In Your Life' gets me everytime.


History

On the last few albums I hadn't written any personal songs as I didn't really know how to do it in a way that felt comfortable but still interesting. So I started to blend my own personal lyrical narrative with one of a historical figure. A lot of the time it merged to create something completely different but to me still had the personal narrative present. It's something Bob Dylan and Leonard Cohen do really well and the process returned a lot of the enjoyment to writing lyrics.


Everything

I've mentioned above a few positive influences on the album but I tend to think that everything that I come into contact with during my day to day influences how my music sounds. The difference between a positive influence and a negative influence is pretty small, it really changes depending on a mood, which category a particular influence will sit in. It either sits in the category of "I like/gravitate towards that" or "let's stay away from that".
The Citradels' tenth album Tracs is out now.