Music / Irregulars
Dropping the Ball -
Local musos on missing pub footy
It's no secret that the arts and music community has been one of the hardest hit by the devastation of coronavirus. As the world shut down, venues closed up and gigs were off. Musicians, sound engineers and roadies were at a loss as their livelihoods and their support networks abruptly went into isolation.

But for many of Melbourne's musos, it wasn't just gigs that were done for - so was pub footy.
Melbourne's Renegade Pub Football League
is an all-gender social AFL competition where teams are linked to nine beloved bars and pubs of the city's northern suburbs - often the same pubs gigged-at by local bands. Pub footy presents a beautiful and rare opportunity for sport and the arts to come together in a safe space, where the league encourages inclusivity and friendship, and a beer at the local after training.
Trouble Juice spoke to some of Melbourne's local players - of footy AND music - about what pub football means to the music community and how much they're missing it.
Amy Pettifer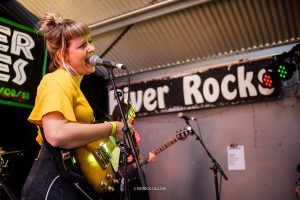 Plays in:
Lazertits
,
Club-Med
Plays for:
Vic Hotel Galahs
How did you hear about pub footy?

My mate Keats was helping Reggie start the Vic Hotel team so he was busy recruiting people to come to practice at every chance he got. It took him a while to convince me that it was okay if you had never played before and really it's not that scary (both true) before I finally showed up to practice, which was the best! 
Why do you love it?

Because no matter how long it's been since you went to training, there's always a big group of people that make you feel welcome and included and strong and silly and FUN.
Why is it that pub footy is so loved by the music community?
The music community loves the pubs. And pubs love the music community. I guess they're all the same people? The pub/music scene Venn diagram is probably just a circle. But there's a very cute kind of dedication that the music scene has toward keeping their favourite pubs full, and the same goes with pubs taking care of bands and artists: paying them well, feeding them. It's a beautiful union underpinned by the kind of loyalty mostly reserved for footy fans and their teams. So, combining pub loyalty with footy team loyalty is pretty much guaranteed to be a recipe for a turbo love affair
What role does pub footy play in bringing the community together, in your opinion?
Game days are a saving grace throughout winter! They get people outside into the sun (or rain), you get to pat dogs and have a snag and hear lots of your mates' bands' songs played over the loud speaker. It's open to everyone and feels like a way safer and cuter place than the big footy has ever been for me (lol jk I've never been to the big footy) (and when I say big footy I mean the big professional boys) (AFWL rules).
Henry Osborne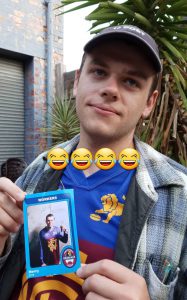 Plays in:
Jarrow
, DJ Loosius Malfoy

Plays for:
Workers Club Lions
How did you hear about pub footy?

I'd caught wind of it from going to the Community Cup when I was younger, but only really got involved after my housemates had joined the Lions. It took me like a year before I made it down to my first training though.
Why do you love it?

I've just always wanted to play footy in a no-fuss environment. It's how more sport should be really, there's not much pressure on form, the only success that really matters is if you and your team played a good game that day. Which isn't to say that we don't want to win either. Every club has their own goals. But all in all, it's just a really solid way to spend your Saturday.
Why is it that pub footy is so loved by the music community?
I think the one thing that just about everyone involved in pub footy has in common is that they're a punter, they're all passionate about music and what we've got in Melbourne. And I think you only need to look at the success of the Community Cup to see why people are keen to see that on a smaller more casual scale (although there is A LOT of organisation involved in making the league a reality). Footy and music just seem to go hand in hand down here better than they do in other cities.
What role does pub footy play in bringing the community together, in your opinion?
I think it's a role that all sports play, you can see what local clubs mean to a lot of people, but it's seen as secondary to the actual game. But I think with Pub Footy, because it's not a competition, that veil is lifted, and that allows more focus onto those community elements. For one thing, the BBQ and bar takings are all donated to a different charity each round. But at its core it's a point of contact for so many different people, everyone is welcome no matter the skill set.
Grace Gibson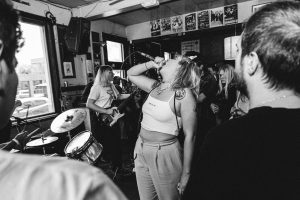 Plays in:
Future Suck
, Blonde Revolver
Plays for:
Lomond Hotel Barracudas
How did you hear about pub footy?

A friend I grew up with used to be the captain of the Lowy. I'd grown up thinking I hated sport and it just wasn't for me, but after going to a couple of pub footy games to watch him and realising it's actually just the best thing, I agreed to come down to a couple of trainings. It's had my heart ever since.
Why do you love it?

I just feel like everyone can feel at home in pub footy. Even if you've never played footy or hate the sport or whatever it is, there's a place for you in this little community - super corny but whatever, it's true. 

Why is it that pub footy is so loved by the music community?

I feel like growing up in a country town made me feel that music and sport were mutually exclusive. You were either into footy and netball (if you were a girl) or you were a weird little emo kid trying to put on gigs at the local youth centre. I was the latter. I feel like pub footy brings the best parts of each of those communities together. All these musicians who either never knew they were allowed to play footy when they were younger or never really felt they fit in with that crowd are like smooshed together with footy jocks who either hated the culture or were pretty shit at footy. It's just like a perfect little oasis of creativity and friendly competition. Inclusivity is key and toxic masculinity is left at the door. I think it's the exact same culture Melbourne music aims to create.
What role does pub footy play in bringing the community together, in your opinion?

I think again, it's bringing all these people that are from all different backgrounds into one community. You go to one training and suddenly you have 30 new best friends or you go down to Victoria Park and see people that might not meet in any other context all having a can and a snag and patting a million dogs. It's just a very special little Melbourne community that's super accepting of anyone happy to be there. A friend from Canada came with me to a game once and was blown away. Like I don't think there's anywhere else in the world you go and people of all ages and genders, no matter what their background, are all having a beer and then running onto the oval to kick a ball at each other every time the siren goes. It like actually makes me emotional thinking about how fucking cute and cool it all is. 

Keats Mulligan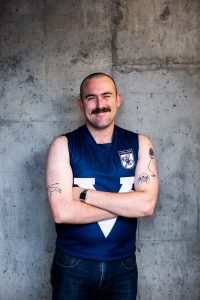 Plays in:
Club-Med
Plays for:
Vic Hotel Galahs
How did you get to be involved with pub footy and what is your position at the Vic Galahs?
I was one of the inaugural Galahs. Our team is the most recently founded side and came about due to the popularity of the league. Other teams were simply too full to accommodate a few of us who were looking for a team who were previously connected through the Community Cup. We built the team up from nothing along with some others we came to know through the pub. We trained ourselves, organised ourselves, found time to play other teams in scratch matches and tried our hardest to show how dedicated we were. Today our side is run by a group of volunteers that commit their time and energy to ensuring the side runs smoothly.
What do you love about pub footy?

Mostly the friendships that come from it. There's a very real and positive sense of camaraderie that comes with working together to achieve a common goal, even if that goal is just having fun. Celebrating each other's achievements and enjoyment of footy is a uniquely rewarding experience.
What has isolation/lockdown taught you about the importance of team sport?

I suppose losing football was just one in a long line of changes that occurred as a result of the pandemic. Life has changed so much for so many of us that it is hard to tell where one change ends and another begins. I guess everything has just felt different. It's only as aspects of pre-COVID life returned that I realise how much I'd missed them. It's important to understand that nobody was prepared for isolation. Some people take to it more naturally than others. For many, who live alone or away from family and friends, the opportunity to reengage with groups like this is going to be hugely beneficial.
Rosco Elliott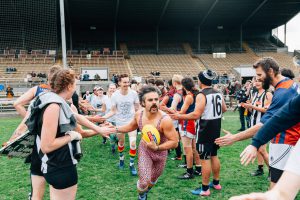 Plays in:
Spike the River
Plays for:
The Old Bar Unicorns
How did you hear about pub footy?
After moving into Fitzroy and playing my first Community Cup, I absolutely fell in love with all-gender inclusive footy. Although I was a diehard footy fan, I had never played a game of footy before because playing in an all-male footy team (with its likely toxic culture) never interested me. Then I discovered my new favourite bar, The Old Bar, was home to a group of magical beasts ("Unicorns") and were a part of the Renegade Pub Footy League. These colourful trash bags spoke tales of tinnies and darts at half time, never winning a game and wore crappy self-made "uniforms" of white and rainbow. Whilst they never "won", they assured me that every game, without fail, they won hearts and minds. I was sold.

Why is it that pub footy is so loved by the music community?
Well, probably half of the players in each team are musos with shows coming up (or playing the night of game day), so it's a bloody wonderful way of catching up with the whole community and finding out about where all the best local gigs are.
What role does pub footy play in bringing the community together, in your opinion?
All-gender inclusive community sport with a fierce 'no dickhead' rule is the greatest thing in the world. Everyone, regardless of talent, is accepted and any macho culture vibes are either non-existent, or stamped out immediately. It's a real testament to what a beautiful all-accepting community can look like. There's also nothing sweeter than hitting the local pubs with everyone straight after the game.
Why do you love it?
A sea of doggos running around, cheap tinnies and snags (where a portion of proceeds always go to local charities), and wonderfully amateur footy at its finest. What's not to love. I have made literally hundreds of glorious friends in this community through pub footy, I have played shows with players in every team, and there is nothing better than waking up on a beautiful Saturday morning and knowing it's pub footy day. I simply adore it and I bloody live for it.