Music / Features
They Made Me Do It -
Talking Influences with Mimi Gilbert
Mimi Gilbert's cunning new single 'Society's a Mansion' is a beautifully comforting ode to appreciating the little things, remaining curious and not obsessing over society's standards of success.
Despite it being a couple of years since her last longform release, 'Society's a Mansion' picks up right where Mimi Gilbert left off. Born in California but now based in Naarm/Melbourne, the singer-songwriter has been making a name for herself over the last few years as one of Australia's most thoughtful and enchanting songwriters.

With her newest effort, Mimi has tapped into her experiences living as a traveler and practising "seeing beauty in things untamed and not wishing to tame them". The result is an unassuming, yet strikingly poignant few minutes of wordy folk-pop, built around the sort of laid-back, guitar driven groove you could have playing all day long. Enhanced by its cleverly sparse instrumentation, Mimi's cunning lyricism and modest charm throughout 'Society's a Mansion' will have you hanging off her every word and holding on to its sentiment well after the 4:44 mark.

Now that 'Society's a Mansion' is a few weeks old, we had Mimi Gilbert swing by Trouble Juice to run us through what inspires her to keep churning out some of the most enchanting, thoughtful songwriting we've heard in a little while.


Erin Rae - 'Love Like Before'
I heard of Erin Rae's for the first time about 6 months ago at a show at Melbourne's beloved Old Bar where friends covered her song called 'Bad Mind'. I haven't stopped listening to Erin's songs since that night. It was like an epiphany of good tones and deep feelings.

I was specifically listening to her song "Love Like Before" from her album Putting on Airs on repeat when I started to record my latest song 'Society's a Mansion'. The tonality of the guitars, the bass thud, the feeling of nostalgia and longing held in tension with the joy of being completely in the moment… everything about this song lifted me up. I hoped the song 'Society's a Mansion' might capture some similar light and feeling.


Mason Jennings - 'Going Back To New Orleans'
So simple. This song tells a long story even before the lyrics come in. A story of departure, return, of brokenness and a huge love. I have listened to this a lot over the years, and really let these particular sounds run over me quite a bit in the weeks that I have been recording lately.


Jessica Lea Mayfield - 'Our Hearts Are Wrong'
My dear friend and bandmate when I am in the USA, Taylor Moses, introduced me to Jessica Lea Mayfield's music years ago when we lived in Sydney.

She is somehow able to use the sugar candy feelings of her chorus pedals, often classic country harmonies, her slight southern accent, and marry those with the dark and deep complexities of story, hardship, and seemingly the perils of humanity all in one creative alternative folk song. It amazes me. 

Though this is a rather distant reference, I hoped in some tiny way that 'Society's a Mansion' could keep it's somewhat Americana or cheesy-feel-good air, but with an underbelly of depth and ache. don't know if I nailed it… but Jessica Lea Mayfield, I think your music is absolutely genius. Go have a listen.


Perfume Genius - 'Valley'
I'll be honest, I don't think I've heard any others song by this artist except this one. I'd probably enjoy them very much; but this song came on my girlfriend's playlist and I had to immediately stop to write down the name of the song. 

Those guitars! The tones of those guitars caught me. The dead muted and colourful feeling of them is a chase I am personally on, and I was happy to hear another song that just inspired that chase so much!


Thrift store guitars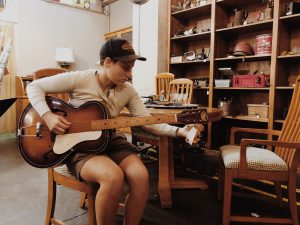 This guitar I am holding in this photograph is one I found in a little thrift store in my home town Ojai, California last year. Funny enough, this was the exact thrift store I went to some 18 years ago with my grandfather (who was a banjo player, now passed away). Back then, we found an old 1950's Kay tenor banjo. He bought that banjo for me and I have it to this day. It was quite amazing to find a Kay 1960's guitar in that same store! I scraped my tour moneys together and bought it. Then I took it to a local luthier to fix it up. After speaking with him, we discovered he was the same luthier to work on that old Kay banjo. Sadly, anti-climactically, I was not able to fit it onto my flight back to Australia as I already had my two guitars I brought with me for that tour.

Luckily, my friend David Western, who also sang BV's on 'Society's a Mansion' had a Kay hollow body guitar quite similar. He very kindly let me borrow it for this song where I recorded it in my room in Reservoir, VIC. Can't wait for the day I can travel back and pick up that guitar where it sits at my parent's house.
Check out 'Society's a Mansion' above and follow Mimi Gilbert across her socials to keep an eye on what's coming next.