Music / Premieres
Premiere:
Ghost Bumps - All Manner Of Manors
Today we've got the absolute pleasure of sharing an early listen to All Manner Of Manors, the debut album from weirdo-pop ensemble Ghost Bumps - whimsical, unpredictable and completely addictive, it's a thrilling introduction into the band's sprawling sonic world.
All Manner Of Manors opens with a good question: "what exactly is Ghost Bumps?" Here's what we could decipher - made up of three fourths of down-tempo indie-rockers Purr Usual, the group sits somewhere between a recording project, an outlet for experimental music-making and maybe even an in-joke gone too far, but that doesn't mean they're one to take lightly.

On their debut album, completely created amidst the group's shared lockdown, we're welcomed into the kaleidoscopic minds of three versatile musicians who seem unafraid to let any unlikely idea have its time in the sun - the outcome playing like a joyous celebration of the manic mood-swings that isolation has encouraged. And while the opening question might be a good one, it's also an irrelevant one - naturally, the band avoid giving an answer and instead, we're instantly dunked deep into their technicolour universe.

From beginning to end, All Manner Of Manors is a wild ride. Clocking in at 14 tracks - some groovy and upbeat, some focused and introspective, and others eclectically zany - the album finds the trio letting their imaginations run wild as they craft 40 minutes of free-spirited pop that comes dripping with warped charm. From the sophisticated faux-funk swagger of the almost title track, to the gooey charisma of 'The Lobster', through to the psychedelic 'Retro Reality' as it woozily bends and stretches out, it's an album bursting with nugget after nugget of captivating pop whimsy.

The album shines brightest when Ghost Bumps truly embrace their lack of inhibitions. 'Company Dog' into 'Dish Pig' is an early highlight, as the band shift from subdued blues-rock to explosively fun retro-pop, barely acknowledging how ridiculous, yet effortless, the jump was. There's a similar sense moments later when 'Tank Bruce' contorts its mild keys and driving grooves into an absolute free-for-all in the middle, just to shift back as if nothing ever happened - albeit a devious gleam in the eye.

There's a lot to pick apart on an album like this, but don't let that scare you away - once you embrace the hodge-podge of ideas and the thrillingly blurred focus, you'll easily find that All Manner Of Manors is packed full with new things to discover and get hooked on with every listen.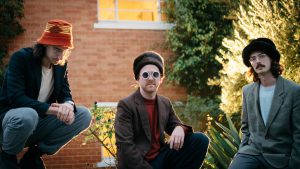 All Manner Of Manors
is out officially this Friday through
Hegel's Bagels
- head to
ghostbumps.bandcamp.com
to pre-order the album alongside a limited pack of specially created Ghost Bumps artwork.