Music / Features
They Made Me Do It -
Talking Influences with P.T. Collis
Captured in a suburban backyard with just a few mics on a sunny afternoon, P.T. Collis' debut solo album Low Twenties, Mostly Sunny has the organic storyteller embracing his classic stripped-back, raw sound, rich in bluesy-folk goodness and anchored by vulnerability.
Returning from hiatus with an addictively organic collection of rousing musings, the dynamic frontman of Melbourne alt rockers The Great Emu War has shared with us influences behind his energised live solo album of previously undisclosed discography. P.T. Collis' Low Twenties, Mostly Sunny is enriched with candid tales of the songwriter's introspective rumination, unapologetic absurdism and frank romance, captured live and gently adorned with the surrounding sounds of suburban Melbourne.

Emanating an electrifying presence and vitality with nothing more than his voice and guitar, P.T. Collis has leaned into the emotive essence of folk-blues music on Low Twenties, Mostly Sunny. The grisly charm of 'Crickets' entices us into a mournful, yet alluring intoxication with contrasts between delicate and course sounds - an anguished mood which is then soothed by the tender serenade of 'Joint'. 'Aunty Gov (Don't Do Meth)' stands out as a brusque tongue-in-cheek piece, whose tempo variances compliment a darkly playful attitude, leading into the closing track, 'Red & Green Blues' - full of verve and ending the album on an enlivened note.

Low Twenties, Mostly Sunny combines the dynamic expressive voicings of stripped-back, intricate harmony with the beloved narrational sentiment of folk-blues. P.T. Collis' debut album is enriched with the songwriter's charisma in every track - a characteristically frank, compelling and intimate testament to his polished songwriting abilities and remarkable storytelling gift. Fresh out of the album's release last Friday, we got in touch with P.T. Collis to discover the influences behind the songwriter's work.


Paul Dempsey / Something For Kate
I remember listening to 'Monsters' by Something For Kate when I was like eight or nine on a So Fresh CD. I sat on my bed with it on repeat and read through the lyrics over and over. I didn't understand it but I really wanted to, and it sparked an interest in lyricism that I think really made me want to be a musician. Then I got into SFK's other tracks and grew appreciation for Clint's mighty drumming and Stephanie's basslines in tracks like 'Electricity' (holy shit, what a combo!!) A year or two later I saw Paul at an airport carousel and I was absolutely starstruck; I felt like I'd just seen a really tall angel. Then when I was in high school I became obsessed with Dempsey's Everything Is True and even now I still listen to it every few weeks; it's just so damn good. Massive man crush.


Courtney Barnett
I remember driving down Balcombe Road in Mentone when I first heard 'Lance Jr' by Courtney Barnett and she totally sucked me in. She has such a seemingly effortless sound with these amazing Dylan-esque lyrics; I really love the way she describes the world and Jesus Christ, what a performer! I got to serve her a round of Melbourne Bitters when I was working at the Brunswick Bowling Club one year and she was really polite and lovely and I had to try so hard not to turn into a giggling mess. 10/10 would serve again.


Tom Waits
Tom Waits changed the way I see music as an art form. The man is just something else; he blows me away. I love his junkyard sound and the energy and beauty he puts into everything, and some of the characters that he writes in his lyrics feel so goddamn real. I'm a huge fan of Mule Variations, and Rain Dogs basically lives in my car's CD player. But it's the way Waits carries himself through the universe that I find super inspiring, and you can hear the fun that he's having in his records which is fucking dope.


Daniel Johnston
There is something so pure about Daniel Johnston's records that speaks to me. I stumbled across Discovered Covered a few years ago and it felt serendipitous. I was really struggling to put lyrics together and I hated everything that I was writing; I was angry and self destructive and suddenly this earnest voice encouraged me to just keep going, enjoy the sunshine, let myself love and be loved. I'm glad I got to exist at the same time as Daniel Johnston.


Horror-Comedy
I really really really love horror movies. Zombies, slashers, vampires, demons, whatever: they're the fucking best. But there is something magical to me about the combination of those polar opposite genres that bring me so much delight. My absolute favourite movie is Shaun of The Dead because not only is it hilarious, but it's legitimately scary at times and the cast chemistry is fantastic; plus there's interesting character development and a top-notch soundtrack. But there's a special place in my heart for B-grade horror movies; I could watch that shit all day. Especially the cartoonish insanity that came out of the 80s like Evil Dead 2 and Reanimator, or Peter Jackson's 90s masterpiece Braindead/Dead Alive.


Spice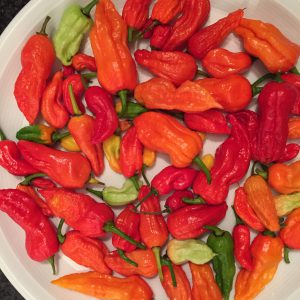 Spices make food exciting and I love 'em so goddamn much. My partner's dad scores us this amazing smoked paprika which makes everything taste amazing. My folks were really big on cooking curries which is where it started, but I grew up putting lots of chilli on my food because I was the youngest of four and it stopped my siblings from stealing my food. First it was Tabasco sauce and jalapenos and then I went further down the rabbit hole. The first time I tried a Carolina Reaper I remember my face going numb but my mouth was on fire and everything that wasn't the chilli or myself or the low hum of the universe became completely irrelevant. I had this massive grin and a solitary tear running down my face. The euphoria is something else. Give it a try!