Music / Premieres
Video Premiere:
El Fuko - Blue Flower / Love is Back in Vogue / Looking for an Angel
With the release of their sophomore album quickly approaching, Oliver Shaw and Jayden Hebbard's El Fuko have let us into their world of enigmatic spoken-word art-rock, with a picturesque nine-minute video clip to accompany the first three singles of Blue Flower.
Unwilling to let their experimental tendencies or pursuit of the unchartered slow their output, the new album from Melbourne spoken art-psych duo El Fuko marks the group's second album in two years. Born out of a collaboration between Jayden Hebbard (Joe Terror, The Stained Daisies) and Oliver Shaw (Cracodile), El Fuko is the meeting point of two very different voices and a celebration of the harmony between them.

Now that Blue Flower is less than two weeks away, the group have treated us to a visual pairing of the album's first three singles. Described as a film/film/film, the ambitious clip serves as a delicately poised representation of the forthcoming album - drawing on the stark symbolism of the recurring 'Blue Flower' motif to refer to a lost lover on one level, but also a metaphysical striving for the infinite and unreachable that defines the whole album on another.

Beginning with the sparse, acapella arrangement of the album's title track, Jayden Hebbard's layered harmonies haze around locally minded wordsmith Oliver Shaw's dry, unwavering delivery. As 'Love Is Back in Vogue' slinks in with a groove and intensity that falls somewhere between the music of The Dirty Three and Marc Ribot, the unobtrusive visuals begin to echo the album's explorative, anxious sentiments.

By the time the trilogy drops into the previously unreleased 'Looking For An Angel', a softly strummed guitar and Jayden's haunting vocal washes redirect the journey again, this time with a more somber sung vocal from Oliver that delivers his angular lyricism through a whole new lens.

Whilst this release only represents three eights of El Fuko's next body of work, it has us very much invested in what the final form promises to be - a fully realised, fascinatingly refreshing concept album that looks to leaving no stone unturned.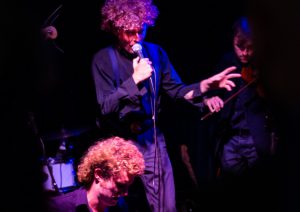 Blue Flower
will be released in its entirety on October 16th through
Marthouse Records
- head to
Bandcamp
to pre-order the album on limited cassette.