Music / Premieres
Premiere:
Shoeb Ahmad - A Body Full Of Tears
Back with their first full-length release since 2018, today we have the pleasure of premiering the new album from Canberra sound artist Shoeb Ahmad - a collection of disorientating post-punk that blurs at the edges into ambient electronica, A Body Full Of Tears is as evocative as it is turbulent.
Following on from the release of "quiver" in 2018, A Body Full Of Tears is a delicate yet purifying contortion of Shoeb Ahmad's sound. Where the previous album's weighty themes were wrapped up into sprawls of enthralling indie-rock, on A Body Full Of Tears, Shoeb buries her songwriting smarts to make the entire listen as visceral and affecting as the subjects she's tackling.

At times chaotic and others hauntingly restrained, Shoeb spends the album's runtime ambitiously blending an array of musical styles and ideas, crafting an evolving soundscape that's simultaneously restless and immersive. From the tumultuous waves of noise that emerge on opening track 'hipless', with its gritty, rollicking groove lulling us into a murky dream-state, and onto the arresting 'flaw, featured' which pushes Shoeb's looming vocals to the forefront; or through to more subversive moments like 'team pressure' and 'deficit', which favour glitchy industrial backbeats and grimy pulses of instrumentation, A Body Full Of Tears seems to revel in twisting, warping and ultimately turning in on itself, as it actively attempts to throw us off the pulse at any given opportunity.

Rounding out with '#8', Shoeb (in collaboration with Perth duo Erasers) leaves us with the album's most striking moment - a nervous slowburn that expands around a hiccuping groove alongside humming synths and meandering guitars, and as new details continue to emerge and dissipate, the track jitters like it might change course completely, but crucially avoids doing so. It's a gripping way to complete A Body Full Of Tears, as it resists giving into the unease that seemed to define the rest of the listen, and instead, holds us in a stasis that allows the amounting weight of the album to finally crash over us.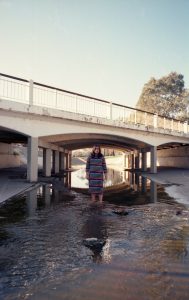 A Body Full Of Stars
is out officially this Friday - head to
shoebahmad.bandcamp.com
to pre-order the album on limited vinyl, with all profits going towards Aboriginal Legal NSW/ACT and Pay The Rent.