Music / Features
TJ's Top 50 Tracks of 2020
#30 - #21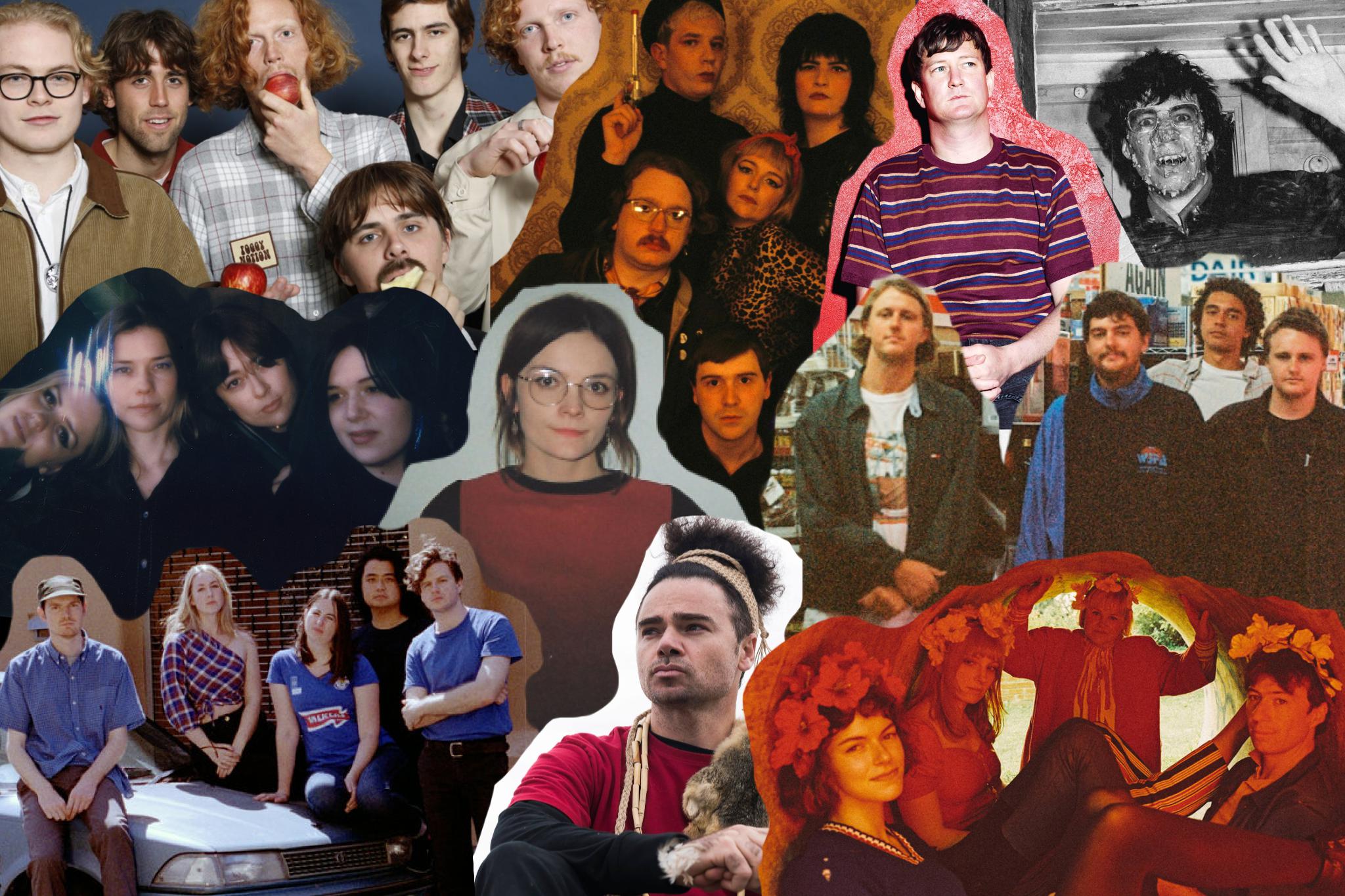 We're inching past the halfway point now with tracks #30 through to #21. Hopefully our biases aren't showing too much… (sorry to everyone not from Melbourne lol).
30. Bones and Jones - 'Working Out'
2020 has been a good year for fans of coastal retrospective outfit Bones and Jones, the Surf Coast six-piece releasing their sophomore album, then following it up with a welcome onslaught of eleven (!) singles. A highlight from the beginning of the year, 'Working Out' encapsulates everything we love about Bones: smart songwriting, dark humour, tactful instrumentation (with a healthy dose of horns and strings), and a groove your foot can't help tapping to.
Seamus Fillmore
29. The Faculty - 'Blue Movie'
The Faculty's long awaited second cassette
Here's To Fun
saw the five-piece doing what they do best - making grimy and exuberant punk rock. Our highlight 'Blue Movie' found the group slightly loosening their grip on their usual proto-punk sound though and instead leaning into glorious power-pop, with its rich rock 'n' roll chords, soaring hooks and frontwoman Maquarie Fletcher's irreverent charisma.
James Lynch
28. Elsie Lange - 'Adelaide'
Having played an assortment of instruments in a number of Melbourne's favourite acts over the past half a decade now, 2020 saw Elsie Lange take the time to release her debut EP
Talk To Me
, her most refined and idiosyncratic effort to date. Lead single and unstoppable earworm 'Adelaide' is an infectiously playful and incredibly replayable homage to "all those gorgeous and goofy love songs we grow up listening to" that we've been humming to ourselves since it came out all the way back in June.
Francis Tait
27. Traffik Island - 'Ulla Dulla'
One of 2020's most danceable songs, the warped Quincy Jones-esque groove of Traffik Island's 'Ulla Dulla' is simply undeniable. If you don't believe us, play it through your loudest speakers and try not to maniacally swing your limbs around the living room (check out the song's
video clip
for tips on how to do so). The instantly loveable track is a clear standout from this year's
Sweat Kollecta's Peanut Butter Traffik Jam
, an album that signalled an unexpected yet well appreciated left turn for Zak Olsen's ever-exciting project.
Seamus Fillmore
26. Vintage Crop - 'Streetview'
We probably could have picked any of the twelve tracks from Vintage Crop's third full-length effort to make this end of the year list, but if we had to pick, which we did, the rollercoastering six-minute garage-punk centrepiece of
Serve To Serve Again
, 'Streetview', felt like a pretty good choice. Backed by a wirey guitar lead over a hiccuping groove, and led by some of Jack Cherry's finest pointed lyricism delivered in his usual petulant snarl, 'Streetview' takes us on a sprawling journey through postcode snobbery, continuing to brood and spiral out well beyond the usual three-ish minute mark to finish in an unhinged one take wonder.
Francis Tait
25. Primo - 'Machine'
When it dropped in April, Primo!'s second album
Sogni
came full to the brim with their idiosyncratic brand of minimalist oddball punk. Turbulent and terse, but just as buoyant and oddly addictive, 'Machine' had no trouble zigzagging itself into our brains with its lopsided hooks, undulating rhythms and spritely group vocals.
James Lynch
24. Hooper Crescent - 'Logos'
Following the release of their 2018 EP, Hooper Crescent's debut album
Object Permanence
found the group digging deeper into their appreciation for off-kilter post-punk, tinged at the edges with their thrilling eye for mischievous and haphazard pop smarts. With its propulsive groove, scruffy guitar interplay and disarming vocals, 'Logos' was a frenetic first taste that has us instantly hooked.
James Lynch
23. Thibault – 'Drama'
Years after the last release from Minimum Chips, Nicole Thibault has reminded us of her brilliance with the superb
Or Not Thibault
. Even the album title communicates the wit and intelligence of this record, which is layered in languid melodic staircases of guitars, brass and Nicole's signature interwoven vocal tapestries. However, Thibault's 'Drama' parades a more energetic side to the early September release, with a pulse that almost makes me feel as if I'm on the autobahn, but in a car full of Parisians who bop with an air of considered apathy. In fact, Thibault's work reminds me of some incredible French releases that combine that distinctly drifting melodicism with baroque harmonies – all under a banner that lies somewhere in the realm of pop. 'Drama' seems to quite explicitly explore the drama in life, that most people I'm sure, are experiencing while trying to navigate their social reintegration. It's been a tough year, and this is another example of song that has the ability to empower and animate a struggling world.
Sam Harding
22. DRMNGNOW (ft. Emily Wurramara) – 'Get Back To The Land'
Released as part of ABC Music's
Deadly Hearts – Walking Together
, 'Get Back To The Land' saw Yorta Yorta artist DRMNGNOW teaming up with Warnindhilyagwa singer Emily Wurramara to rework the 2016 Archie Roach tune. While the original version expanded around an impassioned and warming lilt, DRMNGNOW reimagined the song as stark hip-hop, its stirring refrain now embedded between determined and thought-provoking verses, transforming the track into something else completely.
James Lynch
21. Blake Scott – 'Bullfloat Zen'
Across his enthralling solo debut
Niscitam
, Blake Scott exposes the cracks in the mundane sides of Australian culture, painting character portraits with cynicism and wry wit, and then offsetting them with his unsettling ocker delivery. With its sturdy groove and leisurely tangles of guitar, 'Bullfloat Zen' showcases a new side of the pub-rock veteran's sound, enabling his distinct style to unravel and sprawl fluidly.
Daniel Devlin