Music / Features
Track by Track:
Matthew Hayes & Charlie Perry - Barricade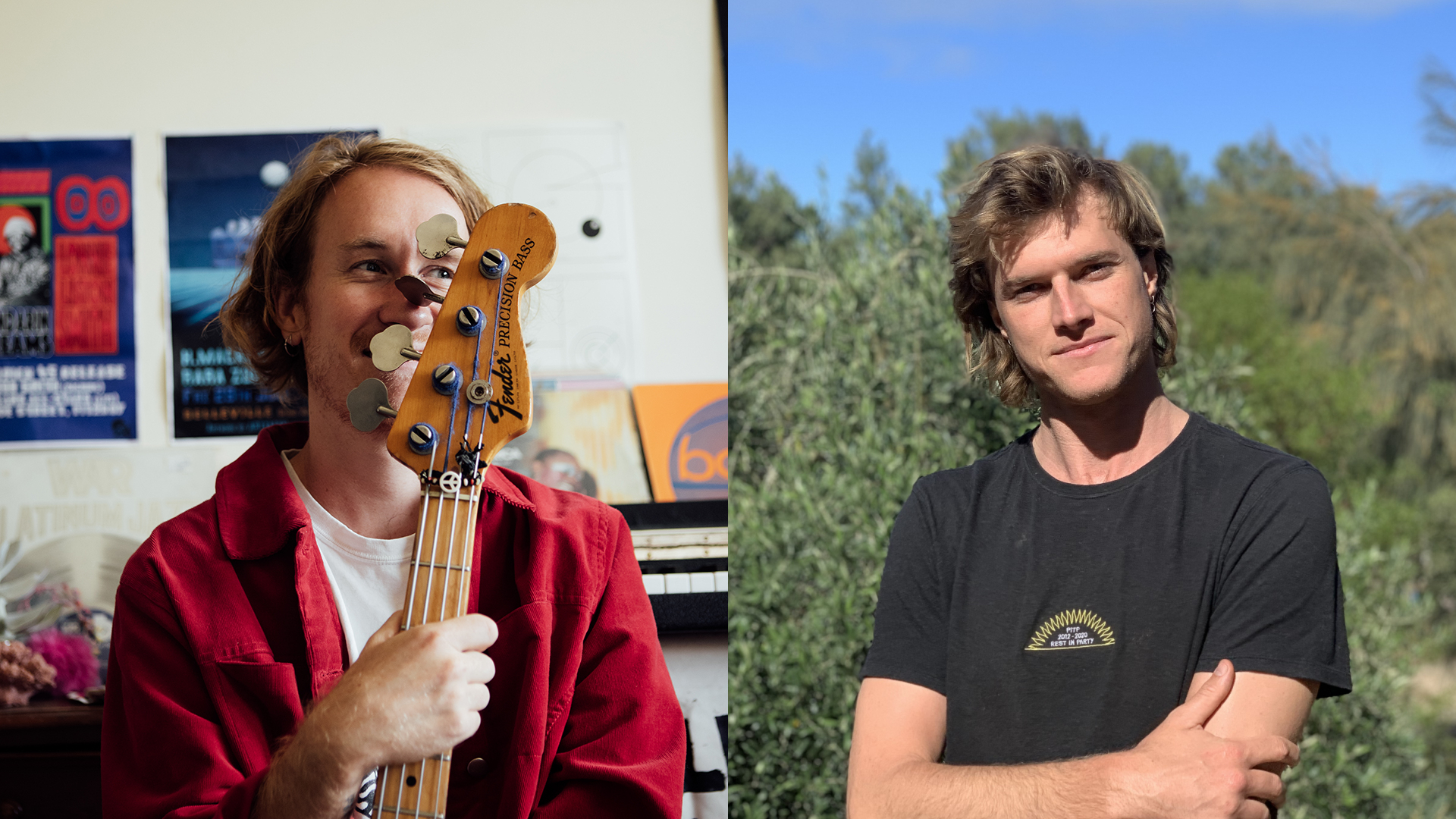 Having spent the past few years making a name for himself as one of Melbourne's most reliable groove bassists, Matthew Hayes has taken a sharp turn on his latest release Barricade - a 2020 collaboration with spoken word artist Charlie Perry that leans into themes of introspectiveness and human frailty against a calming ambient backdrop, pairing with the year of its creation seamlessly.
Released as part of Bedroom Suck's Private Eyes series of lockdown albums, Barricade is a haunting, intimate listen that simmers and spirals around Matthew Hayes' ethereal bass playing alongside spoken word interjections from Charlie Perry. While it's not the first time Matthew has flirted with ambient music as opposed to his usual groove-heavy bass work (he blessed us with the stunning Indigo in 2017), this first collaboration with Charlie feels like a natural pairing.

As Charlie's glassy spoken baritone vocal manifests for moments of introspectiveness within the worlds that Matthew creates in each track, alongside guest monologues from Aarti Jadu and Allysha Joy, Barricade continues to develop and surround us. As well as being powerfully relevant and stunningly creative, what stands out most within Barricade is its comforting sense of hope and togetherness, making it a gorgeous relic of a very uncertain period of recent history.

Now that Barricade is a few months old, we had Matthew, Charlie, Aarti and Allysha reflect on creating each track and its significance to them.
Introduction

Charlie: On a record that explores place, belonging and hope I thought it was vital to include an acknowledgment of country on the record. In acknowledging country and first nations people, I also feel it was important to express my intention of being on this land and my intention of the record in someway. Modern western society often dreamingly discusses the meaning of life, but can often over look the duties each of us have in taking care of each other, this planet and ourselves. It was a good opportunity for me to think deeply on my intention and my responsibility as a someone living, working and benefiting with great privilege on stolen land.

Matt: I first wrote this bass sequence as part of a meditation collection for a friends birthday. I was keen to use it for the record and was fortunate to be able to include some processed alto from my close friend Joshua Kelly.

Breathe

C: This was the first track that Matt and I worked on. One night, pre-Covid, I was walking home and Matt sent me a message asking if I would like to do some spoken on a track of his. He sent me a link full of demos and I randomly chose this one. I listened to it on repeat and as soon as I got home I wrote this piece. It was following the days of the protests in Melbourne about climate change response, or lack thereof, in regards to the bushfires that were continuing to rage across most the east coast of Australia. Like most people [reading this] I was frustrated, angry, sad and helpless. My grandmother's house had just burnt down forcing my family to evacuate to the beach surrounded by a burning red sky. For many people living in cities at the time, it was the first instance in living memory that we could physically see the devastation of bushfires, a la climate change. I will never forget the intensity of the smoke that filled the entirety suburb sprawl of Melbourne. It's easy to forget that we were encouraged to wear masked before Covid-19 was even apparent. The piece was a way for me to express my convoluted, tired and despondent reaction to a very present crisis, in a desperate need to turn it into a hopeful outlook of world. This idea of hope became the major theme for the rest the record.

M: The idea was born on my electric bass as a chord progression that ebbs and flows in and out of tempo and into different harmonic worlds. The finger picking pattern almost gives the feeling of breathing which gelled perfectly with Charlie's words. As with much of the music, I wanted to juxtapose the organic sound of the bass and bells with more harsh synthesisers.

You Care I Know (feat. Aarti Jadu)

Aarti: I wrote this about yoga studios. As they watch me come and go from their cradle. I share the parts of me that clash against each other by having a relationship with the ideology of yoga.

M: I enjoyed juxtaposing these kind of plastic sounding vocal loops with the organic sound of the bass guitar chords. The harmony starts quite light and then plunges into some more dissonant movement, followed by an opening towards the end. We hear Aarti's poetry twice throughout the song and the context of the words changes from the first listen to the second as the music progresses form light to dark to light.

For Maem

C: There is something romantic about Matt's bass line in this, that made me write this piece in way that is almost like love song. I wrote this poem a few weeks in the first weeks of lockdown. I wanted to explore the naivety of hope in a way that is not detrimental, but powerful. When Covid-19 and self-isolation restriction came into to place, our worlds came to a standstill. For many of us, this was the first time we had an opportunity to reflect deeply in ourselves. After devastation of the bushfires and now a global pandemic the idea of hope was dwindling. The piece is an exploration of the naivety of white settler ideas of the world and ourselves, the importance of indigenous knowledges and how channeling both of these can instil an empowering sense of hope.

M: This piece is based upon a simple melodic idea on the bass, support by 6th intervals and moved around! Between each phrase is an open improvised section and as the piece progresses the phrases become quicker and busier with extra melodies. The synths and Rhodes follow loosely the melody to giving the feeling of one homogenous organism following one melodic path.

I Can Hear You (feat. Allysha Joy)

M: There is a lot of space in between the bass melodies give room for the other main focal point. Allysha's beautiful words. I wanted the timbre of the human voice to be of equal importance as the content of the words throughout this whole record, and I feel we captured that in 'I can hear you'. Earlier demos of track included extra instrumentation but as I whittled it down to its core, I realised that there need not be too many elements and the bass and words shine on their own.

Allysha: These words came together after a trip to Tasmania, watching my partner play piano for his family. Surrounded by tall trees, the sound of the bush and the wind, a deeper love grew and I understood.

Merri Breaks

C: The words "we are in this together" was repeated over and over through out most of lockdown. This track is pretty much me, realising my absolute privilege, but not knowing what to do with it, and how insecure I am with that idea.

M: A strange electric bass composition that has a feeling of rolling or tumbling, played high up on the neck with the aid of a capo! In the background you can hear a field recording from a time and place that is very special to me.

Dissolve

C: Underneath Melbourne's CBD there are still rivers that flow. Dissolve is an imagining of the world as we know it - buildings, cement roads, traffic, mines, farms - disappearing, and what would be revealed. Not just the physical structures; but the social, cultural and politic foundations that make our society.

M: I feel that the theme of hope sprinkled throughout this record really shines through in this track. The bass is super open, no rhythmic constraints with repeated harmonics up top and roaming bass notes down below. The open sections are interrupted by a unison melody and a flourish of bells which dissolve back into the sound bath with Charlie's words. Once again, you can find in this track a juxtaposition of organic sounds with more electronic processed parts and a long fade revealing another special field recording that you might not have noticed had been there the whole time.