Music / Features
Live at The Tannery -
A chat with Polite Skeletons
ahead of their DIY skatepark show
This Sunday, rising weirdo-punk crew Polite Skeletons are hosting their second event at Preston's The Tannery - one of the only community built and funded skateparks in Australia. With a growing community of young punks emerging around Polite Skeletons and their group of friends, this show ties together their shared love of music and skating in an all-ages setting, while emphasising the importance and power of 'doing it yourself'.

We caught up with the band to find out what we should expect from this weekend's show.
TJ: Hey Polite Skeletons, before we get into the show, want to tell us a bit about yourselves?

PS: Hey! Four Skeletons politely conjuring tunes since mid-2018.

This is your second time hosting a DIY show at The Tannery - where did the original idea stem from and how did Polite Skeletons get involved? What went down the first time around?

During lockdown we knew that venues wouldn't go back to normal after it ended. So, us and some friends from our share house thought there would be this big gap in Melbourne's live music scene. We knew one of our mates had access to a generator, so we felt this was just a good opportunity to do a DIY gig somewhere in a time where music lovers would jump at any show happening.

Also, the same friends from our share house had been skating at The Tannery in lockdown, so the location was an easy pick. Our share house has members from both Le Pine and Polite Skeletons, so to add to the line-up we asked legends Bellhop to join in, and they were keen!

When the day came around it had been bought back a few hours because of the rain, yet we still had a fair crowd who were willing to stay for the show and skating after! That all happened in late December and was so amazing to see some faces from Melbourne's music community again.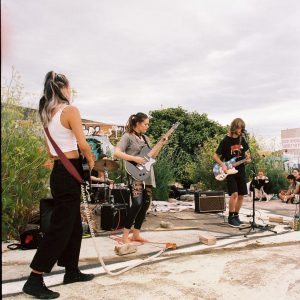 On one element, this show combines music and skating, but it's also completely accessible for younger crowds who might not be able to come to regular punk shows. Is melding these different communities something particularly important to your band?

We just want to share not only our music, but the community to as many people as possible. It is disappointing, because in terms of local music, there aren't enough live venues that are all-ages. I know that as a teenager, standing right in-front of a band that you like or have never heard of before can inspire you and set you on your own path (whether it be a creative influence or that musical connection we all get).  

Want to talk us through the lineup for the show this weekend? Any hot picks that we can't miss?

The line-up is exciting! DOC CLAMBO are opening and it's their first set. They've been writing since just before the lockdown and haven't had a chance to play due to COVID. All the guys from the band were good mates from an older band that slapped so hard! So needless to say, everyone will be in for a treat with their set!  We played with Sadults years ago at the Grace Darling Basement and they were great people who sounded amazing! Lastly, we played with BIFF the other week at the Bendigo Hotel and they're massive shredders (both musically and on skateboards!). The whole set is gonna be so good, it's a well put together line-up for sure.


| Sadults | DOC CLAMBO |
| --- | --- |
You've mentioned these kind of shows celebrate the importance of 'doing it yourself'. Why do you think a DIY mindset is so important at the moment?

DIY mindsets create innovation and pushes you not only as an artist, but also your personal limitations. Bands just get so stuck playing gigs at everyone's favourite venues. In Melbourne especially, there is some over saturation in that regard within the live music community. Someone has to do something novel that will grab people's attention more then just "so and so band is playing at whatever music venue).

Any other ideas of what might happen this Sunday?

Someone's going to stack on their board and somethings probably going to go wrong with the set and pack down. Regardless, we know everyone will still have a good time.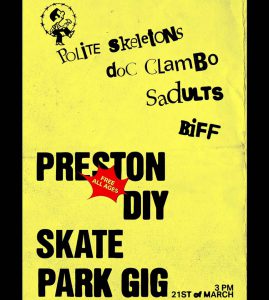 Polite Skeletons, BIFF, Sadults and DOC CLAMBO hit The Tannery from 3pm this Sunday, March 21st, located at 3 Newman Street, Preston.