Music / Features
They Made Me Do It -
Talking Influences with Bones and Jones
With an autumn east coast tour underway, Bones and Jones took a moment to let us in on the inspiration behind their massive new third studio record, Ginger Gold (Farm Singles).
Ginger Gold (Farm Singles) is a 14 track masterpiece of pop rock synergy with a classic flavour. The Victorian six-piece are rapidly gaining momentum following this release, which features zeitgeisty lyricism, arm-hair tingling harmonies and juicy guitar solos. The album was impressively self-produced during lockdown 1.0 in their own farm studio in Wallington, inland from the surf coast town of Geelong.

A mature, fleshed out sound courses across the release, with tight drums, gleaming guitars and a perfectly balanced sonic wall of slide, tambourine and a hint of harmonica. Nostalgic themes of hope and change pepper opening tracks 'Today' and 'It's Time', enticing the audience from the first strum. Track five, 'Feel Better Now', with its soothing vocal lines, organ intro and crispy high hat, is the perfect tonic for the year we've just had. 'Reckless' stands out with chunky drums, distorted vocals and crunchy guitars. You can't help but chime in with the irresistible "oh yeah"s on 'No More Worries', paired with bouncy blues licks and hooky harmonica. As a contrast, the chill grooves and languid vocals of the scaled back 'Harder to Find' serve as a sweet interlude to an otherwise big sound.

Vocalist and guitarist Jasper Jolley helped us comb through the influences that fuelled the band to produce this remarkable record.


Daddy Cool

Daddy Cool make the same brand of good feeling rock n roll that we like to strive for sometimes. We used to cover one of their songs in our set and it always went down great. Ross Hannaford and Ross Wilson's guitar parts work so complimentary of each other. Ross Hannaford is one of the all time greats.


The Farm

The place I call home and the room that we practice and record at. The studio is shared amongst a few bands of which my housemates play in. There are ten or so acres surrounding, with heaps of trees and birdlife. It's a great place to live, make music and ride my motorbike around with my dog chasing me. Lucky to call it home. Until it gets knocked down and turned into an estate that is.


The Byrds - Sweetheart of the Rodeo
Clarence White is one of my all time favourite guitarists. My mum would play this record when I was young and I only began to appreciate it in my teens. It turned me onto some great country players and bands. It also features Gram Parsons who had a big involvement in one of my other all time favourite records, Exile on Main Street by The Rolling Stones.


Karen Dalton
Bob Dylan refers to Karen Dalton as one of his favourite singers in his vol 1of Chronicles. She's an unreal songwriter and has been a constant influence in the music that we/I write and make. Her album In My Own Time is a classic with that timeless sound that is so hard to achieve.


Groove Café (Ocean Grove)

Up the road from where we practice and record. Groove is a staple. Great focaccias and chips. Keeps us fueled for longer.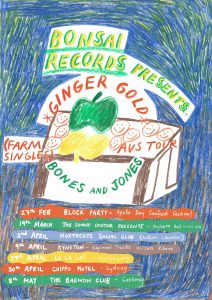 Ginger Gold (Farm Singles)
is out now through
Bonsai Records
- head to
bonesandjones.bandcamp.com
to grab the album on limited 12" vinyl. Bones and Jones will be launching the album on Friday April 2nd at the Northcote Social Club.