Music / Features
Brace Yourself -
A chat with Mug
Off the back of the announcement of their forthcoming debut EP, we caught up with Lily and Sam Harding, the two minds behind Mug, to delve into the idiosyncratic new project and their serene first single 'Brace Yourself'.
As a first taste of the new project, 'Brace Yourself' is an enthralling invitation into Mug's immersive universe. Built around an even-tempered groove while leisurely bass mingles with jittery keys, the track expands with Lily Harding's contemplative vocals, which drift easily through the soundscape as it ebbs and flows around her. The track, which the duo describe as a "comfort piece for an imminent anxiety attack", rides this line perfectly - as radiant as it sedated, 'Brace Yourself' manages to feel instantly disarming, yet beneath the hypnotic pulse and tangle of heady melodies, there's a restlessness that constantly threatens to burst open.

It's a compelling introduction, but one that doesn't truly give away the scope of the project. Especially since Mug is helmed by two fifths of garage crew Gamjee, a group that revel in the unpredictable, it's almost impossible to know whether the level of composure and restraint found on 'Brace Yourself' is the duo's modus operandi or, like the title suggests, the calm before the storm.
TJ: Hey Lily and Sam, how's it going? For the unacquainted, want to let us know who Mug are?

M: Hey Jim. It's just the two of us writing and recording songs. We often just use a drum machine, some synths and maybe a guitar, but we have plans to include others for a larger band in a live setting.

You've introduced yourself to the world with 'Brace Yourself', a really serene and thoughtful debut single - is 'Brace Yourself' emblematic of what we should expect from Mug? Or are there parts to the project that you're yet to give away?

We think that 'Brace Yourself' is a good representation of the sound of the EP. It's worked for us really well as a blueprint for producing our new songs. 'Brace Yourself' started out as a fast-paced garage song, but we slowed it down and tried to make our own sound work around the skeleton of the song, being the lyrics and chords.

Your debut EP Mug EP comes out next month - could you talk us through the origins of the EP? Any key inspirations or overarching themes?

We started writing songs while we couldn't leave our homes, and we were really only left with the ideas of connection and loss to explore. It was really nice being able to connect to each other through these songs at the beginning, and it felt like we were checking in with each other through multiple Dropbox uploads a day.

What's the best recording trick heard on the EP? Spill the fuckin beans.

While trying to find a sound to sample for a song called 'From the Lookout', the coil of the headphone lead scraped across the mic while a delay was on and it sounded really cool, so that's in there.

Another recording trick is to just have brother Miles in the room, because he just comes up with random things like a clap track using your entire body, or an entire track of wailing near the mic, which is heard in the next single. We like to think that the EP has a lot of spontaneity and improvisation.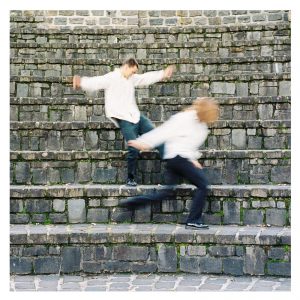 You both also play in Gamjee, which is a world away from Mug's sound. What prompted the sound of Mug? Is playing this kind of music a nice release from the louder stuff with Gamjee?

We wanted to make relaxing minimal music, which maybe felt like it was a criminal thing having been surrounded by so many great punk artists for so long. We've been listening to more and more ambient and minimal music and wanted to create songs that sounded like sketches with pretty loose structures. Also, starting the songs from lyrics through conversations was a different approach, and really therapeutic.

You're both siblings. Tell us some other favourite sibling duos, famous or otherwise.

Luke and Owen (and Andrew) Wilson… so fkn hot.
The Lijadu Sisters.
Ray and Dave Davies.
The Draffens and the Shannons.
The Everly Brothers.
The Olsen Twins.

What's on the cards next for Mug?

Lots of ideas for live shows that experiment with music and movement. We are thinking of putting out a 7" in the not too distant future as well. Excited to get a band together and work on the songs with a group of people.