Music / Features
They Made Me Do It -
Talking Influences with Stella Farnan
Following the release of the 'The Blue' last month, a vulnerable yet empowered ballad that doubles as the latest teaser of her upcoming EP, we had rising songwriter Stella Farnan talk us through the artists that were on high rotation and influenced the sounds of her stunning new single.
Stella Farnan's latest single 'The Blue' is a song of empowerment. After opening with delicate finger picked guitar, we find Stella overwhelmed and at a crossroads, singing about feelings of inadequacy as she declares "I think I've got some learning to do". Almost like an inner dialogue, a conversation in her head that she might be having with someone who keeps letting her down - however, Stella ultimately decides to take her own advice. The vocals layer and the instruments backing her enchanting voice swell, amplifying the expression of empowerment. The song ebbs and flows, with vulnerable moments interspersed with the empowered moments. This song is full of raw honesty.

An evocative and emotionally stirring single, 'The Blue' is well crafted both sonically and lyrically. The production of 'The Blue' sounds especially crisp; Stella Farnan recorded her latest single, as well as her upcoming EP, at Half Mile Harvest studios in Warrandyte with Soren Maryasin, the same studio where The Teskey Brothers Grammy-nominated album was recorded. The song was mixed by Callum Barter (Courtney Barnett, Alex Lahey) and mastered by Joseph Carra (King Gizzard and the Lizard Wizard). The high calibre and diverse range of the production team is evident in the stunning sound of the song, whilst firmly rooted in a folk sound, and Stella reaches beyond this sound for a truly enchanting listen.

Speaking about the songwriting process of 'The Blue', Stella explains she "returned to the foundational piano-and-voice-in-a-room, creating a space to momentarily indulge in those feelings of defeat before directing a step forward. The chorus' mantra 'Maybe I should take mine' is both a self-criticism and self-encouragement - when all other avenues have been exhausted, take your own advice."

With her first headline show of the year fast approaching (Stella and her all-star band of Soren Maryasin (Soren, The Teskey Brothers engineering), Gab Strum (Japanese Wallpaper) and Elena Jones (Sunfruits) play The Old Bar on July 7th), we got in touch with Stella to dig into the influences that inspired 'The Blue'.


Stella: It's been a couple of years since we first started recording the latest single 'The Blue' back in 2018, and even longer since I first sat down at an old piano to start writing the song in 2017. Recently, I looked back at the very first playlist of musical influences I made with my friend Soren Maryasin who played on and produced 'The Blue' (and the rest of our releases so far)! These were the songs we listened to throughout our recording sessions amongst the trees in Warrandyte.


Courtney Barnett - Tell Me How You Really Feel
Courtney Barnett's Tell Me How You Really Feel had just been released when we starting tracking drums on the Studer A800 MK3 tape machine at Half Mile Harvest studios in Warrandyte. I had been really digging into her last record Sometimes I Sit And Think, And Sometimes I Just Sit around the time I wrote a lot of the songs from my upcoming EP. So it was pretty perfect timing to hear the new Courtney Barnett record as we were trying to bring new life to these old songs - all of which had been written with songwriting/production lessons of CB's music in mind.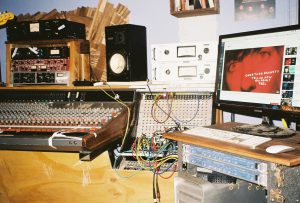 Aldous Harding - 'Imagining My Man'
My introduction to Aldous was someone sending me 'Imagining My Man', and thank god they did. Since then, Aldous has become one of my all time favourites. The strange, awkward, yet self-assured power of her voice blew my mind. It's all playfully creepy - the BVs in the chorus of this track in particular. The album it's from, Party, as well as 2019's Designer, have been some of my most listened to over the last couple of years. 'Imagining My Man' was one of few ballads on our playlist, so I'm sure it was tinkling in the back of our brains as we hit record on 'The Blue'.

The AH music videos were also huge references for our video for 'The Blue'. I remember Soren and I drunkenly putting the video for 'The Barrel' on the TV at one of his birthday parties, and trying to get people to watch. (sorry everyone. it's so good though).


Moses Sumney - 'Quarrel'
Moses Sumney's 'Quarrel' is another song I'm endlessly grateful to have been recommended (thnx shell). It was a mix reference for 'The Blue' and also made me take a long hard look in the mirror - after hearing Moses Sumney's voice, how the hell could I ever sing in public again (see the vocal run at 0:52 on the song 'Plastic'). My ears and eyes were opened wide, and my brain went to mush. All the masterful vocal layering was definitely a reference for the echoing stacks of BVs on 'The Blue'. I even wrote an entire essay about Moses Sumney for a music production class at uni.


Esbjörn Svensson Trio - 'Seven Days of Falling'
I can't say that I'd listened to much Scandinavian jazz music before going into the studio with Soren… it definitely didn't influence my songwriting for 'The Blue'. But! Soren showed my this beautiful piece of music and I couldn't stop listening. It was a big production/mix reference for 'The Blue' and you should go and listen to it if you'd like to feel some delicious, hypnotic catharsis made by (mostly) real Instruments.


Washington - 'Underground'
Going back now to when I was twelve and first discovered Washington's album I Believe You Liar. It was one of the few albums on my iPod touch (the one with the wrist strap), and I listened to it non-stop. I learned all the lyrics and chords, and although I wasn't really actively listening to the production at that stage, I subconsciously studied that too. With just a guitar and voice, the song 'Underground' demonstrated what a Big Boss Songwriter Washington is, and although it wasn't a direct reference when I originally wrote 'The Blue', I can hear her influence pretty clearly when I listen back now. I doubt I would have written the same song if it wasn't for Washington's music.
'The Blue' is out now in all the usual places. Stella and her band are playing on Wednesday July 7th at The Old Bar with Standard American Diet.