Music / Features
On Record For The First Time -
A chat with VACUUM
Following the release of their self-titled album in February through Heavy Machinery and It Records, we caught up with the minds behind cult electronic duo VACUUM, to dig into the past ten years of the project and the dense and restless sounds heard on their long-awaited debut release.
Blending together elements of turbulent darkwave, industrial and experimental electronica, VACUUM's debut album is a defiantly corrosive "introduction" to the long-lasting Melbourne project. I put introduction in quotations because that's not exactly the case; formed in 2013 between Andrea Blake of ASPS and Chrome Dome and Jenny Branagan of NUN, the unit have established an enigmatic presence over the years across local underground scenes, while remarkably avoiding committing any tracks to tape over the near ten year period.

Fortunately for old and new fans, their debut album makes up for any lost time setting the record straight - loaded top to bottom with oppressive yet invigorating electronics, VACUUM is quick to reveal the duo's inventive ways of getting a crowd going, simultaneously leaning into DIY punk smarts while serving up heaving, dancefloor-ready grooves. The opening combo of 'Dredd' and 'Between' sets this tone from the get-go - 'Dredd' lures listeners into the murk with an expansive sprawl of abrasive noise, before the next track's synthesiser hooks and frenetic backbeat get us wired and restless for more.

It's similar illusive as their grimy explorations on VACUUM continue to unravel; 'I'll Call You' is perhaps the album's most otherworldly moment, 'Pulse' is sinister and swaggering, and the string of remixes that round out the record cleverly warp our entire listening experience with their familiar but shapeshifted sonics.

We caught up with Jenny and Andrea to get to know VACUUM and their new album a little better.
TJ: Hey VACUUM, how's it going? For those not in the know, what's the story?

JB: We met years ago, I think it was 2012. We were label mates on Nihilistic Orbs, NUN, the band I was in were just about to release our first 7"Solvents and I remember Shaun South invited NUN over to his flat for dinner to meet some of the other bands on the label - we ate dumplings. Andrea was there and I thought she was really cool. In fact everyone there was - I felt like a dork, panicked and spoke too much. But everyone was lovely! Our friendship was solidified after one night at the Gasometer, Andrea you were playing as ASPS. After the gig I was having a good old vomit in the loo, Andrea held my hair back. I called her my vomit angel and that was the beginning of our friendship (ha ha).

I was practising and playing loads of shows at the time with NUN, working six days a week across three jobs, DJing weekly, and freelance music writing. Andrea had a similar schedule on the go, as we are both very task oriented people having our own project together allowed us time to hang out more. VACUUM was our social time - getting to make music and play shows with Andrea has always been hilarious. For those of you reading this that do not know Andrea, she is very funny.

AB: Yep I remember that dinner - I think towards the middle of the night I'd started swigging Yellowtail out of the bottle and the next day felt like I'd been a bit of a drunk fool but it seems to have worked out for the best! We continued to hang out and started to write and practice with another band but they had these beautiful melodic bass lines, and actual songs. We felt like the musical equivalent of Kool Aid man busting through the wall with our samples of shopping trolleys banging against each other and doors slamming.   

Jenny and I are really similar in that we love having a task to do, like something to work on - so I think when we just kept hanging out we kept recording our silly sounds together! This led to our first show in late 2013 at Liberty Social (RIP) and we just kept getting asked to play different shows and saying "yes".

VACUUM has existed for nearly a full decade without releasing any music - why was 2022 the right time to finally release a debut album?

JB: Yes, we played live weekly and managed to not have a dedicated VACUUM internet presence or release any recordings. Friend's bands would get in touch directly and ask us to play and as Andrea noted we said YES a lot. Honestly we enjoyed hanging out and the loose structure of a live only set up - I think looking back this was probably because our other projects at that time were documented with released recordings.

In mid-2019 we played a VACUUM show the night before I ended up in the hospital and having my daughter Ivy a little earlier than expected. We had planned to take a break from playing live for a little while until Ivy was up and running (sorry Ivy for making you sound like a car) but then of course the old Rona came along.

Miles Brown approached us about a project he was putting together called Flash Forward - the aim was to release 40 albums by 40 artists on his label Heavy Machinery Records. Miles asked if VACUUM would like to be part of it - and we were so delighted. It Records had been wanting to put out our album with them for sometime, so together we all decided on a co-release. The album was recorded quite quickly during lockdown, we really committed to the process and were extremely productive as we had deadlines.

AB: I think we really were just on a bit of a hamster-wheel in regards to putting most of our spare time towards playing live - and while that's fun and it also doubles as our social life, we didn't really have the time to stop and write. Flash Forward was the perfect opportunity for us because it came at a point when we HAD to be still and could really dedicate ourselves to focussing on how we wanted to map out an album - especially when it came to making a definitive recording of our old songs and feeling out the new ones we'd written.


I'm guessing that some of these songs have existed in different forms for a pretty long time. How have the songs and your processes changed shape of the years? And how does it feel to finally have them committed to recordings?  

AB: I find our songs are generally technologically determined by our equipment - they always tend to enter a new era depending on what piece of gear we've recently acquired. The biggest shift probably came when I had to learn Ableton to perform with Primitive Calculators for a period around 2015, so I ended up transcribing all of our backing tracks onto there, which gave us heaps more freedom in regards to malleability with sampling and editing our sounds. 

The actual recording process of this album was so enjoyable. Our friend Josh Wells did the recording and mixing and I don't think we stopped cracking funnies the whole time, even during takes. With the new songs especially, we had a bit of a post-production process where we essentially remixed what we had just recorded - as there was not that process of playing them live and finding out what works - we just had to parse it out ourselves and play the songs for our dogs, in my study. 

While it does feel a bit intimidating to have something on record to replicate, I'm glad that we were able to make a definitive version of each song - to be able to intentionally balance the murk and the gossamer and not just pray it's coming out of the front of house speakers correctly.

JB: Andrea recently said in an interview that prior to recording, we had never played anything the same way twice. I had not thought about this. Now that we have the old and new songs fully realised through the recording process I think playing live is going to feel very different for us. As nerve racking as playing live can be, I am looking forward to playing this album live. 

The press release mentions your ability to play both punk and electronic shows, and it's pretty impressive how your music manages to seemingly co-exist in both worlds. Are there any key influences that really defined this sound? And is there a perfect location/situation for a VACUUM show?

AB: I am continuously surprised and delighted by some of the line ups we are invited to play! I guess because we have a bit of the rawness and DIY sensibilities of punk, but electronic instruments. We both are big fans of hip-hop - while JB likes the murky production of 90's acts like Company Flow I'm drawn to the exaggerated sub-bass of modern trap - so I guess this informs us tonally and rhythmically, but combined with the aggression and cacophony of various EBM and industrial acts from 80's and 90's.

We've played quite a few DIY shows at places like Hotshots in Footscray and I love shows like that where there's no stage - I find the energy to be much more fun and free-wheeling than a venue show. So something like that (provided the PA has a subwoofer and the power doesn't cut out, ha!) or a sweaty house-show in say, the suburbs of Brisbane - in a packed lounge room, with a borrowed, long-suffering sound system and all the lights off. 

JB: I love playing lineups that vary in sound and feeling. Watching acts of a similar sound palette play in a row I have always found really difficult to concentrate and engage with. From a selfish spectator and participant view my ideal show has three acts that are from differing genre sources. My favourite VACUUM shows have been the DIY ones where our gear is nearly falling off the table or chairs/crates you have lined up to fit everything on - a little off chops is a fun time. 

We both adore sub bass. I remember when we first started putting sounds together we were looking for the heaviest bass references. We became quite into bass that hi-fi car nerds would use to test subwoofers in cars. Both of us have a fascination with the sound of muscle cars, their thundering engines and brutal exhaust was a sound reference we leaned into. I think our love of bass and engine sounds still informs the way we sound both in recordings and live.

In my late teens and early 20's I was living in Ireland. I used to attend drum and bass and jungle nights. I loved the heaviness of the likes of the Metalheadz acts, with huge sub bass drops shaking your insides out of purpose built sound systems. The movement of the sound was so fast dragging you along with it. I get a similar feeling from listening to Slayer. Metallica and Ministry - such great records - it does not matter how many times I listen I always get that same sense of urgency and feel excited in the pit of my stomach. Oh we should mention our love of electronic hand claps too! Andrea and I love a little clap and fan out loads on classic Detroit techno.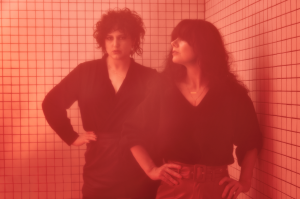 How important is collaboration for VACUUM? Both between the two of you but also when it comes to getting outsiders onboard to remix your tracks?
AB: Collaboration is really important to us. We both bring our different skillsets and tastes to the table and have also frequently collaborated outside of VACUUM with film endeavours, other musical projects etc. It's just kind of natural when you spend a lot of time with someone that they will be there when you are cooking up a new idea and get involved in some way.
Because you have to spend so much time with your music when you are making it - it sort of becomes like saying a word over and over until it loses all meaning, or staring at your face in the mirror for so long it no longer feels like a part of your body. To be honest I'd like to hear as many remixes of the tracks as I can! Getting these songs remixed re-contextualises and readjusts your perception of them. Even though they are really stylised to the remixer's taste, you get to hear the little bits in the song that people hook on to, that have maybe been lost to you since you first made the thing.  
JB: Collaboration has been an ongoing occurrence in all my creative projects, I rely on the skillsets of the people I work with to assist in getting ideas out into tangible completed forms. I am really quite bad on computers and honestly Andrea is a tech wizard. I am constantly in awe of Andrea. We always run our other projects or ideas outside of VACUUM past each other for feedback so that trust is there between us.
Just like remixes the recording, mix and master process is inherently collaborative -
Josh Wells
and
Enyang Urbiks
both contributed to the development and sonic sheen of the songs. Our album artwork features
Ali McCann
's 'Conoscere' piece from her stunning exhibition
Masks for Magicians
. Andrea and I asked Ali if she could reproduce the work in a red and black colourway, she kindly agreed and understood the sound representation.
Luke Fraser
is also someone I have worked with on band/music artwork for years - he is an incredible designer, with the best font knowledge and taste - also he has the patience of a saint and tells it like it is. Luke worked on the design and got this record looking the way Andrea and I envisioned. Album artwork and design - we both feel is vital to the representation - the aesthetic of the sound.  
Classic Trouble Juice speed dating question to wrap this up - what's your perfect Sunday?
JB: By some miracle Ivy sleeps past 7:00am, we watch some cartoons. Equal miracle my partner has Sunday off work. We all go for a creek walk with Ziggy, our dog. Bunnings sausage sizzle for lunch. Pub for an early Sunday dinner. Later we watch
Terminator 2
, Alan Partridge or a gripping crime drama. I drink wine and eat snacks.
AB: A crisp morning hike with my dog Rosie to some kind of waterfall, followed by getting day-drunk with friends, laughing heaps and going op-shopping for cooked trinkets in a tiny town. After that I'd nap, have a home-made dinner and sink into the couch to watch
Brass Eye
for the umpteenth time.